Press
EW Interviews Juan Gabriel Pareja (Morales); Jeffrey Dean Morgan Visits Jimmy Kimmel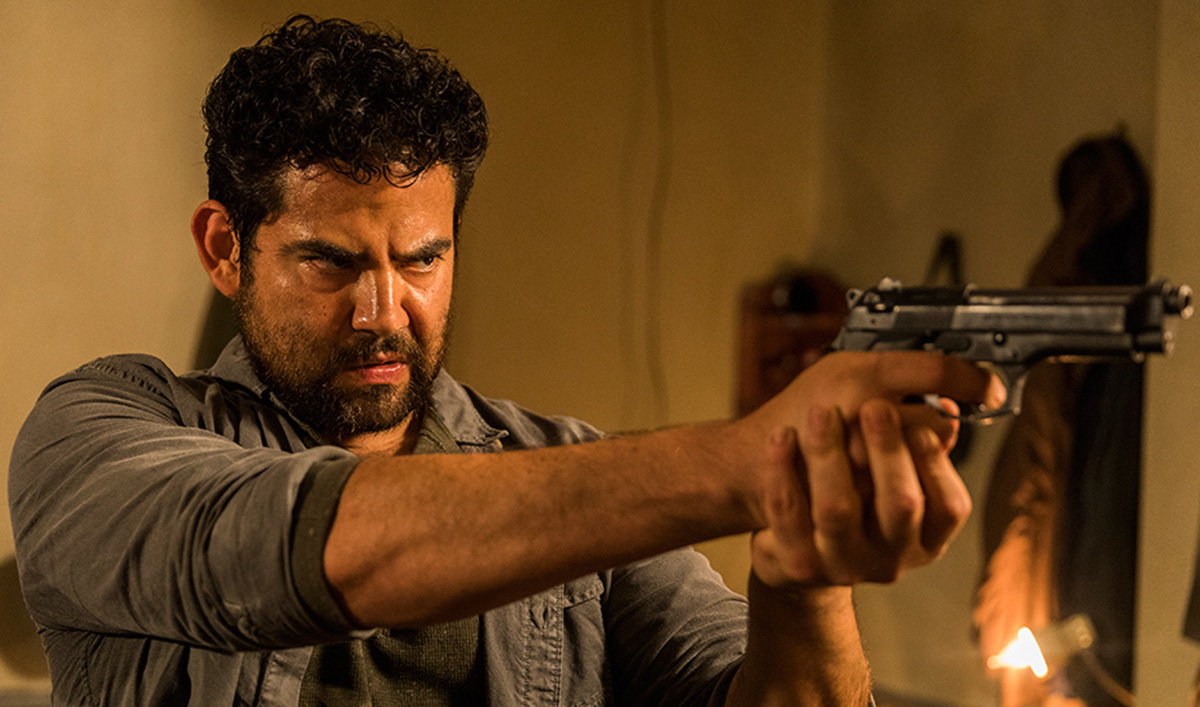 This week, Entertainment Weekly interviews Juan Gabriel Pareja about returning as Morales, while Jeffrey Dean Morgan visits Jimmy Kimmel. Plus, Tom Payne talks Jesus with EW. Read on for more:
• Entertainment Weekly speaks with Juan Gabriel Pareja, who says keeping his return secret has "been borderline unbearable. It's been really something. That's been the hardest part, honestly, having to bite my tongue for as long as I have, and then also just seeing the episode myself just a day or two ago."
• Jeffrey Dean Morgan, telling Jimmy Kimmel how much he hates night shoots, jokes, "That's why Negan is bad. It's night shoots! Otherwise Negan would be a dream," ComicBook.com reports.
• Entertainment Weekly interviews Tom Payne, who explains that Jesus "wants a sense of belonging and a sense of family and a sense of what will help him grow and how he can help others grow. And he's on a path to discovery for himself and within the group this season."
• Rosemary Rodriguez (Season 8, Episode 2 "The Damned" Director) talks to ComicBook.com about death on the show: "The good thing about The Walking Dead is actors coming to it, kind of know that could happen any moment in any episode. There are other shows where it's not really a part of the landscape. Those are the ones that are really difficult."
• E! spotlights the return of Morales, noting "it was abundantly clear that time had not been kind to Morales (Juan Gabriel Pareja) since he and his family went their own way all the way back in Season 1."
• The Hollywood Reporter observes that, back in Season 1, "Rick and Morales were on the same page almost immediately, but the two barely had time to cement their solidarity, passing each other like ships in the night."
• TV Guide's update on Morales says, "Now all these years later, he seems to have lost his family and Rick's gun (and a lot of weight! Looking good, Juan!). Like Rick, he's not a nice guy anymore."
• The Independent has "an explainer of everything you need to remember about Morales," while Gold Derby provides "a brief refresher on how Morales and Rick know each other."
• TVLine's quotes of the week include a Season 8 Premiere exchange between Maggie and Rick, with the former saying, "You showed me how to be someone worth following," and the latter responding, "Good. After this, I'm following you."
• ComicBook.com quotes Greg Nicotero saying the show's count of walkers killed so far is "up to around 4,000. That's only the number of walkers we've killed, though, we film hundreds and hundreds every episode."
• Cinema Blend observes that the latest episode featured Boy Meets World actor Lee Norris, "better known to TGIF audiences as Stuart Minkus."
• Regarding Michonne, Danai Gurira says, according to ComicBook.com, "I think that in the beginning there were a lot of things I didn't like about her…being very singular, being very untrustworthy…That was tricky and hard for me to play. The cool thing is that she has progressed and evolved through that and gone through things."
• Jon Bernthal thinks Shane and Rick were always going to be in conflict, saying, "Shane was always more suited for the apocalypse than Rick was, and that would've rubbed him the wrong way when Rick tried to lead in kindness. So, I think eventually they would've come to odds," ComicBook.com reports.
• Interviewed by Fan Fest, Chandler Riggs says he doesn't want Carl to die, saying it "would suck because I like my job. If he had to go out it would be awesome to have him go out in a battle against the Saviors or something."
• According to ComicBook.com, Josh McDermitt says he doesn't mind the differences between Eugene on the TV show vs. the comic, explaining, "I love that the TV took a hard right turn from the comics. I love the TV version better because we're able to flesh it out and tell it from a more emotional point of view."
• As reported by ComicBook.com, Greg Nicotero says if he could be any character from the show, he'd choose Glenn: "I love Steven [Yeun] and I love his honest portrayal of that character. Even knowing what I know now, I'd pick Glenn."
• Sydney Park says Oceanside's Cyndie "experienced a lot of violence. Her family was killed right in front of her. Her grandmother, the leader, is so hardened by the hurt she's experienced in her life… She is trying to just be decent," according to ComicBook.com.
• Asked by Monkeys Fighting Robots whether Beth and Daryl had a romantic moment in Season 4's "Alone," Emily Kinney replies, "I don't think that it was defined at that point yet. I think it was still a mystery of what that moment meant."
• BT TV compiles a "ranking of the most dastardly and downright evil characters in The Walking Dead's history."
• For recaps and reviews of Season 2, Episode 8, "The Damned," check out the Atlanta Journal-Constitution, Chicago Tribune, Den of Geek, Fox News, The Guardian, Insider, io9, Movie Pilot, NerdcoreMovement.com, Syfy, Time, TV Fanatic, TVLine, Us Weekly, Variety and TheWrap.
Watch Season 2, Episode 8 (No Login Required) on amc.com and AMC apps for mobile, Fire TV, XBox One, Apple TV, Roku and Chromecast. Watch Season 8, Episode 2 of Talking Dead.
To stay up-to-date on all the latest news about The Walking Dead, sign up for the weekly Dead Alert.
Read More