Press
Andrew Lincoln Talks Rick/Negan With TV Insider; EW Interviews Lennie James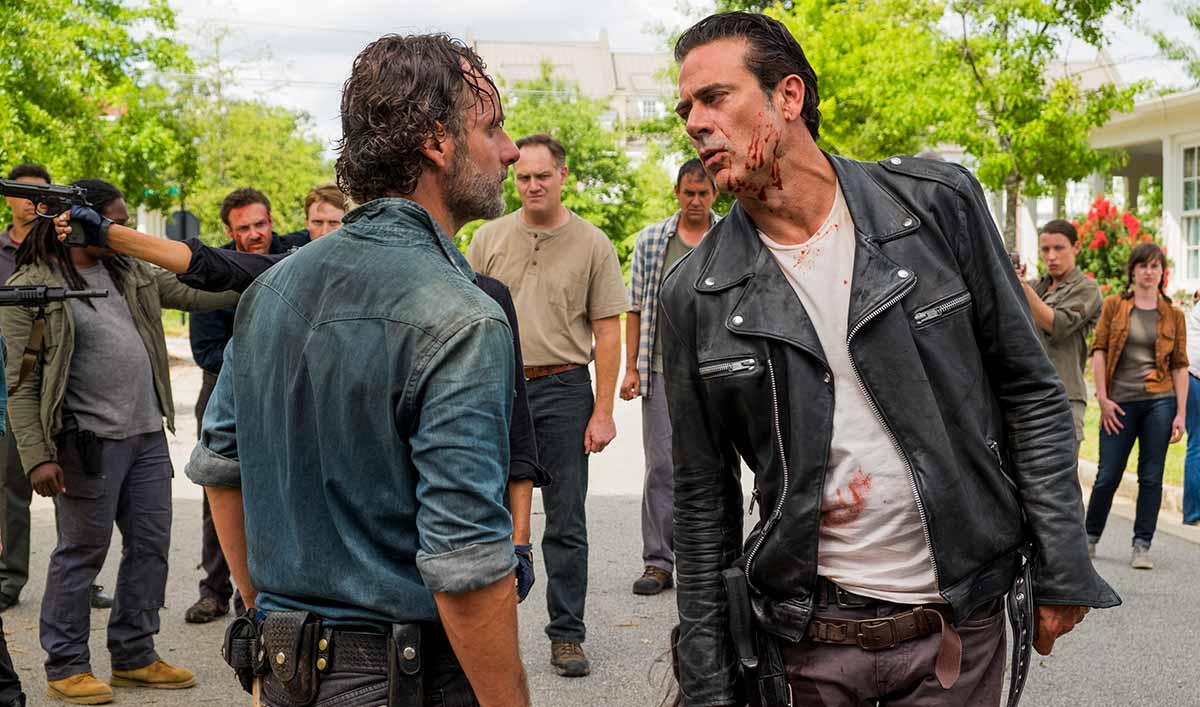 This week, Andrew Lincoln talks about Rick and Negan with TV Insider, while Entertainment Weekly interviews Lennie James about Season 8. Plus, Gale Anne Hurd previews the Season 8 Premiere to ComicBook.com. Read on for more:
• Interviewed by TV Insider about Rick and Negan's war, Andrew Lincoln confesses, "I find their relationship—and how each sees a part of himself in the other—to be quite thrilling. [Laughs] If Negan must eventually get his just deserts, maybe we can stretch it out a little?"
• Entertainment Weekly speaks with Lennie James, who teases, "The first three episodes, I don't think they take much of a breath. I mean, it just keeps going, and we settle down a little bit later, and it's going to be brutal and there are going to be casualties."
• Gale Anne Hurd tells ComicBook.com that the Season 8 Premiere is "the most ambitious episode we have ever done. There will be elements shot during succeeding episodes. It's that big."
• Andrew Lincoln tells Entertainment Weekly that Rick could exit The Walking Dead, with the show becoming Carl's story: "It's beautifully set up for that — for the camera to be certainly his story, and then it just shifts off."
• Entertainment Weekly asks the show's cast "to look ahead and share their personal wish lists for what they would like to see happen for their characters in episodes 101-200."
• "We tasked our cover stars Andrew Lincoln, Norman Reedus, Lauren Cohan, Danai Gurira, and Melissa McBride with trying to explain the entire show in just 30 seconds… and let's just say their zombie-slaying skills are more impressive than their speed recall," Entertainment Weekly reports.
• Greg Nicotero tells ComicBook.com that Season 8 "is by far the most propulsive season premiere that we've ever done in terms of setting the stage for knowing that we're in the war."
• According to The Hollywood Reporter, Scott Gimple reveals, "Where the story is now, the history of the show is weighing upon each character. In some ways, it's made them who they are. In other ways, some of them are fighting that history."
• The Hollywood Reporter also tours the show's set, including the site of Glenn and Abraham's deaths — with Executive Producer Tom Luse calling it "hallowed ground. I don't know how much we'll shoot here again. We might not. It's one of the most difficult things we have ever been through."
• The Associated Press talks to Lennie James, who observes, "Morgan's decision to not kill was never about cowardice, it was never about the fear. The only fear he had is the fear of who he is, and what he's like and what he does when he's killing."
• Entertainment Weekly interviews Pollyanna McIntosh, who says she hopes Jadis and Rick can "work together in the future. But she really is going to do what's best for her group and that's it. It's not going to be about feelings. It's going to be about effectiveness."
• Lennie James explains to ComicBook.com that "even when Morgan's trajectory in this story isn't directly to do with his relationship to Rick, it's to do with his relationship to Rick. You know, any relationship he has to any of the Alexandrians is to do with his relationship to Rick."
• ComicBook.com speaks with Lennie James, who says Morgan and Carol's relationship is about "two people who recognize in each other, not just the pain of the past, but the potential of who they could be in the future."
• Entertainment Weekly showcases its covers for The Walking Dead through the years: "Take a walk down memory lane with this incredible gallery of covers, complete with clips from all of our various cover stories."
• Bloody Disgusting spotlights posters celebrating the show's 100th episode that "recreate several classic movie posters… in the style of The Walking Dead."
• Talking about the show deviating from the comic, Gale Anne Hurd tells ComicBook.com, "Is there a bit of, 'Yeah, we don't want people to know exactly what's going to happen?' Sure. It makes for better drama. But there's not a conscious intention to say, 'Okay, they did it this way in the comic, how can we specifically do this differently?'"
• Discussing Season 8 with The Associated Press, Greg Nicotero says, "There's gonna be some moments that people who have watched the show from the beginning will see and be like, 'Oh, OK, I see what they're doing here' by paying tributes to specific moments over the last seven years."
• The Associated Press shares the "10 things you might find surprising about The Walking Dead," while TV Guide shares "one hundred secrets I learned from The Walking Dead's hundredth episode."
• Pollyanna McIntosh says to ComicBook.com that Jadis' speech pattern works because "she is so minimalist with everything, and her people are, and you know nothing is wasted. So it made sense to me already, and she's very precise about what she wants your response to be."
• John Carroll Lynch (Eastman), speaking with A.V. Club about Season 6's "Here's Not Here," calls that episode "beautiful. And it was great to play. And it was really terrific to say things that I believe. Which is that we are not built to kill."
• ComicBook.com chats with Ross Marquand, who says the only way to defeat Negan "is to just fight fire with fire and take him out. And I think Rick is on a singular mission to take him out. And Aaron wants to support him in that."
• Katelyn Nacon, speaking with ComicBook.com, says that meeting Glenn and Maggie made Enid "a stronger person and we started to see her kind of recruit people in the Hilltop, so I definitely hope to see that go further on in this season, for sure."
• Josh McDermitt tells ComicBook.com how much he misses Michael Cudlitz on set: "He's one of my best friends and you know it's coming and it comes and it still kind of hits you in a weird way."
• Insider poses "all the questions we have going into Season 8 we hope to see answered."
• Bleeding Cool reports that The Walking Dead engaged in some "snarky, good-natured ribbing" at Jon Bernthal/Shane's expense on Twitter late last week.
• Yahoo has details of Adult Swim's The Robot Chicken Walking Dead Special: Look Who's Walking, which premieres Oct. 8, and reveals that Daniel Radcliffe sings the Terminus song.
Catch up on Full Episodes of The Walking Dead on amc.com and AMC apps for mobile, Fire TV, XBox One, Apple TV, Roku and Chromecast.
To stay up-to-date on all the latest news about The Walking Dead, sign up for the weekly Dead Alert.
Read More