Press
TV Guide Previews Season 8; Scott Gimple Discusses Carol With TVLine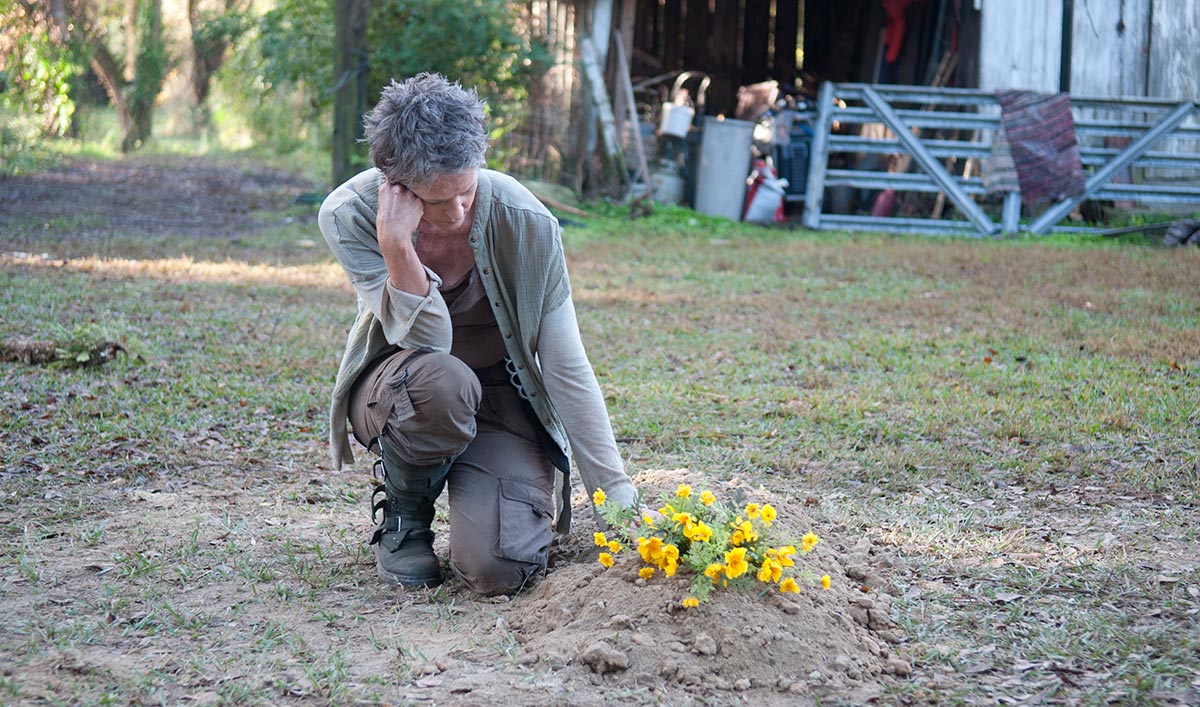 This week, TV Guide previews Season 8, while Scott Gimple discusses Carol's storyline with TVLine. Plus, Syfy Wire deems "Look at the flowers" one of the best TV quotes from the last 25 years. Read on for more:
• According to a new Season 8 synopsis, "all that stuff that makes up life beyond just survival will finally start to seep in," TV Guide reports.
• Teasing the upcoming war with Negan, Scott Gimple tells TVLine that Carol's "entire storyline has prepared her for this — she's ready. The strength and bravery that she shows as a person this season, and the ingenuity that she employs… is very satisfying."
• "Look at the flowers," from Season 4, Episode 14, "The Grove," is one of Syfy Wire's best TV quotes from the last 25 years: "It's a terrible and emotional moment (Carol weeps while saying it, and pulling the trigger), and probably the biggest turning point for any one character on the whole show."
• Asked by the Huffington Post about Judith's parentage, Jon Bernthal says, "I always thought in my gut it was Shane's baby."
• TV Guide showcases a trailer for Adult Swim's The Robot Chicken Walking Dead Special: Look Who's Walking, which will air Oct. 8 and "feature the voices of a big chunk of AMC's megahit zombie show's current and former cast."
• Variety says a new marketing partnership will see the show's characters on limited-edition Mountain Dew packaging this fall, while Mountain Dew and AMC plan to launch a new augmented-reality app that "lets fans interact with some of the show's best-known zombie 'walkers' and then share those interactions via social media."
• Yahoo TV bakes Carol's beet and acorn cookies and reports that "the results were very surprising: Beet and acorn cookies are a good thing!"
• FanFest checks out 27 "behind-the-scenes photos from over the years going all the way back to Season 1."
• FanFest highlights a new video where The Walking Dead cast "takes some time out of their grueling filming schedules to reminisce and reflect on how the show has impacted their lives."
• Funko will introduce a Dwight figure — who "comes complete with a half-burned face, and is armed with his trusty gun" — at New York Comic-Con, according to ComicBook.com.
Catch up on Full Episodes of The Walking Dead on amc.com and AMC apps for mobile, Fire TV, XBox One, Apple TV, Roku and Chromecast.
To stay up-to-date on all the latest news about The Walking Dead, sign up for the weekly Dead Alert.
Read More