Press
Norman Reedus Previews Season 8 to EW; TV Guide on Maggie as Leader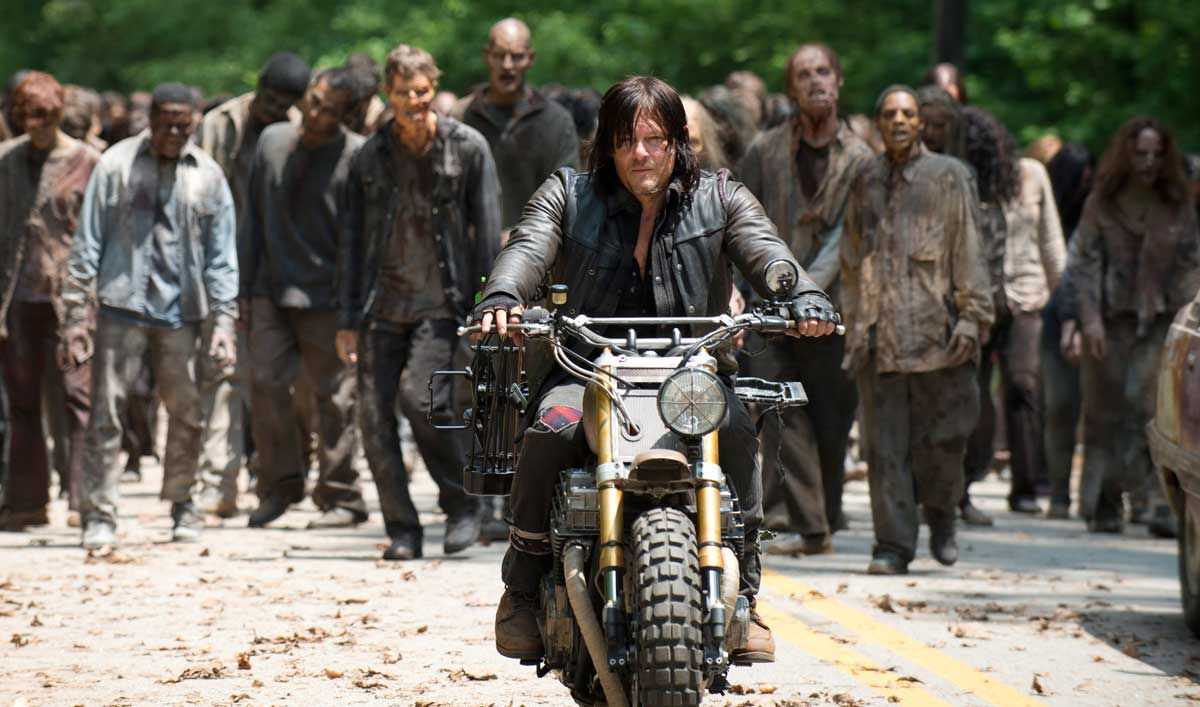 This week, Norman Reedus previews Season 8 to Entertainment Weekly, while TV Guide considers if Maggie would make a good leader. Plus, EW speaks with Melissa McBride, Danai Gurira and Andrew Lincoln. Read on for more:
• Norman Reedus tells Entertainment Weekly that "in Season 8, the gang's back together, and it's full blown right now. It's A versus B. It's your home team fighting your biggest rival, so there definitely will be cheerleaders."
• After viewing a new Season 8 trailer, TV Guide asks, "Is Maggie ready to take over the mantle of leader?"
• Asked about Carol's mindset, Melissa McBride says to Entertainment Weekly, "I think given the rise of Negan and all the horrible things that she survived since she left… she does feel a call to duty."
• Entertainment Weekly interviews Danai Gurira, who says of Season 8 that "there's just so many ways everybody's story is expanded and deepened and sharpened. And the clashes that we're in take turns no one's going to expect."
• "My instinct was, what a great storytelling device. That was my instinct. I thought it was very interesting, and also gives us an opportunity to do something else a little ahead of the game, which I think is very, very neat," Andrew Lincoln says to Entertainment Weekly about the scene of an old and grizzled Rick in the show's Comic-Con trailer.
• TVLine interviews Scott Gimple, who teases, "We'll see characters affect one another that we haven't seen affect one another before, or even just thrown together that we haven't seen thrown together. That's been really satisfying."
• Entertainment Weekly shows off "a few more exclusive new Walking Dead images to whet your appetite for the new season," including a shot of Daryl and an image of Rick with Ezekiel.
• Skybound spotlights "striking character portraits from the upcoming season," including those of Daryl, Rick and Eugene.
• Bleeding Cool shares tidbits from The Walking Dead preview special, including Scott Gimple's cryptic comment that "Maggie's baby will not be born in Season 8, but anything's possible."
• Scott Gimple tells ComicBook.com that the Season 8 premiere "sets into motion, with emotion, the next 100 episodes. It's the fuse that lights, though the episode, and by the end it explodes and starts the season going."
• Popsugar calls Jerry "the right-hand man we all would want on our side if the zombie apocalypse ever happened. His comedic one-liners are also a much-needed relief from all of the madness happening courtesy of Negan."
• ComicBook.com spotlights Greg Nicotero's Instagram post of a shot from the Season 8 Premiere that's captioned, "Damn it's an amazing piece of television…can't wait for it to be out there!"
• "I think Negan really respects what Eugene brings to the table and we keep finding out, Negan keeps on finding out more about, and the more he finds out, the more gleeful he gets about this guy being on his side," Jeffrey Dean Morgan says on The Walking Dead preview special, according to ComicBook.com.
• Flickering Myth speaks with Jayson Warner Smith (Gavin), who says, "My take on the Saviors is they are no different than any other survivor group other than they have a mafia system of governing themselves. It's straight out of Goodfellas."
• ComicBook.com decides "to count down some of our favorite Rick Grimes moments from the show with the 10 Best Andrew Lincoln Performances on The Walking Dead."
• ComicBook.com reports that the show's New York Comic Con panel will include Andrew Lincoln, Norman Reedus, Jeffrey Dean Morgan, Lauren Cohan, Melissa McBride, Lennie James, Tom Payne, Katelyn Nacon and Austin Amelio.
Catch up on Full Episodes of The Walking Dead on amc.com and AMC apps for mobile, Fire TV, XBox One, Apple TV, Roku and Chromecast.
To stay up-to-date on all the latest news about The Walking Dead, sign up for the weekly Dead Alert.
Read More