Press
EW Spotlights Trio of Dead Covers; TV Guide Touts Season 8 Poster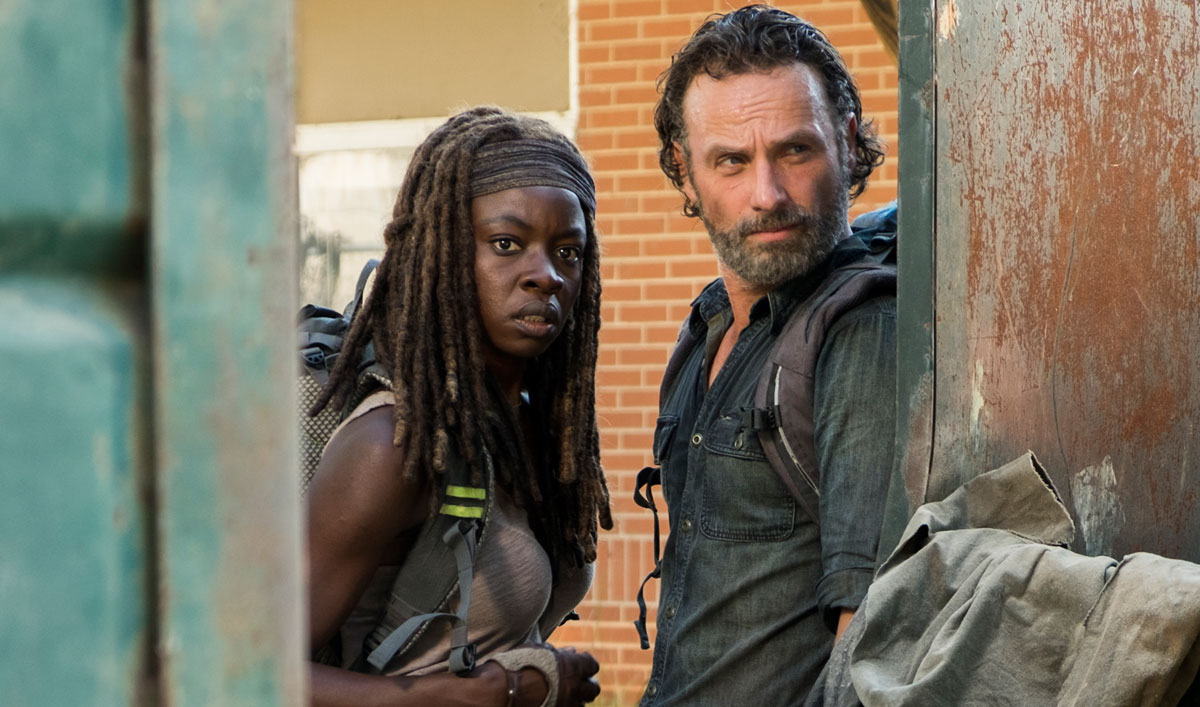 This week, Entertainment Weekly spotlights its trio of The Walking Dead covers, while TV Guide checks out the Season 8 poster. Plus, Michael Rooker shares what he thinks Merle's advice to Daryl would be. Read on for more:
• Entertainment Weekly highlights its three The Walking Dead covers and quotes Seth Gilliam saying about Season 8, "Every time you turn around, somebody's shooting something or blowing something up. There's some serious action that I don't think we've seen on television since The A-Team went off the air."
• Calling it "a little bit reminiscent of the grand, crowded paintings of military scenes you see in the Met or the Smithsonian," TV Guide spotlights the new Season 8 poster, soon to "be emblazoned on billboards and buses across this preapocaylptic nation. And it'll look good there — it's epic."
• According to ComicBook.com, Michael Rooker says this is what Merle's advice to Daryl would be: "Merle would say, 'Get over here! Now you go back out there and you go and you find this Negan guy, and you kick his little tail. Go on!' And I'd kick him out of the house and make him go fight Negan again."
• Lauren Cohan tells Entertainment Weekly viewers will see Maggie fight, even if she's pregnant: "Of course, the life in her body is precious. But in terms of what she's capable of, the necessity of inspiring and maintaining that hope and inspiration is greater than what her fear is over her reservations of going into combat again."
• Entertainment Weekly interviews Scott Gimple, who promises that the all-out war between Rick and Negan "will absolutely be resolved by the end of season 8. Absolutely."
• Entertainment Weekly photographs Norman Reedus, Melissa McBride, Lauren Cohan, Danai Gurira and Andrew Lincoln celebrating the show's 100 episodes and asks viewers to "see if you can spot some of the Easter eggs in this photo. Happy hunting!"
• Spotting some Easter eggs in the EW photos, Movie Pilot reveals that "Lauren Cohan holds Hershel and Glenn's old pocket watch, Shiva the tiger lurks in the bushes, Melissa McBride holds Sophia's doll and Norman Reedus has a bouquet of flowers, not unlike the Cherokee rose Daryl gave Carol in Season 2."
• Entertainment Weekly speaks with Christian Serratos about the prospects of seeing Rosita in Season 8: "I don't want to say you won't see her. I don't want to say you will. I just want to say that where there's a will there's a way."
• Entertainment Weekly shares exclusive Season 8 photos of "Richonne, Daryl, Carol, Negan's army, and more," while IGN features "15 exclusive new photos from the upcoming season to get you excited for what's ahead."
• Cinema Blend believes that new portraits of Carol, Eugene and Simon "indicate that these are characters to watch when the new season hits the airwaves."
• According to ComicBook.com, the Season 8 Premiere, airing Oct. 22, will run from 9 pm ET to 10:07 pm ET, for a run time of 67 minutes including commercials.
• Scott Gimple tells Entertainment Weekly that "we definitely have not seen the last of Heath, period. I will say that. I don't mean to disappoint the Heathies. He will be on the show. He will be within The Walking Dead again."
• Yahoo collects Abraham's best quotes because "no other character in the show's history could so pithily sum up what everyone was thinking like Abraham, and it's impossible to imagine now that anyone but Michael Cudlitz could have so craftily, cheekily, and sincerely delivered those Abrahamisms."
• Den of Geek has "mined the commentaries, extras and deleted scenes on The Walking Dead season 7 Blu-ray box-set for nerdy nuggets" and shares them all.
• The Telegraph has a Season 7 recap and guide "to everything you need to know ahead of the new season premiere next month."
• Publishers Weekly interviews Lauren Wilson, author of The Walking Dead: The Official Cookbook and Survival Guide, and she says, "I wanted [the cookbook] to be as true to the world of The Walking Dead as possible. I had to go back and re-watch every episode, scanning for food."
• Konbini showcases new behind-the-scenes photos, some dating all the way back to the pilot, and observes that the cast and crew seem to "have a seriously good time on set."
• We Got This Covered adds that the photos act "as a trip down memory lane, which will only add to the excitement beginning to swirl for The Walking Dead's 100th episode."
Catch up on Full Episodes of The Walking Dead on amc.com and AMC apps for mobile, Fire TV, XBox One, Apple TV, Roku and Chromecast.
To stay up-to-date on all the latest news about The Walking Dead, sign up for the weekly Dead Alert.
Read More