Press
EW Views Dead Highlights; Insider on Sonequa Martin-Green Casting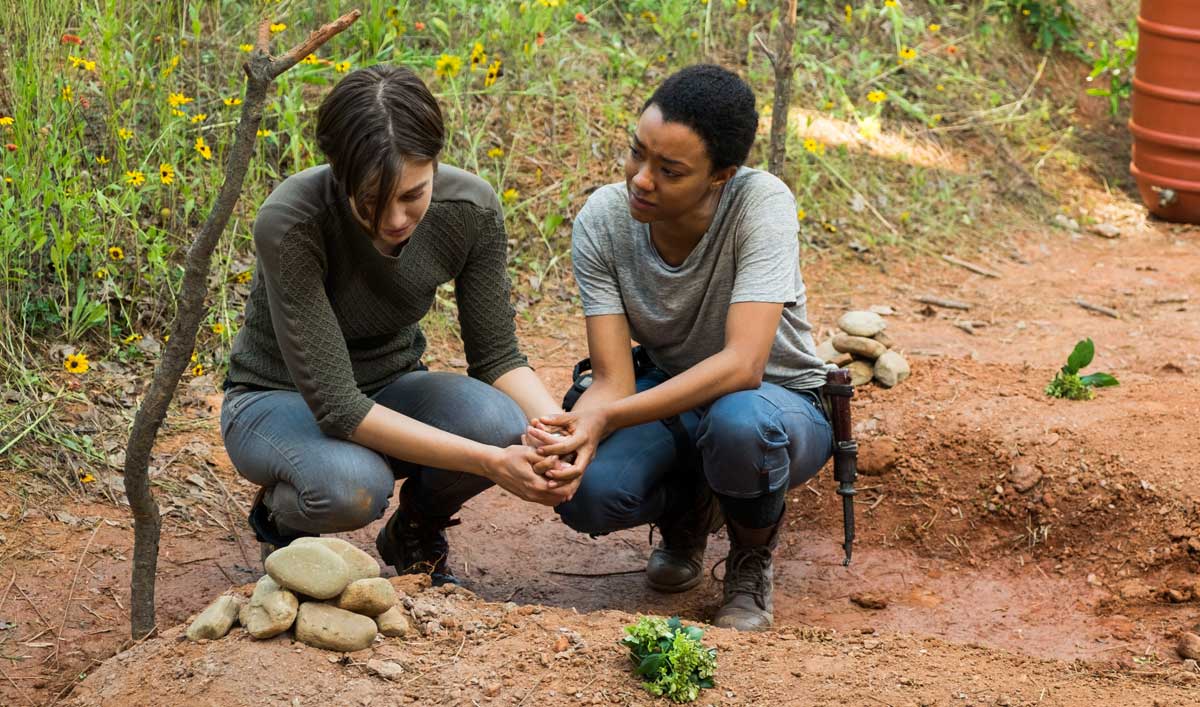 This week, Entertainment Weekly checks out the series' highlights, while Insider gets the scoop on Sonequa Martin-Green's casting as Sasha. Plus, Refinery 29 applauds The Walking Dead for Rick and Michonne's romance. Read on for more:
• Entertainment Weekly checks out AMC's new video of highlights from the show's first 99 episodes: "Taken together, it's remarkable how far Rick Grimes and the gang have come in their attempt to survive a zombie-infested apocalypse."
• Insider learns from one of the show's casting directors that Sonequa Martin-Green did so well during her audition to play Michonne that the "producers fell in love with her so much they wrote her character for her."
• Citing Rick and Michonne as an example, Refinery 29 writes that "more movies and TV shows have been featuring interracial couples without focusing on their race — or even acknowledging their skin color at all."
• Digital Spy calls for Khary Payton to become a series regular because Ezekiel is "one of the most fascinating new characters to emerge from the zombie apocalypse in ages, a regular guy faking a theatrical persona – complete with pet tiger – because he feels it's the best way to lead his people at The Kingdom."
• Insider spotlights the release of new Season 8 photos "teasing new looks at Rick, Michonne, Maggie as they prepare to go up against Negan in an all out war."
• According to ComicBook.com, Michael Cudlitz says he liked how Abraham's death "launches the next bits of story and how his death affected everyone there and the impact that it had. I think it's a way better death than in the comic."
• "Sasha's entire character motivation, everything that she did, she did because of what she said to Abraham," Greg Nicotero says on a featurette for The Walking Dead: The Complete Seventh Season Blu-ray set, ComicBook.com reports.
• Insider checks out the upcoming Season 7 Blu-ray set and highlights the eight "deleted and alternate scenes featuring more of Rick, Daryl, and a somber moment with characters that were killed off throughout the season."
• According to Flickering Myth, a new Daryl figure "based on the likeness of Norman Reedus" is available now for pre-order.
• ComicBook.com reports that a Negan and Glenn deluxe box action figure set is now available, depicting the duo "as they appeared in the Season 6 Finale and the Season 7 Premiere."
Catch up on Full Episodes of The Walking Dead on amc.com and AMC apps for mobile, Fire TV, XBox One, Apple TV, Roku and Chromecast.
To stay up-to-date on all the latest news about The Walking Dead, sign up for the weekly Dead Alert.
Read More