Press
Variety Says Season 7 Finale Was Most-Watched; Dead Wins Saturn Awards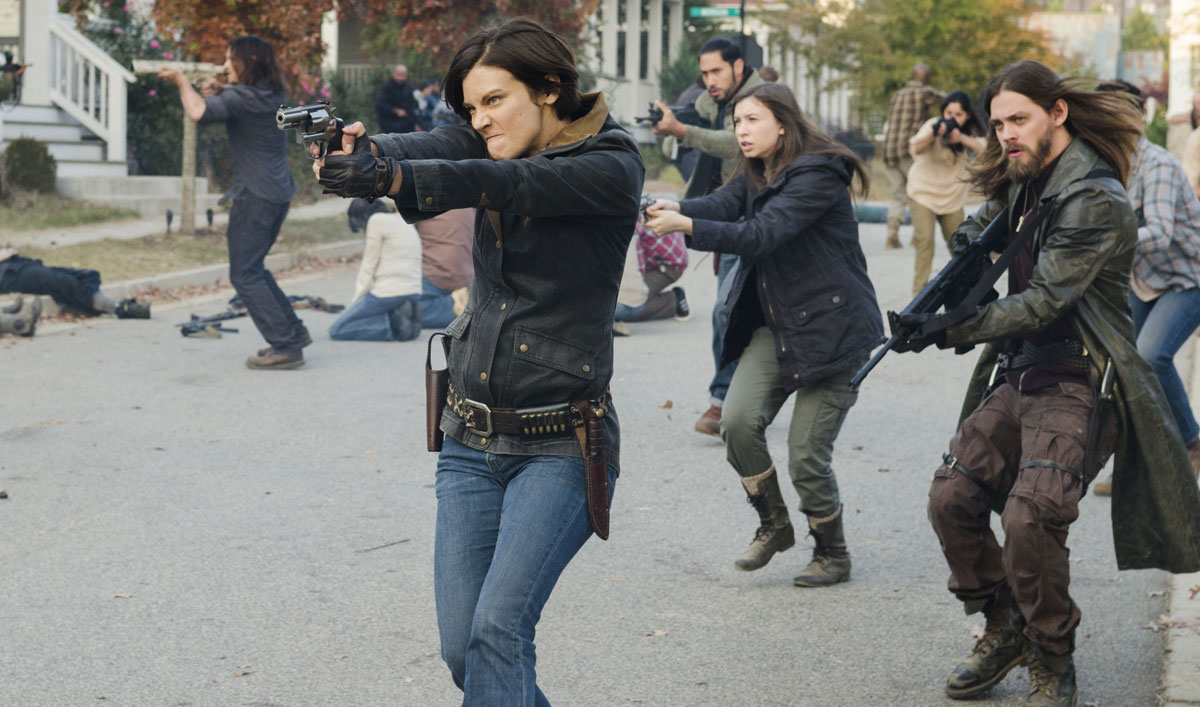 This week, Variety reports the Season 7 Finale was the most-watched on cable in the second quarter, while The Walking Dead wins three Saturn Awards. Plus, ComicBook.com has details of the show's Comic-Con panel. Read on for more:
• Variety announces that the Season 7 Finale was the most-watched cable TV program of the second quarter of 2017.
• The Walking Dead won three Saturn Awards, for Best Horror Television Series and Best Actor (Andrew Lincoln) and Best Guest Performance (Jeffrey Dean Morgan) on a Television Series, according to AceShowbiz.
• ComicBook.com reports that the show's panel at San Diego Comic-Con International is scheduled for July 21.
• According to Deadline, the Comic-Con panel will feature Andrew Lincoln, Jeffrey Dean Morgan, Norman Reedus, Lauren Cohan, Danai Gurira, Melissa McBride, Lennie James, Seth Gilliam, Alanna Masterson, Khary Payton, Chandler Riggs, Gale Anne Hurd, Greg Nicotero, David Alpert, Scott Gimple and Robert Kirkman.
• CarterMatt misses Tara and Denise: "Why did you guys have to kill off Denise? Tara's probably one of the characters who's been through the most when you think about it."
• Nerdist reports that a Negan mini bust — "which features an impressive recreation of Jeffrey Dean Morgan's likeness that was created with top of the line 3D tech" — will be available at San Diego Comic-Con International later this month.
• Movie Pilot ranks the greatest movie and TV special effects tigers and Shiva finishes at No. 2: "With Ezekiel's throne and Shiva's intimidating presence, this duo entered the hearts of fans immediately and caused a twitter storm of adoration."
• Screen Rant considers The Walking Dead a TV show with one of the highest body counts: "The survivors don't just have to worry about being eaten by the walkers, however, as they're just as often murdered by other human survivors who have given into their worst selves in this post-apocalyptic world."
• Asked by Cinema Blend whether Jadis has second thoughts about double-crossing Rick in the Season 7 Finale, Pollyanna McIntosh responds, "No, she has no time for regrets. That's a waste. She doesn't waste anything."
• The director of Midnighters tells IndieWire how editing The Walking Dead helped him make his first horror feature: "The Walking Dead has a deliberate, measured pace that's a large part of what makes its tone so effective. I think of it as the heartbeat of the series, and it's most often set in the editing room."
• FanFest recaps The Walking Dead's Christian Serratos, Josh McDermitt, and Lauren Cohan competing on Hollywood Game Night, noting that the cast members are "funny, they're competitive, and they're extremely close both on screen and off."
• ComicBook.com argues the apocalypse survivors "are even more of a force to be reckoned with when they are not working alone. Some of the Alexandria survivors are more lethal and productive when paired with similar or, in some instances, completely different characters."
• One of Digital Trends' best TV villains is Negan, "who leads his group of Saviors with terrifying charm and wit. And of course, his beloved barbed-wire bat Lucille, which he'll use at the drop of a hat."
• ABC News Radio spotlights –a documentary on TV and movie composers like Bear McCreary who explains he struggled with The Walking Dead theme until a moment of inspiration, saying, "It was a total accident, but sometimes it just comes to you that quickly."
• ComicBook.com tries to figure out how old Carl is since his age "has been a topic of conversations for years."
• TV Shows on DVD reports that Season 7 will be available for DVD and Blu-ray Disc on Aug. 22.
Catch up on Full Episodes of The Walking Dead on amc.com and AMC apps for mobile, XBox One, Apple TV, Roku and Chromecast.
To stay up-to-date on all the latest news about The Walking Dead, sign up for the weekly Dead Alert.
Read More