Press
Rolling Stone on Robert Kirkman's Preview; TV Guide's Comic-Con Intel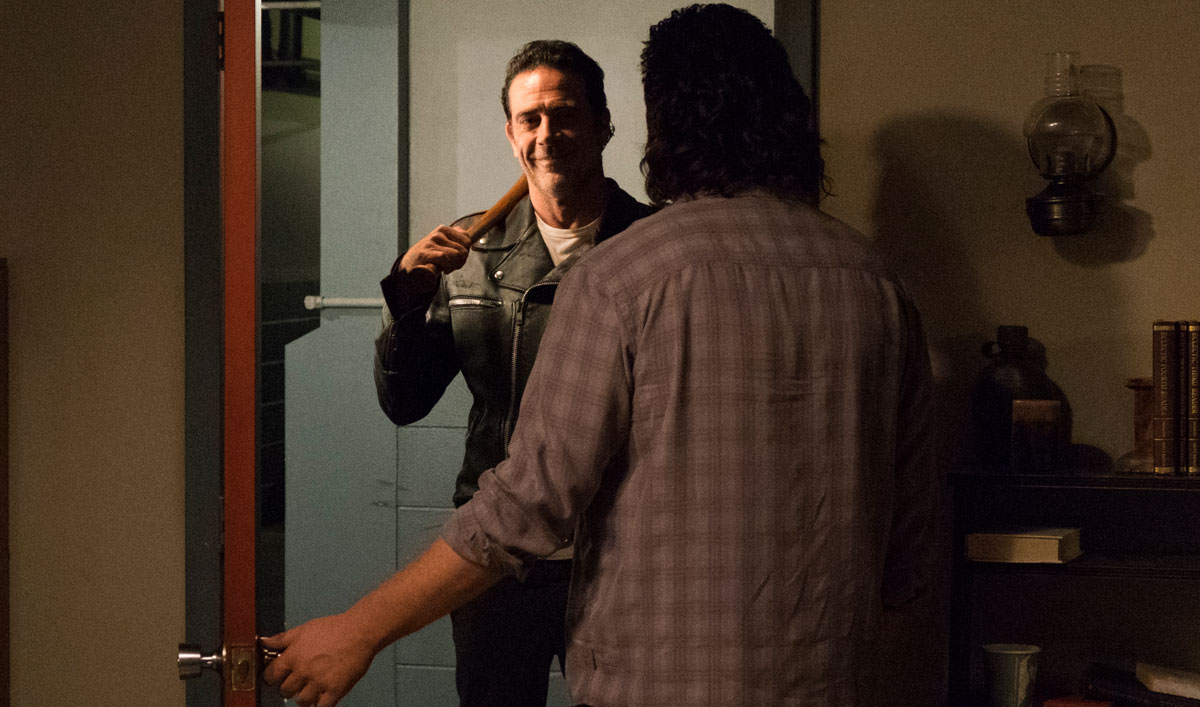 This week, Rolling Stone has Robert Kirkman's Season 8 preview from Comic-Con, while TV Guide shares what it learned from The Walking Dead's Comic-Con panel. Plus, Time reports on the show's Season 8 trailer. Read on for more:
• At the show's Comic-Con panel, Robert Kirkman teases, "We have all kinds of great stuff planned. Our next season … will be very action-packed and very fast-paced. I counted six explosions in the trailer alone," Rolling Stone reports.
• TV Guide shares everything it learned at the show's Comic-Con panel, touting, "War is coming to The Walking Dead, and it's time to choose your side."
• Time spotlights the Season 8 trailer, commenting that "while the footage was full of twists — do those zombies look familiar? — the most shocking scene came at the end of the teaser, after the AMC logo appeared on screen." CNET dissects the promo, shot by shot.
• The Los Angeles Times notes the Comic-Con panel began with a tribute to the show's fatally injured stuntman, with Scott Gimple saying, "We're here to talk to you tonight about our friend John Bernecker."
• Comic Book Resources, Deadline, Digital Spy, The Hollywood Reporter, IndieWire and Vanity Fair also filed dispatches from the panel.
• Scott Gimple, spotlighting a new Season 8 photo of Rick and Maggie in Entertainment Weekly, previews, "We have basically set the stage for All Out War. Negan's said it, everybody has seen they're in it."
• Debuting a new photo of Carol and Daryl, Entertainment Weekly learns from Scott Gimple that he enjoyed "seeing all the characters together interacting as one" in the Season 7 Finale and that Season 8 will be "that times a million."
• Vulture notes "the Comic-Con panels for both The Walking Dead and Fear the Walking Dead became small tributes" to the recently deceased George Romero.
• According to ComicBook.com, Andrew Lincoln recalls his first The Walking Dead scene, saying, "It was Jon Bernthal and me, terrified, trying to make sense of where we were and it was thrilling. This has been the most incredible thing in my life. It's been the most incredible experience."
• Popsugar spotlights Lauren Cohan's Comic-Con quote about what Glenn would teach to his unborn baby: "Knowing how jubilant and heroic Glenn and Steven [Yeun] are in all this, I think that what he would have wanted to teach the baby or expose the baby to is just that: bravery and comedy and the impulsive energy that he had."
• Asked during his Comic-Con panel which character he'd bring back if he could, Robert Kirkman replies, "I don't like to play favorites but Tyreese. Maybe Glenn, whatever," ComicBook.com reports.
• The Hollywood Reporter tours the show's Comic-Con booth, which is an "expansive display featuring Negan (Jeffrey Dean Morgan) as well as one of the show's most creative walkers."
• The Hollywood Reporter also pays a visit to an interactive attraction dubbed The Walking Dead Deadquarters, which includes "a silicone replica of the hospital doors that Rick encountered in The Walking Dead pilot, which may represent the most iconic image from the show yet."
• Entertainment Weekly announces that Season 8 will premiere Oct. 22 and unveils new Comic-Con key art.
• Discussing dialect coaches, The New York Times notes that Andrew Lincoln "set up camp in Georgia for a few months before filming began to immerse himself in the region's manner of speaking."
• Entertainment Weekly reports that Bear McCreary's original score from The Walking Dead will be released later this year — and McCreary says, "I have distilled my choices to include tracks that are both frequent fan requests and my personal favorites."
• ComicBook.com checks out the first Season 8 poster, which features "all of the major characters, past and present, from The Walking Dead."
• Casting Director Sharon Bialy talks with Insider about casting Jeffrey Dean Morgan as Negan: "We discussed a list of actors with Scott Gimple and I think, by the way, Gimple and we thought he was really perfect for it. [Morgan] had the right combination of charm and depth and sexuality and power."
• Undead Walking reports on the show getting an Emmy nomination in the Outstanding Prosthetic Makeup for a Series, Limited Series, Movie, or Special category for the Season 7 Premiere, "The Day Will Come When You Won't Be."
• Yahoo TV recalls "100 seconds of scenes when our favorite apocalyptic survivors suffered tragic emotional moments that caused them to meltdown — moments that still haunt us seasons later."
• TV.com compiles a list of the six meanest villains throughout the show, saying,"The Walking Dead always needs a good villain."
• Citing a Netflix study, Mashable reports that the No. 1 TV show U.S. moms make time in their schedules to stream is The Walking Dead.
Catch up on full episodes of The Walking Dead on amc.com and AMC apps for mobile, Fire TV, XBox One, Apple TV, Roku and Chromecast.
To stay up-to-date on all the latest news about The Walking Dead, sign up for the weekly Dead Alert.
Read More