Press
THR Interviews Sonequa Martin-Green; Andrew Lincoln Talks to EW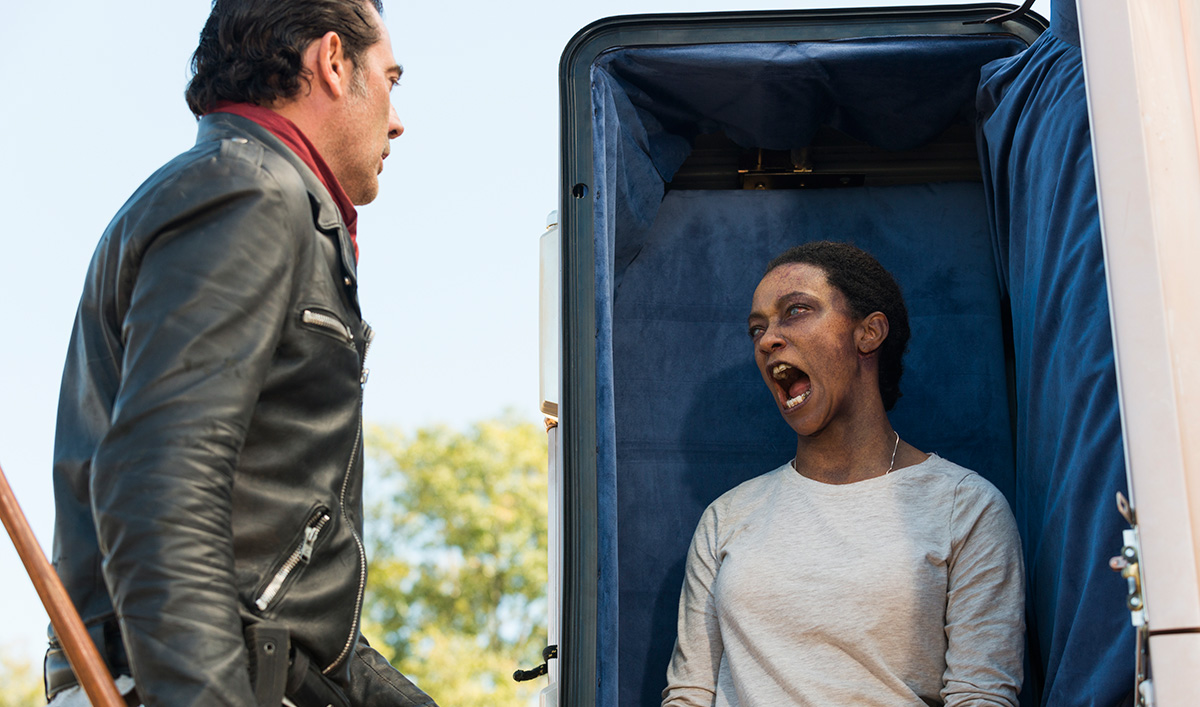 This week, Sonequa Martin-Green talks about Sasha's fate with The Hollywood Reporter, while Andrew Lincoln discusses Season 7 with Entertainment Weekly. Plus, Gale Anne Hurd teases the show's 100th episode. Read on for more:
• Interviewed by The Hollywood Reporter about Sasha's demise, Sonequa Martin-Green says, "Finding out how it was going to happen was exhilarating — I thought it was perfect. I was actually surprised when I read the script. I was so grateful for it and felt quite honored to end the story that way."
• Explaining Rick's Season 7 arc, Andrew Lincoln says to Entertainment Weekly that "what happened during the course of the first 8 episodes is you see him be diminished, and the back 8 was him being rebuilt, largely a lot by Michonne and the strong women in the community."
• Deadline speaks with Gale Anne Hurd about the Season 8 Premiere, which is also the show's 100th episode, and she says that "given that we've started the arc of All-Out War with Rick and the Survivors and the various communities and Negan, I think it's going to come out swinging, so to speak."
• Teasing Season 8, Greg Nicotero says to Entertainment Weekly that "things have accelerated and I think our show benefits a lot of times from a lot of our core characters' chemistry. So I think we're going to see a very different kind of Walking Dead next year. In a very good way."
• Talking Season 7, Greg Nicotero explains to TVGuide.com that "this was a fun season finale to do because our core cast, the people that have been the bedrock of the show since the beginning, all had a chance to play off of each other."
• Sasha's journey was "finding true strength, not pretending to have strength, but actually being strong, and realizing that self-preservation is usually something that you do out of fear," Sonequa Martin-Green tells Entertainment Weekly.
• "I just let go and committed wholeheartedly. I was surprised at how much fun I had, actually. [Laughs] I had a blast with it!" Sonequa Martin-Green explains to TVLine about playing a walker.
• Scott Gimple shares with The Hollywood Reporter that the Season 7 Finale saw "the first battle of the war. Sasha was the hero of that battle. She is, in some ways, the rallying cry, the inspiration and the strength. The momentum with which she led the proceedings is going to exist for a while."
• IndieWire talks to Scott Gimple, who notes that Rick "sees it as a moral imperative to kill Negan. It is his focus, along with defeating the Saviors and returning the world to fairness. That's what he's going to be pursuing."
• Looking ahead, Andrew Lincoln tells the Los Angeles Times, "I'm more excited for Season 8 than I've ever been. I think it's going to be big, but it's also going to be terrifying. And I mean that from the very depths of my cynical soul."
• Variety chats with Andrew Lincoln, who says Sonequa Martin-Green "brings so much lightness and joy and heart to every occasion. Just watching her work is fantastic. She's fully committed at all times, and she's going to be terribly, terribly missed. She's one of the hearts of the show."
• Talking Rick with the New York Post, Greg Nicotero says, "What he has realized is it isn't about just him surviving or just Michonne [Danai Gurira] surviving; it's that their group survives, that they're victorious."
• Interviewed by Harper's Bazaar, Lauren Cohan notes that The Walking Dead's "characters are defined by their merits, not their gender. It makes me proud when mothers tell us that their daughters look up to the women on our show."
• Discussing Sasha's death, TVGuide.com enthuses that "The Walking Dead at least made her death count and gave her a pretty awesome send off."
• In honor of Sasha, Variety figures out "where Sasha's sacrifice ranks on the list of Walking Dead deaths."
• Vanity Fair points out how "the way Tyreese and Sasha's deaths played out are strikingly similar—intimate looks into their psyches as they wonder whether they're really ready to die, and reflections on the life and relationships that have shaped them."
• Highlighting "Someday We'll All Be Free" by Donny Hathaway, Bustle says it's "the last song that Sasha listened to while living, and she finally got to enact one last bit of revenge when it ended."
• TVGuide.com explains why the "undisputed MVP of The Walking Dead's Season 7 Finale was Shiva."
• The Huffington Post notes how the Season 7 Finale "tugged on our heartstrings with a final tribute to a beloved character ― and everyone's favorite former pizza boy ― Glenn."
• For its part,Vanity Fair says "the most important part of the episode came at the very end, as Maggie delivered a heartfelt tribute to Glenn."
• Reporting on Michael Cudlitz's appearance in the Season 7 Finale, ComicBook.com comments, "Despite being on the series for over three years, the flashback sequence which added depth to Abraham and Sasha's relationship ranked among Cudlitz's best experiences on The Walking Dead."
• "Fans got emotional watching Abraham and Sasha together for the last time – especially as it was also Sasha's farewell episode," Digital Spy reports.
• The Independent explains that Bernie Wrightson, the person to whom the Season 7 Finale was dedicated, was " an American artist best known for co-creating popular horror character the Swamp Thing as well as an array of other popular horror comics."
• Norman Reedus shares with the New York Post, "Let Rick get all the girls. I'm like Spock on Star Trek and he's like Captain Kirk. He gets all the ladies and I sit in the background and say weird things."
• Speaking with the Dallas Observer about his Dallas theater background, Khary Payton explains, "I'm weirdly qualified for this job. From all the voice-over work and all the Shakespeare I did and all these guys I did in Dallas and just the nature of theater to sneak to the back of the room kind of lends itself to Ezekiel's manner of communicating."
• Xander Berkeley tells SyFy Wire, "I like to think that we'll keep the audience guessing with Gregory. And one of the things that does make him entertaining and fun is that you can't quite be sure where he's headed next literally or figuratively."
• TVGuide.com, impressed by Negan's quotable quotes, decides to round up "his top seven best bits of verbal flair."
• According to Movie Pilot, Greg Nicotero reveals a Season 5 Finale homage to Jaws where "we got a replica of the license plate from Jaws that they cut out of the shark and put it on one of the cars."
• Sarah Wayne Callies (Lori Grimes) discusses Judith's paternity with CinemaBlend, saying, "What matters is who stands up for this kid, and Rick has stood up for this kid, and that makes Judith his daughter. Nothing else matters."
• Popsugar showcases "all of the times Judith is the purest thing about the show."
• IGN checks out "the 10 coolest The Walking Dead Funko Pops."
• Flickering Myth previews an upcoming Michonne figure that's "based on the likeness of Danai Gurira" and comes with two pet walkers.
• For recaps and reviews of the Season 7 finale, "The First Day of the Rest of Your Life," check out ABC News, Chicago Tribune, The Daily Beast, Deadline, Entertainment Weekly (recap and review), E! News, The Guardian, The Hollywood Reporter, IGN, Los Angeles Times, New York Daily News, New York Post, The New York Times, Rolling Stone, TV Guide and Variety.
Watch the Season 7 finale, "The First Day of the Rest of Your Life," and binge Season 7 now on Chromecast, Xbox One, Apple TV, Roku, AMC mobile apps and amc.com.
To stay up-to-date on all the latest news about The Walking Dead, sign up for the weekly Dead Alert.
Read More