Q&A
(SPOILERS) The Walking Dead Q&A — Sonequa Martin-Green (Sasha)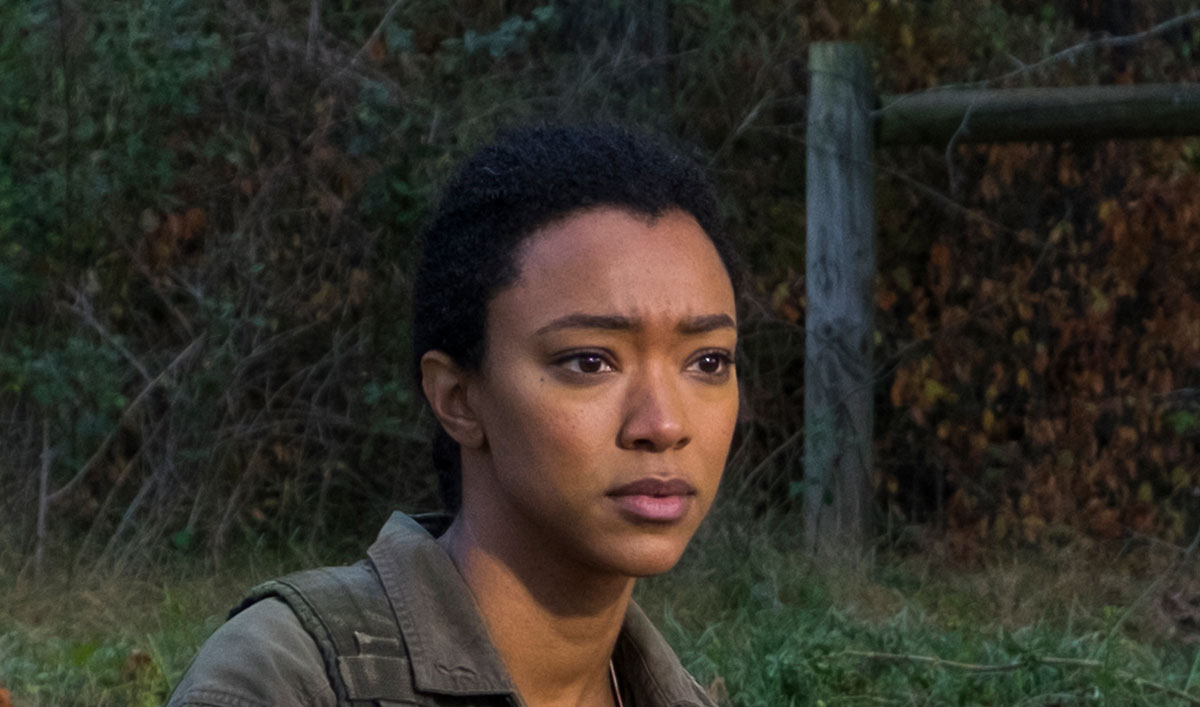 Sonequa Martin-Green, who plays Sasha on AMC's The Walking Dead, talks about the hard choices made by her character in the Season 7 Finale and why Negan tries to recruit Sasha as a Savior.
Q: What was it like working with Michael Cudlitz again for the flashback scene in the Season 7 Finale?
A: It was awesome! He and I are great friends, and we had a really good time on set. We were both ecstatic about getting the opportunity to work together again in this story. We all tell each other that we hope to cross paths again – and I'm sure a lot of us will – but it was really great to come back together in this same story. That scene is a very enlightening moment, and it had a sort of retroactive effect. It was trippy. [Laughs]
Q: How long did you know what was going to happen to Sasha?
A: I wasn't surprised because the gracious thing about leaving the show is that you do know ahead of time, so you're able to prepare yourself, get your life situated and wrap your head around the story as well. I didn't just open the script and find out. It's really great we don't have to find out that way. [Laughs]
Q: Was sacrificing herself necessary to start a war?
A: As Sasha, I definitely felt the sacrifice was more than worth it. I had gone down this path with Rosita to take care of the problem – the problem that was pervading not just our lives, but life in general – and I felt that all roads in my life have led me to this moment. I had to go through a lot of changes and a lot of loss, but it opened me up to who I really am, and I realized what my purpose really was, which was to redefine the world we live in by taking care of the "Negan issue." He represents a principle. It's so heart-wrenching – sacrifice always is – but it was honestly an honor for me to do it.
Q: What do you think it was that Negan saw in Sasha as a potential recruit?
A: I think it could be a number of things. Perhaps he hadn't seen a woman with nothing to lose before… It's obvious that he saw her strength, and I think deep down, there was something that spoke to him about the sacrifice for her family in her saying, "just one of us." He said something about having big balls [laughs], and whenever he sees what he perceives to be male power in a woman, I think it's off-putting but in a very inspiring way for him.
Q: Were you surprised that the Scavengers turned on the survivors?
A: I try to maintain a perspective as an audience member as much as I can in addition to my perspective as Sasha in the story. As an audience member, I was extremely surprised. I was shocked and mortified, but as Sasha, I have learned to be very watchful of new people, and I've learned to do that in a positive way. I used to do it in a negative way, but now I do it in a way that's positive for the people around me. As Sasha, I'm extremely disappointed because it's such a betrayal, but I'm not as shocked as Sonequa was. [Laughs]
Q: Was the makeup process of becoming a walker as intense as it looks?
A: We made it fun, and I had a really good time with all the special effects guys. It was intense because of what it meant, and it was certainly intense because you see yourself in the mirror and go "wow!" It's a very poignant moment and a very conclusive one, but you get in there and you say, "This is it. This is the story," and you find a way to have fun with it. That's exactly what we did.
Q: As an actor, what new challenges did becoming a walker present?
A: Oh, man, it was crazy! You think it's going to be easy because you've been watching for so long and you've been fighting these things for so long, but when it's time for the physicality, it's actually really tough. I have a ton of respect for the background actors that play these walkers because they do tough work. I just wanted to get it right.
Q: Now that Alexandria, the Hilltop and the Kingdom are officially united, are you hopeful that the Saviors can be defeated?
A: I'm going to continue to be a part of this and track the journey. Now, I can just be an audience member, and there's something exciting about that. I definitely believe they can be defeated. As Sasha, I always believed, and I gave my life for that. I do believe that what I chose to do could be a catalyst and be that push that was needed. Of course, I also believed that I would take him out – that was the plan. [Laughs] If I can't do it in life, I'm going to do it in death. Even in death, I'm going to fight for life.
Q: How will you remember your character and your years on the show?
A: I've grown so much as an artist, as a person, as a woman, as a mother and as a wife. Every role that I have in my life has been touched by being a part of this story and a part of this show with these great people. I really couldn't describe how special the experience has been for me. I can profess that I have undying love for the entire process and for everyone involved – including the people who watch the show who I see as extended The Walking Dead family. To be a part of something so powerful with such a wide embrace has been nothing short of astounding, nothing short of a miracle and nothing short of a gift from God. I'm overwhelmed with gratitude.
Read an interview with Josh McDermitt, who plays Eugene.
Watch full episodes of The Walking Dead on Xbox One, Apple TV, Roku, AMC mobile apps and amc.com.
To get more exclusive interviews with the cast, sign up for the weekly Dead Alert.
Read More