Q&A
(SPOILERS) The Walking Dead Q&A — Josh McDermitt (Eugene)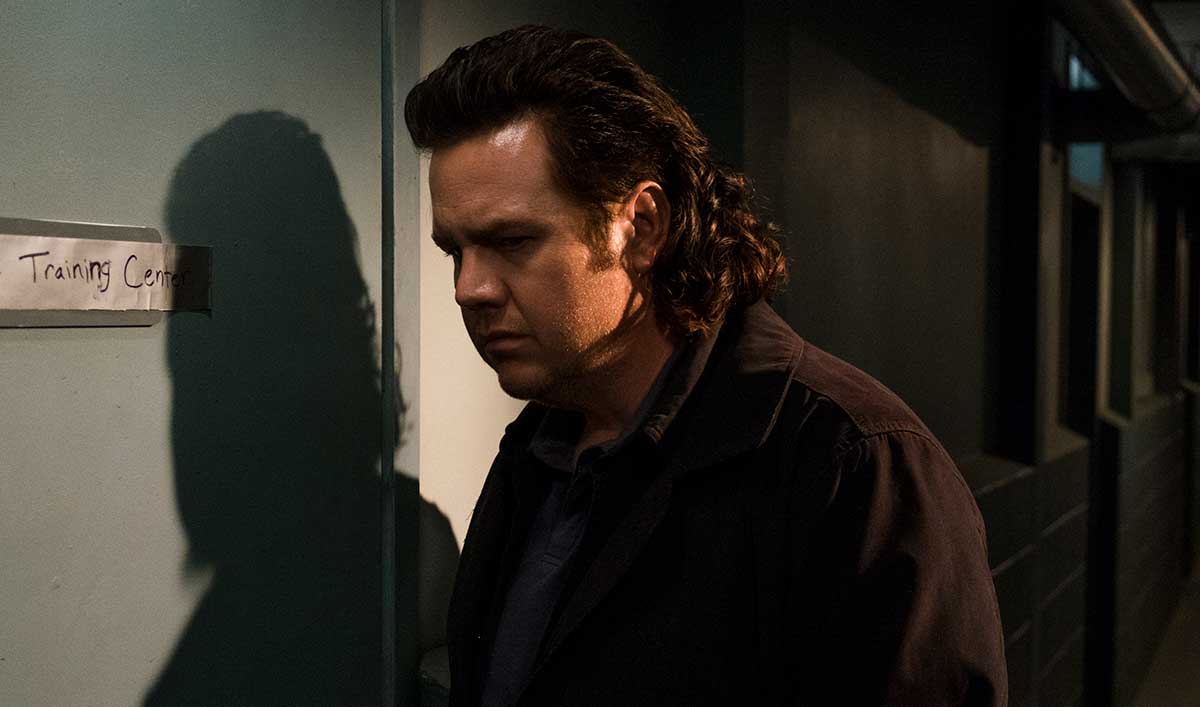 Josh McDermitt, who plays Eugene Porter on AMC's The Walking Dead, talks about life at the Sanctuary and how to stay on fans' good sides as his character joins the dark side.
Q: In Episode 11, Eugene says, "I was Negan before I even met you." What do you think helped him make that decision so early on?
A: Eugene has always been one to change and adapt to his surroundings and his situation. He talked a bit about that in Season 6, in Episode 14, when he was with Abraham in the alleyway. I think that's always been the undercurrent with him. In order to get to the next level – he likes to put things in video game terms – you have to figure things out as they come and this was just another situation he felt like he had to adapt to. It's the same reason why he lied [about a cure], and it's the reason he's done everything he's done. He's always aligned himself with whatever the situation needed.
He's never felt more scared in his life than he did out in those woods, and he doesn't want to feel that way again. There's something very sad about that because you understand that he's making a decision from that emotional place. This is a man with a very small emotional spectrum and we are seeing more and more of it as we get to know him because of the brutality of the world they're living in. You hurt for him.
Q: What was your reaction when you found out Eugene was going to embrace life at the Sanctuary?
A: I screamed, "Yes!" and then I thought, "Oh, crap. I hope the fans still like Eugene." [Laughs] I feel like I just cleared the hurdle after catching a lot of flak for Eugene lying about having a cure and now all of a sudden, he's hanging out with Negan… So, now I'm wondering what the reaction will be here. Everyone seems to love Jeffrey Dean Morgan and his portrayal of Negan. Negan is a vicious and vile human, but people have been able to separate that from Jeff because Jeff's a great guy. I'm hoping people don't come after me!
Q: Did your approach to your character change after seeing this new side of Eugene?
A: No, because all this was always inside of him. He's just doing what he has to do to survive. This could have easily happened in any situation, so I just looked at it as a new chapter for the same guy. For an actor, staying flat is not as fulfilling as playing someone going through huge changes – and as a cast, we get that with The Walking Dead, for sure. This would be a boring show to be on, and to watch, if it weren't that way.
Q: Why do you think Negan sees value in Eugene?
A: I feel like there's something hidden there that Negan isn't necessarily telling Eugene or others. He sees value in this man and took him when Eugene heroically stepped up [in "Hearts Still Beating"] and admitted he made that bullet. We know that Negan made a decision right there that he needs him… so that's why I think there's something hidden about that. Secrets are fun! I don't know that it's a sinister secret – this is all speculation – but I think Negan sees the value in a man who's been on the inside of Alexandria's walls and who knows Rick. Probably their smartest person is now Team Negan, and that's a huge asset. I think as we're gearing up to go to war, Negan's going to tap into that asset even more.
Q: Have you become more of science buff since playing Eugene?
A: I've always been a science guy myself. I loved biology. I wasn't great at chemistry in school, but I loved dissecting things and tinkering and seeing how things work. That curiosity has always been within me, and it's cool to have a character who's into that, too. In Episode 711, we got to explode some hydrogen balloons. Things like that are all very exciting and I've certainly picked up some skills along the way. I'm 38 years old, and I'm an old dog who's learning new tricks.
Q: Eugene thinks Sasha is making a mistake by not giving into Negan. What was that like to film that scene? 
A: That was tough… I would say Sonequa [Martin-Green] is someone I'm very close with, so it was fun to be able to play with her since we know each other so well already, but to also play from a different angle… I've always thought about it from the standpoint of who Eugene was. Now, it's all changed. Every notion of how I think the scene is going to go just goes out the window because everything's changed and that's basically what happened with Sonequa. She's a phenomenal actress, and I learn a lot from working with her. She surprises me every take. We had a great time shooting, even as somber as it was.
Q: What's it like spending most of your scenes with Jeffrey Dean Morgan, Austin Amelio and the rest of the Sanctuary gang as opposed to Andrew Lincoln and Rick's group?
A: I hate every one of them! They're bad guys. How dare you go against Rick?! [Laughs] They're all awesome. Our casting directors, Sharon Bialy and Sherry Thomas, along with Scott Gimple and all the producers do an amazing job with casting the show and bringing in people who aren't jut tremendous actors but people who have good hearts. I love hanging out with Jeff, Austin, Steven Ogg [Simon] and the whole band of idiots over there at the Sanctuary. They're such mean people on camera, but when the cameras aren't rolling, all Jeff has to do is flash that smile and it doesn't even matter what he just said because I'll forgive him.
Shooting 711 was a very hard episode for me because it felt like a different show. This whole season, even stretching back to the first half has felt like a different show because Michael and Steven are gone. I was a fan of the show before I even started working on it, so not having Glenn and Abraham – who Eugene enters the show with – around feels weird. I shot quite possibly the biggest episode Eugene has ever had while in a new community and working with a bunch of actors I haven't worked with before. As difficult as it was, they made it easy for me because they're great guys and give you so much to play off of. I've enjoyed my time, and I don't know that I'm ready to go back to Rick's bosom. [Laughs]
Q: Rick and the group have acquired guns from Oceanside and are continuing their plan to fight Negan. Whose side are you invested in now?!
A: I'm Team Eugene! I want Eugene to survive, so whatever he's got to do to survive, I'm onboard with. If you want me to pledge allegiance as Josh to a larger group, I can't. Eugene and his intelligence and the voices in his head are the bigger group, in my opinion. [Laughs]
Read an interview with Christian Serratos, who plays Rosita.
Watch full episodes of The Walking Dead on Xbox One, Apple TV, Roku, AMC mobile apps and amc.com.
The Walking Dead airs Sundays at 9/8c on AMC.
To get more exclusive interviews with the cast, sign up for the weekly Dead Alert.
Read More