Press
Norman Reedus, Andrew Lincoln Talk Finale in EW; Yahoo TV Chats With Denise Huth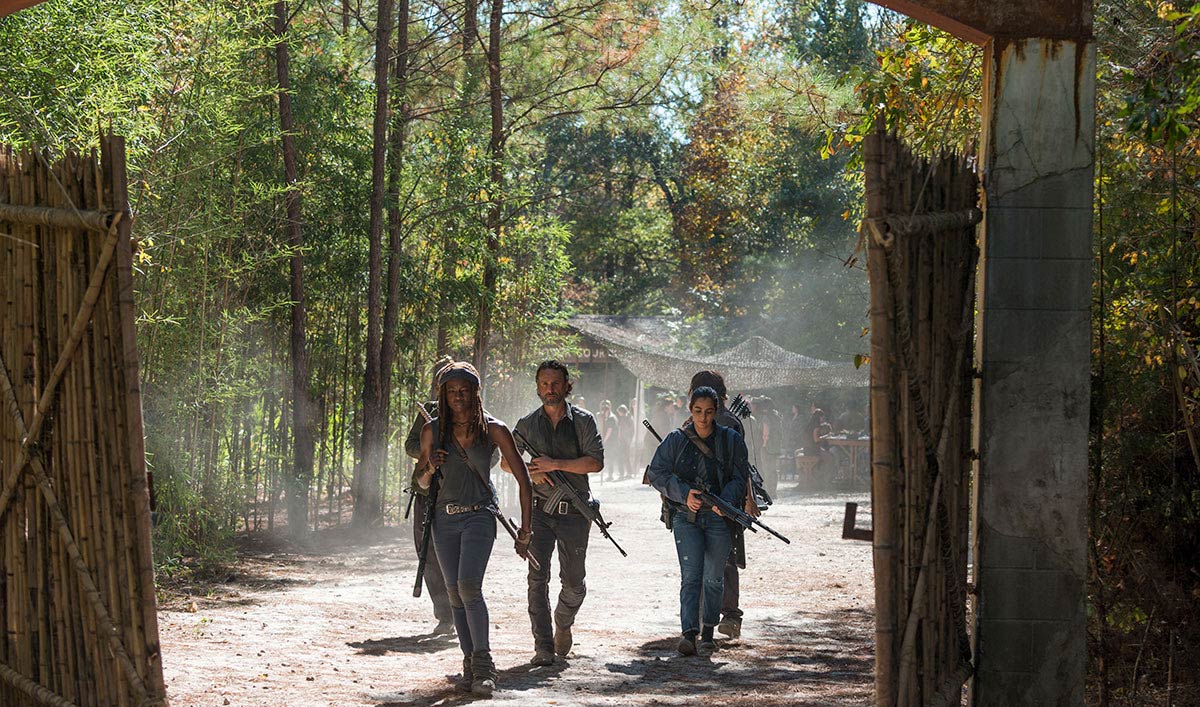 This week, Norman Reedus and Andrew Lincoln preview the Season 7 Finale with Entertainment Weekly. Plus, Yahoo TV talks to Co-Executive Producer Denise Huth. Read on for more:
• Norman Reedus, talking up the Season 7 Finale with Entertainment Weekly, makes comparisons with Braveheart, saying, "It's completely different than all the other ones. It has similar elements, but it's completely different, and, you know, there might be a little William Wallace in it."
• Teasing the Season 7 Finale, Andrew Lincoln tells Entertainment Weekly, "There's a palpable sense of energy and excitement in that final episode. I think that the crew felt it, this sort of brilliancy. And it was weird because it was the end of a long season and yet everybody was sort of champing at the bit to keep going."
• Yahoo TV interviews Denise Huth (Co-Executive Producer), who explains that Eugene is "a smart guy, and he's very good at manipulating people. If there is a way for him to maneuver the situation where people don't have to get hurt, but first and foremost he doesn't have to get hurt, that is what he will try to do. Because that's how he approaches everything."
• TVGuide.com chats with Xander Berkeley, who says of Gregory that there's "a difference between hating him and being disgusted by him, and hating him and getting a huge kick out of hating him."
• Alanna Masterson, speaking with the New York Post, says Tara told Rick about Oceanside because "she's looking at the bigger picture here and knowing that [if] they are able to take out the Saviors then everyone will be safer."
• Andrew Lincoln shares with New Zealand's Stuff that "there is always more pain to come on a show like this but, hopefully, it's going to be easier for the audience to bear knowing that the original family of survivors has made a decision to fight."
• According to People, Christine Evangelista (Sherry) is impressed by The Walking Dead's filming locations, saying that "you feel very present in the moment, especially if you're filming in the woods — even some of the sets. Like, the world of The Sanctuary is a gloomy place, and you feel that. It's very real."
• Yahoo TV takes a "look back at some of the all-time greatest, bravest moments from the women of The Walking Dead."
• One of TVLine's quotes of the week is Maggie saying to Daryl, "You're one of the good things in this world. That's what Glenn thought. And he would know… because he was one of the good things, too."
• Digital Spy highlights two teasers for the Season 7 Finale, commenting, "The action is heating up nicely towards the season finale next week, with all sorts of paths crossing and plans being made. It really doesn't look good for Negan, does it?"
• In a Reddit AMA, Tom Payne says his favorite Jesus scene is "either Norman [Reedus] chasing me around a field or when I'm sat around the table with the group and say 'Your world's about to get a whole lot bigger' and then the credits start. That was super cool."
• Tom Payne, talking to ComicBook.com, says Jesus is "supporting Gregory as the leader but at the same time recognizes there are weaknesses there and where they are now in the storyline, Gregory has actually become quite dangerous. He's ready to move his allegiance over to Maggie."
• ComicBook.com breaks down "each of the communities currently on The Walking Dead, and the special circumstances surrounding each of them."
• Movie Pilot decides to "take a look at all zombie children featured on The Walking Dead thus far."
• ComicBook.com spotlights a new Negan action figure, available in September, that "stands 10″ tall and includes an in-scale Lucille bat in addition to a black circular base."
• For recaps and reviews of Season 7, Episode 15, "Something They Need," check out ABC News, Atlanta Journal-Constitution, Den of Geek, The Guardian, Nerdist, New York Daily News, The New York Times, Refinery29, Rolling Stone, The Telegraph, Time, TVLine, Us Weekly, Variety, Vulture and Yahoo TV.
Watch Season 7, Episode 15, "Something They Need," and binge Season 7 now on Apple TV, Roku, Xbox, AMC Mobile Apps and amc.com.
To stay up-to-date on all the latest news about The Walking Dead, sign up for the weekly Dead Alert.
Read More