Press
Melissa McBride Talks to Yahoo; Lennie James Analyzes Morgan With EW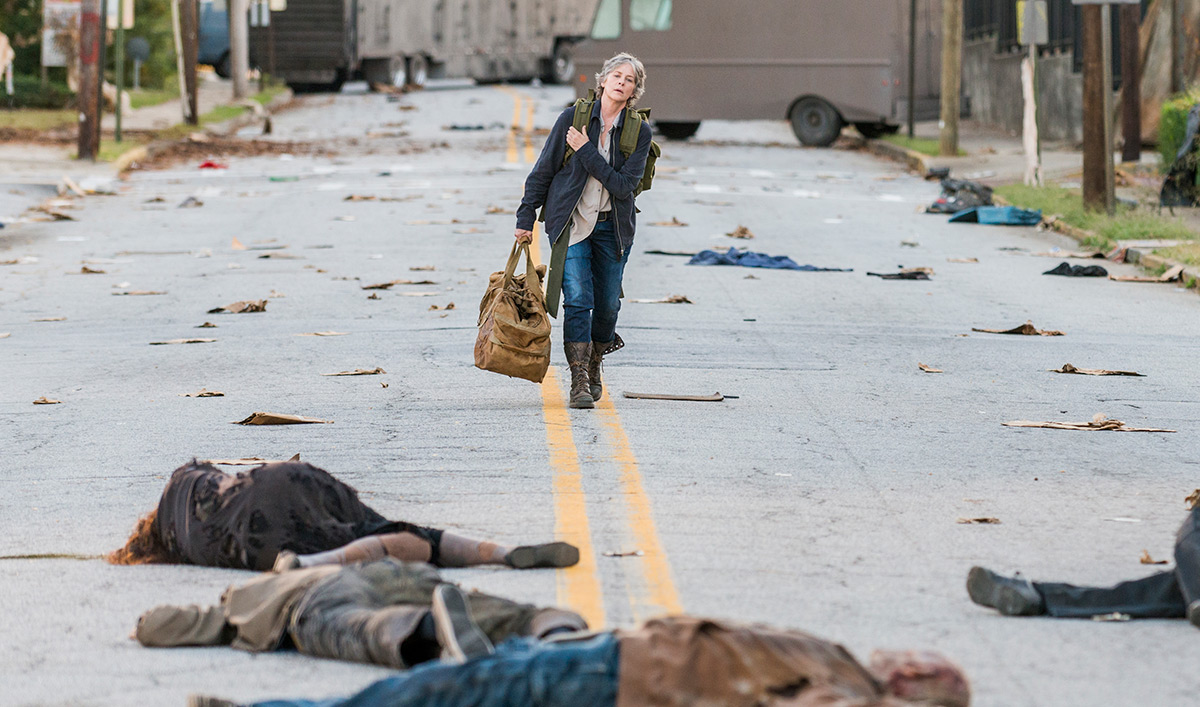 This week, Melissa McBride discusses the Season 7 finale with Yahoo TV, while Lennie James explains Morgan's behavior to Entertainment Weekly. Plus, Lucille shows up on two other TV shows. Read on for more:
• Teasing the Season 7 finale, Melissa McBride tells Yahoo TV it's "unlike anything else on the show. There are a couple of moments that I couldn't… I was just very, very, very surprised. No, I was like, 'No, what? No! Wait, what? What?!'"
• Discussing Morgan in "Bury Me Here," Lennie James explains to Entertainment Weekly that "there are moments of sadness in it, but ultimately, I think his journey is a journey of some kind of redemption, but it's never going to be straightforward, and that's what I love about it."
• Last week saw a Lucille reference, with Digital Spy noting that "Jeffrey Dean Morgan may no longer be on the show anymore, but Supernatural couldn't resist a pretty awesome reference to his baddie character Negan on The Walking Dead."
• And there was another Lucille appearance the same night, with ComicBook.com pointing out that, on The Big Bang Theory, Stuart's "weapon of choice in defending his home from potential burglar's was Lucille."
• Melissa McBride explains to ComicBook.com, "I don't think there's any ill feelings toward Daryl for lying. There's complete and total understanding, and if not a little guilt on her part for putting him in that merciful position to do what he did and tell her that everyone was okay."
• TVGuide.com interviews Lennie James, who says Morgan is "checking to see how close the 'wilderness Morgan' is to catching up to him. And I think that's partially why his intent is to start walking forward until Carol stops him."
• Yahoo TV learns from Lennie James that Morgan is "on the path that a lot of our main characters are on, which is navigating and preparing for war."
• Lennie James tells Variety that Morgan has "come to say goodbye to Carol, at this point his closest friend, even if it's a stormy friendship. He can't go back to the Kingdom — he can't trust himself, because Wildnerness Morgan is by his side. So he does take Carol's alternative, staying at the cabin. But while he's there, he sharpens his stick."
• "Carol and Morgan are possibly on their way to being soulmates. And I don't necessarily think that that is a sexual thing or a relationship-based thing. I think it's two people who, whether they like it or not—and whether they like it or not is important—they get each other," Lennie James says to E! News.
• Scott Gimple, speaking with Entertainment Weekly about Morgan, says that "for a person who's found peace through peace, who had that stick that was sharpened and he was walking through the woods with it occasionally killing people and to be freed of that, now to be right back in that position — I think that's tragedy."
• TVLine learns from Scott Gimple that the Season 7 finale "has darkness and light, real horrific moments, betrayal, and real moments of beauty, redemption, love and friendship. It's sort of the panoply of human and Walking Dead experience."
• TV Guide declares that the show "has been seriously upping its game lately when it comes to its lady characters — and this season is shaping up to be the most feminist yet, in ways that continue to delight us."
• "I'm happy Carol seems to be back on board with her former self. I don't think there's anybody who watches The Walking Dead that doesn't love to see Carol kick some major ass," Josh McDermitt writes in Entertainment Weekly.
• "When you're as obsessed with The Walking Dead as Carrie Underwood is, there's only one way to celebrate your birthday — with a custom cake designed after the show," People.com says, spotlighting the cake featuring bloody zombie hands and "Just look at the flowers" written on it.
• TV Guide declares that "Michonne (Danai Gurira), not Rick (Andrew Lincoln), is our — dare I say it — savior on this TV show."
• MoviePilot argues that what made Terminus and the Wolves "all the more dangerous wasn't their violent tendencies, but the way their groups operated: like a cult."
• Dread Central says spotting The Walking Dead's tribute zombies is "total fan service and we absolutely LOVE it! That being said… we've begun compiling an image gallery of all the famous zombies that the show has unleashed thus far."
• "Where would you like to wind up if you found yourself scrambling for survival in a world filled with death and decay?" asks IGN, which ranks all the current civilizations found on The Walking Dead.
• Given that The Walking Dead is "notorious for having no mercy," Business Insider finds out what happened to the actors who have been killed off the show.
• ComicBook.com debuts a new set of The Walking Dead action figures, including an "awesome" 10-inch figure of Glenn Rhee.
• For recaps and reviews of Season 7, Episode 13, "Bury Me Here," check out ABC News, Atlanta Journal-Constitution, A.V. Club, Chicago Tribune, Digital Spy, Entertainment Weekly, GQ, The Hollywood Reporter, New York Daily News, The New York Times, Philly.com, Rolling Stone, TVLine, Uproxx, USA Today and Us Weekly.
Watch Season 7, Episode 13, "Bury Me Here," and binge Season 7 now on Apple TV, Roku, Xbox, AMC Mobile Apps and amc.com.
To stay up-to-date on all the latest news about The Walking Dead, sign up for the weekly Dead Alert.
Read More