Press
EW Interviews Josh McDermitt; Uproxx Asks If Eugene Is for Real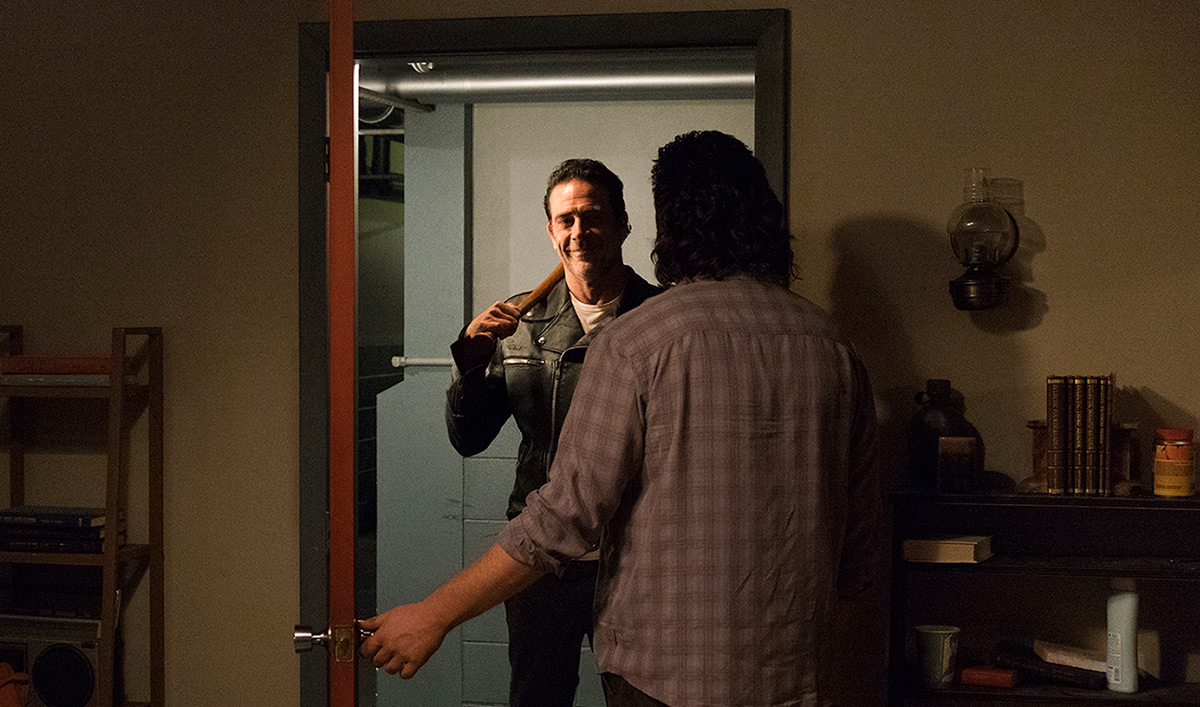 This week, Entertainment Weekly and several other publications interview Josh McDermitt, while Uproxx asks if Eugene is for real. Plus, TVLine applauds Melissa McBride's performance. Read on for more:
• Entertainment Weekly speaks with Josh McDermitt, who discusses Eugene: "When he says 'I'm Negan,' I pushed my script back and I threw my arms in the air and went, 'YES!' It was such a surprise for me. I loved that, and I want that to be a surprise for everyone else."
• Josh McDermitt tells Vanity Fair, "It always makes me laugh when I see people get mad at Eugene for being a coward. I'm like, 'Shut up! You would totally be a coward!'"
• TV Guide interviews Josh McDermitt, who says Eugene is "very complicated. There's a lot of mysterious things about him because he's not very outward in his emotions. He may talk a lot, but a lot of it is a misdirect."
• Looking ahead, Josh McDermitt says to Yahoo TV that Eugene is "going to start getting adjusted to his new life at the Sanctuary. He's always going to have to stay on his toes. I think some of his decisions will be put to the test."
• Uproxx wonders, "Did he tell Negan that he was one of them because he wants to be a Savior, or is Eugene too scared to stand up to Negan the way that Daryl did?" Meanwhile, Cleveland.com asks, "Will Eugene help avenge the deaths of Glenn and Abraham or has he found a true home at the sanctuary?"
• TVLine applauds Melissa McBride: "No fan of The Walking Dead can say that the long-awaited reunion of besties Carol and Daryl didn't live up to its promise."
• TV Guide asserts that "if anybody on TV deserves to put a Gone Fishin' sign over her entire life, it's poor Carol (Melissa McBride) from The Walking Dead, who has one simple request: to be left the hell alone."
• In honor of Carol and Daryl's reunion last week, TV Guide compiles a video of reunions on the show: "Get your bloody, filth-caked handkerchief ready, because you're about to relive some tearjerking moments."
• "I love that I got to be a part of creating this guy, and him just doing his thing, not having to be set to a destiny necessarily," Cooper Andrews tells Yahoo TV about playing Jerry.
• Tom Payne, speaking about the Season 7 finale with ComicBook.com, says, "The finale has a lot of ups and downs to it. It's very emotional. It really takes you in lots of different directions. It has you crying and then it has you cheering."
• Uproxx declares that "mashing together AMC's The Walking Dead with perennial internet nostalgia machine Friends is the most natural thing in the world."
• For recaps and reviews of Season 7, Episode 11, "Hostiles and Calamities," check out A.V. Club, Chicago Tribune, Entertainment Weekly, GQ, IGN, Nerdist, New York Daily News, The New York Times, Observer, Rolling Stone, The Telegraph, TV Guide, TVLine, USA Today and Vulture.
Watch Season 7, Episode 11, "Hostiles and Calamities," and binge Season 7 now on Apple TV, Roku, Xbox, AMC Mobile Apps and amc.com.
To stay up-to-date on all the latest news about The Walking Dead, sign up for the weekly Dead Alert.
Read More