Press
EW Chats With Christian Serratos; THR on Dead's PaleyFest Reveals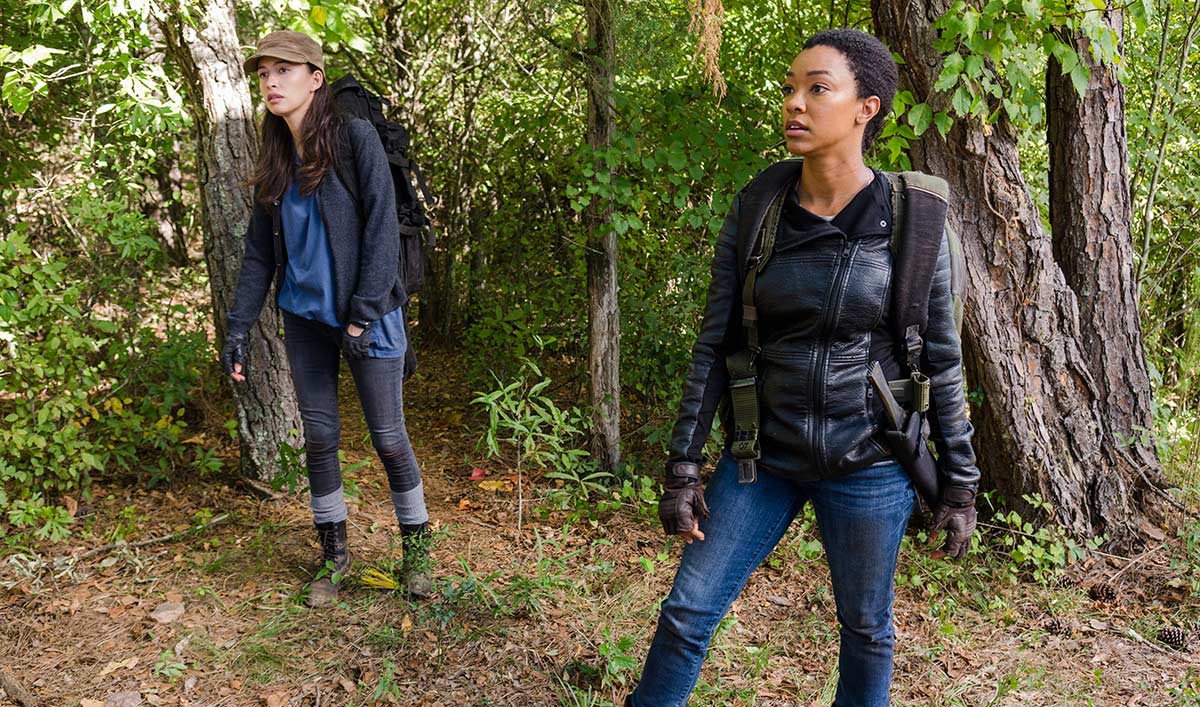 This week, Entertainment Weekly chats with Christian Serratos, while The Hollywood Reporter and others share reveals from The Walking Dead cast and crew at PaleyFest. Plus, Ross Marquand teases what to expect from the rest of the season. Read on for more:
• Christian Serratos teases to Entertainment Weekly that "there's definitely going to be a lot more strategizing for Rosita. Whether we see that on camera or it's more methodically, we'll have to find out, but she's never one to just accept a failure."
• "The end of this season is very much the end of a chapter; it's a conclusion that promises this epic story ahead. The first episode of [Season 8]… it's about setting up this gigantic epic tale to come, not only in [Season 8] but beyond," Scott Gimple tells a PaleyFest crowd, according to The Hollywood Reporter.
• From PaleyFest, Entertainment Weekly reports on Scott Gimple teasing that "we're going to shoot you through a lot of big events and things become quantum intense" during Season 7's final episodes.
• Access Hollywood, ComicBook.com, IndieWire, Los Angeles Times, Rotten Tomatoes, TVLine and Variety also filed reports from PaleyFest.
• Looking ahead, Ross Marquand, according to E! Online, says, "Rick and Negan have been doing this dance of trying to figure out how they could live together diplomatically, and it just hasn't been working out. And now they're going to see a different side of Rick and the gang."
• Interviewed by Yahoo TV, Christian Serratos explains that Rosita asks Sasha for help because "she knows that the only person maybe as motivated as she is right now is the person who also lost a love of hers. [Sasha] lost her man."
• Time is relieved that Maggie and Daryl "finally addressed the elephant in the room" when Maggie told Daryl not to blame himself for Glenn's death.
• "Props to Norman Reedus for such a layered and beautiful performance. I love that guy, even though he licks me every chance he gets," Josh McDermitt writes in Entertainment Weekly about Daryl's scene with Maggie in "The Other Side."
• Sonequa Martin-Green, interviewed by IGN, says Sasha and Rosita teaming up "speaks to the great potential of her and I and our capacity for sacrifice and change. Regardless of the conflict that stands between us, we were able to set it aside for a greater cause."
• Josh McDermitt tells ComicBook.com he doesn't think Eugene wants to escape because "I don't think he wants Negan to hurt anyone. I don't think he wants his friends to get hurt but if he can live in the Sanctuary and just live in peace, he's gonna take that over anything."
• Discussing Negan's guy Gavin in "Bury Me Here", Scott Gimple tells Entertainment Weekly that "the vibe that I was going for was this grumpy parent — you know, this parent who has just had it. Not like they don't love their kids or whatever, but they're just over everything."
• TVLine applauds Lennie James, who "has done an admirable, at times breathtaking, job of portraying Morgan as an honorable man in a world where doing right can feel terribly wrong. And never was a greater challenge posed to the character's innate goodness than in "Bury Me Here."
• Austin Amelio tells ComicBook.com that Dwight is "a lone soldier at this point. I think he's just making smart chess moves in order to fulfill the bigger picture of what he wants to do."
• Hyping the Season 7 finale to ComicBook.com, Lennie James says it "will not disappoint, it's a good one, it's a really good one. There are a couple of moments that are fantastic and genuinely, genuinely exciting. Even for someone as jaded as me."
• Ranking the best comic book TV shows, The Guardian asserts that The Walking Dead knows "exactly how to keep you caring about its not-so-merry band of survivors. Its greatest achievement might be that anyone who watches even a handful of episodes soon finds themselves mulling over their own plan to live through the zombie apocalypse."
• Weighing The Walking Dead comic vs. the TV show, Digital Spy declares, "Robert Kirkman's comic series is brilliant. Tense, exciting, gory and tender – it's the ultimate zombie narrative. But no matter how good the book is, it doesn't have Daryl Dixon, so the telly adaptation automatically wins."
• Wetpaint asserts that The Walking Dead is "still the best comic book show on television" and explains why.
• Wetpaint refreshes viewer memories by listing the "15 Walking Dead characters you probably forgot about."
• Asked about Steven Yeun, Melissa McBride tells ComicBook.com, "Oh, man, my favorite thing about working with Steven was just seeing him develop from when we all first got there to the time he left. Just watching him grow and become so, just such an amazing, seasoned, wonderful, beautiful actor."
• Wetpaint calculates which character boasts the most kills, noting that deaths are "based off solo-kills, so mass executions — like the lake fire in Alexandria and the steel cable slaughter — will not be included."
• For recaps and reviews of Season 7, Episode 14, "The Other Side," check out ABC News, Atlanta Journal-Constitution, Chicago Tribune, IndieWire, New York Daily News, Rolling Stone, TVLine and Wired.
Watch Season 7, Episode 14, "The Other Side," and binge Season 7 now on Apple TV, Roku, Xbox, AMC Mobile Apps and amc.com.
To stay up-to-date on all the latest news about The Walking Dead, sign up for the weekly Dead Alert.
Read More