Press
Andrew Lincoln Talks With Variety; Greg Nicotero Chats With EW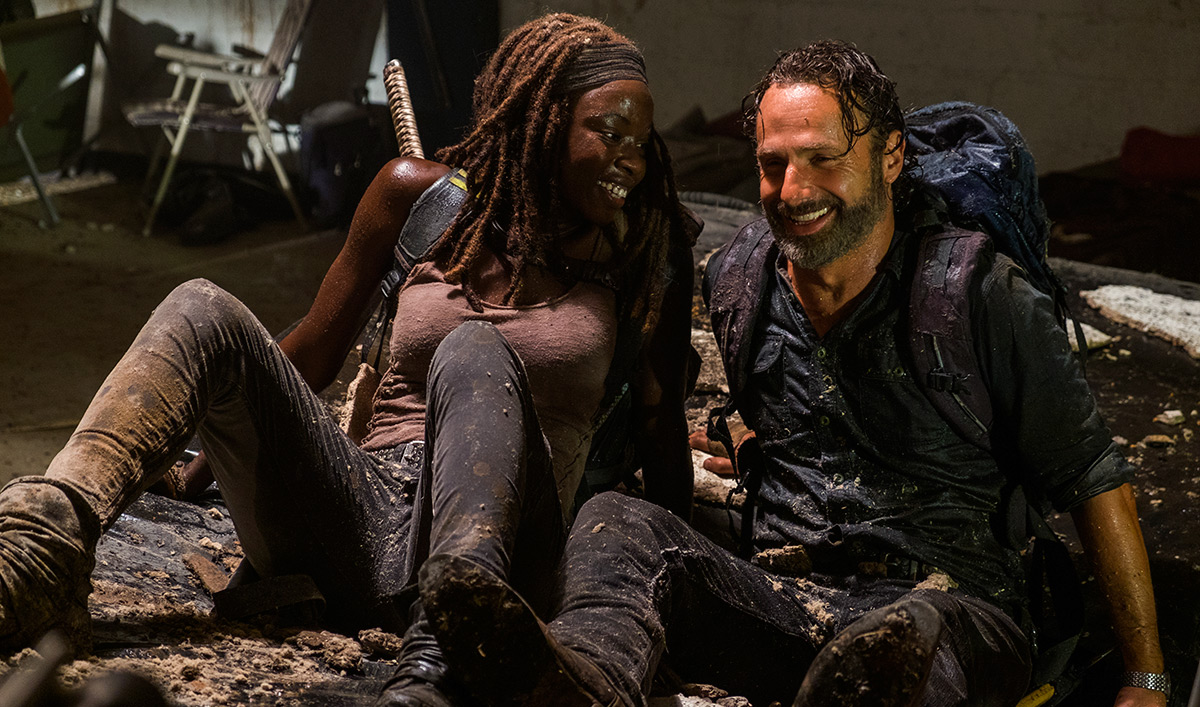 This week, Andrew Lincoln discusses Negan with Variety, while Greg Nicotero chats about the latest episode with Entertainment Weekly and Yahoo TV. Plus, the show is nominated for seven Saturn Award nominations. Read on for more:
• Andrew Lincoln calls Negan "a formidable force in the show. I think there's a long way to go yet before we are anything like the army that we need to be in order to challenge him or take him down," reports Variety.
• Greg Nicotero tells Entertainment Weekly, "The bigger Rick's army gets, the more confident he is in terms of trying to take on Negan."
• Talking about the Season 7 finale with Yahoo TV, Greg Nicotero says, "The fact that Sasha and Rosita want to take matters into their own hands, the fact that Tara is willing to have the conversation with Rick about Oceanside, even Rick and Michonne's realization that it's imperative that society go on whether they make it or not… the table's set."
• According to The Hollywood Reporter, The Walking Dead was honored with seven Saturn Award nominations, the most of any TV show.
• Recapping "Say Yes" for Entertainment Weekly, Josh McDermitt says, "This episode at times seemed like a much needed break of fun from the terror and heartache we see most weeks."
• Hunting for the latest Easter Eggs, Entertainment Weekly comments that the most recent episode "saw Rick and Michonne trekking their gun-gathering quest all over the map, their destinations as varied as director Greg Nicotero's taste in movies."
• Entertainment Weekly previews a clip from the next episode where "we see Carol (Melissa McBride) making her way to the Kingdom, and doing it in style — specifically, zombie-killing style! If you've ever wanted to see a woman destroy zombies repeatedly with a street sign, well, then this is the clip for you."
• Scott Gimple tells TVLine that Morgan's philosophy is "more of a struggle for him. He thought that he had found [in the Kingdom] a place that worked for him, where he didn't have to worry about killing or not killing. But in this world, [that issue] always finds him."
• Cleveland.com points out that Rick and Michonne's relationship is "symbolic of mainstream television being more and more a reflection of modern society when it comes to race and dating."
• Asked by Digital Spy how Carol will react when she finds out Daryl lied to her, Norman Reedus explains, "I don't think she would hold it against him, I think she would know the reasons he didn't tell her."
• Yvette Nicole Brown explains to TV Insider that The Walking Dead is "about relationships and friendships and whether you are a hero or not. There's just something about those themes and these characters that is so engrossing that you overlook the parts that are, well…gross."
• Chandler Riggs says his saddest scene ever was "Lori's death. That- it sucked so much, for both me and Lauren [Cohan, who plays Maggie], really, because we were both there," ComicBook.com reports.
• Addressing the backlash against Father Gabriel, Seth Gilliam tells The Independent, "I find that if you're playing a character with the hopes of being liked, you're already lost; people are going to have their response. Hopefully, they'll understand what moments you want them to."
• One of TVLine best quotes from last week is Eugene saying, ""I'm Negan. I'm utterly, completely, stone-cold Negan. I was Negan before I even met you, I just needed to meet you properly to know. I'm Negan."
• According to MoviePilot, Greg Nicotero reveals that Winslow was "somebody that challenged Jadis… He was around but I think he challenged her for leadership, and they had a fight and he didn't make it, and so they used him as sort of their Thunderdome."
• Andrew Lincoln talks to The Independent about why fans respond so well to the show: "Every day these characters are facing life-or-death decisions. When everything else is gone, you find out who you really are. We all want to know how we'd react in that situation."
• "I can't even imagine what Negan would do if he tracks her down. She got away once. I don't think it's going to happen a second time," Christina Evangelista says to TVGuide.com about Sherry's fate.
• Discussing Sherry's departure, Business Insider interviews Christine Evangelista who says, "I think that once Negan found out that she's the one that let Daryl out, which I'm sure he would've, she would've been dead. So I think she had no choice but to go."
• Eastman's confession in Season 6's "Here's Not Here" is one of Digital Spy's saddest TV moments and calls the episode not "just one of the best Walking Dead episodes, it's one of the greatest 90 minutes of television full stop."
• Rotten Tomatoes deems Glenn's death — when Negan "beat him beyond recognition as he called out to Maggie with his last words" — one of the most heartbreaking of the last 20 years.
• Cinema Blend ranks the show's funniest characters, "taking into consideration each person's time-span on the show and what their senses of humor are like, as well as how frequently they're known for killer lines, reactions and performances."
• Digital Spy believes Andrew Lincoln's casting as Rick was a gamble that turned out well since he is "genuinely astonishing as Grimes, creating one of the most consistent character arcs this side of Breaking Bad."
• Interviewed by Undead Walking about playing Oceanside's Beatrice, Briana Venskus says she "approached that character from the respect of, you know, I don't think she enjoys living this way. I don't think she likes not having anything around."
• For recaps and reviews of Season 7, Episode 12, "Say Yes," check out ABC News, A.V. Club, Chicago Tribune, Entertainment Weekly, The Independent, Nerdist, New York Daily News, The New York Times, Observer, TVLine, Uproxx, USA Today, Us Weekly, Variety and Vox.
Watch Season 7, Episode 12, "Say Yes," and binge Season 7 now on Apple TV, Roku, Xbox, AMC Mobile Apps and amc.com.
To stay up-to-date on all the latest news about The Walking Dead, sign up for the weekly Dead Alert.
Read More