Press
TV Guide on Dead's Super Bowl Spot; EW Interviews Norman Reedus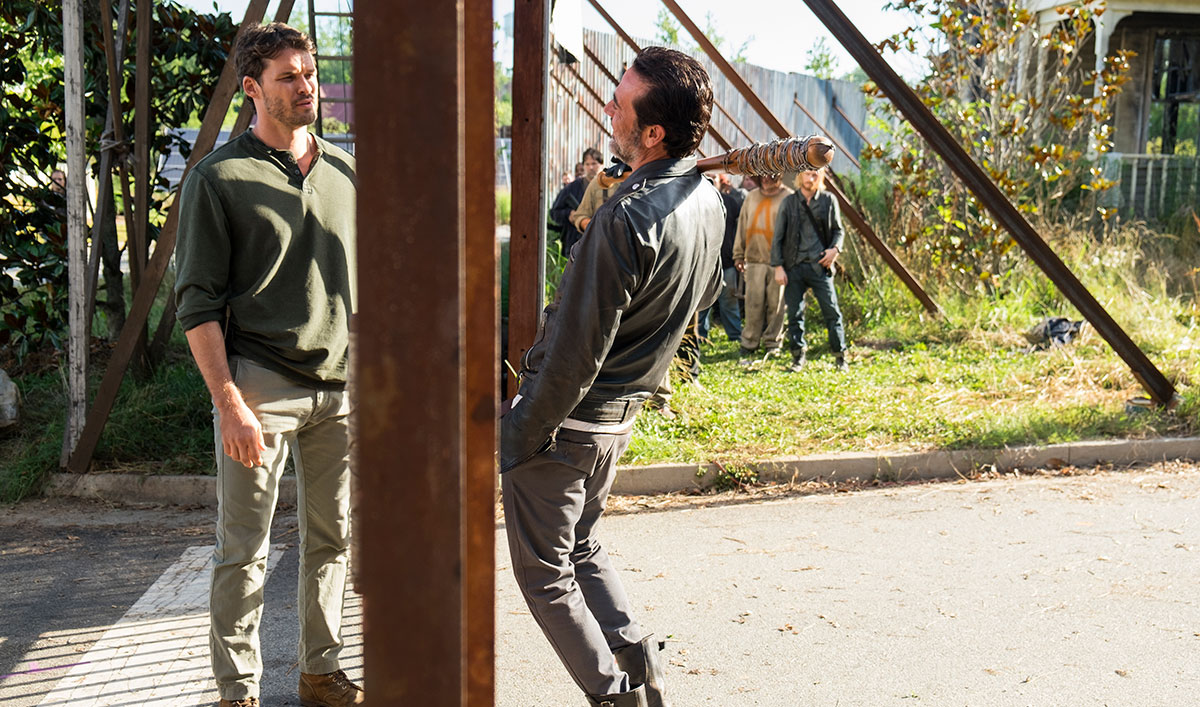 This week, TV Guide checks out The Walking Dead's Super Bowl spot, while Entertainment Weekly interviews Norman Reedus. Plus, Greg Nicotero, Scott Gimple and Sonequa Martin-Green also chat with EW. Read on for more:
• The Walking Dead "reminded America of its Sunday night dominance with a short spot that shows a football getting smashed by Negan's barbed wire-wrapped baseball bat Lucille," says TV Guide about the show's Super Bowl spot.
• Entertainment Weekly interviews Norman Reedus, who says, "I'm excited that we're all back together. I know everybody's excited."
• Entertainment Weekly talks to Greg Nicotero, who calls the Midseason premiere "very exciting and quite a bit of fun, and the season builds and builds up to an absolutely thrilling finale."
• Scott Gimple promises to Entertainment Weekly, "Before the end of that very first episode back, you will see Rick Grimes smile."
• Sonequa Martin-Green tells Entertainment Weekly that Sasha has "never taken my eye off of Negan. I know what I believe needs to be done, and I'm ready to see if we can come up with a plan that will work together."
• TV Guide posts "a handy compendium of where all the actors who had important deaths on The Walking Dead are now, as of the premiere of the second half of Season 7."
• Melissa McBride speaks with Channel Guide Magazine about how Carol is "traumatized and really wanting to figure this out and have something in her life that she can control on her own."
• Interviewed by the Los Angeles Times, Steven Yeun says leaving The Walking Dead is "all a little bittersweet. I feel great, though. It feels good to have completed something."
• ComicBook.com and We Got This Covered check out Gale Anne Hurd's interview at AMC.com.
• According to TV Guide, the latest Season 7 promo shows Carol "packing some heat" and "several characters locking and loading as people are fed up taking orders from Negan and prepare to fight back."
• Dread Central features another promo that "includes fan favorite Carol (Melissa McBride) apparently getting her groove back along with a few other quick peeks at what's ahead."
• IGN has a new extended Season 7 preview, calling it "a look back at what happened in the first half of the season and a look ahead — with new footage — at what we can expect."
• Moviefone reports that the Midseason premiere, Season 7, Episode 9, is titled "Rock in the Road" and will be 1 hour and 13 minutes long.
• Digital Spy posts Midseason premiere photos, where "Rick and his group can be seen having serious chats and hitting the road (which we presume will have a rock in it)."
• International Business Times calls The Walking Dead's Midseason premiere "one of the most exciting returns" in February.
• Flickering Myth spotlights photos of a new Daryl Dixon resin statue from McFarlane Toys that went on sale this week. ComicBook.com unboxes the statue.
Binge Season 7 now on Apple TV, Roku, AMC Mobile Apps and amc.com.
To stay up-to-date on all the latest news about The Walking Dead, sign up for the weekly Dead Alert.
Read More