Press
The Walking Dead Releases Special Edition Digital Topps Trading Cards Featuring NFL Players-Turned-Walkers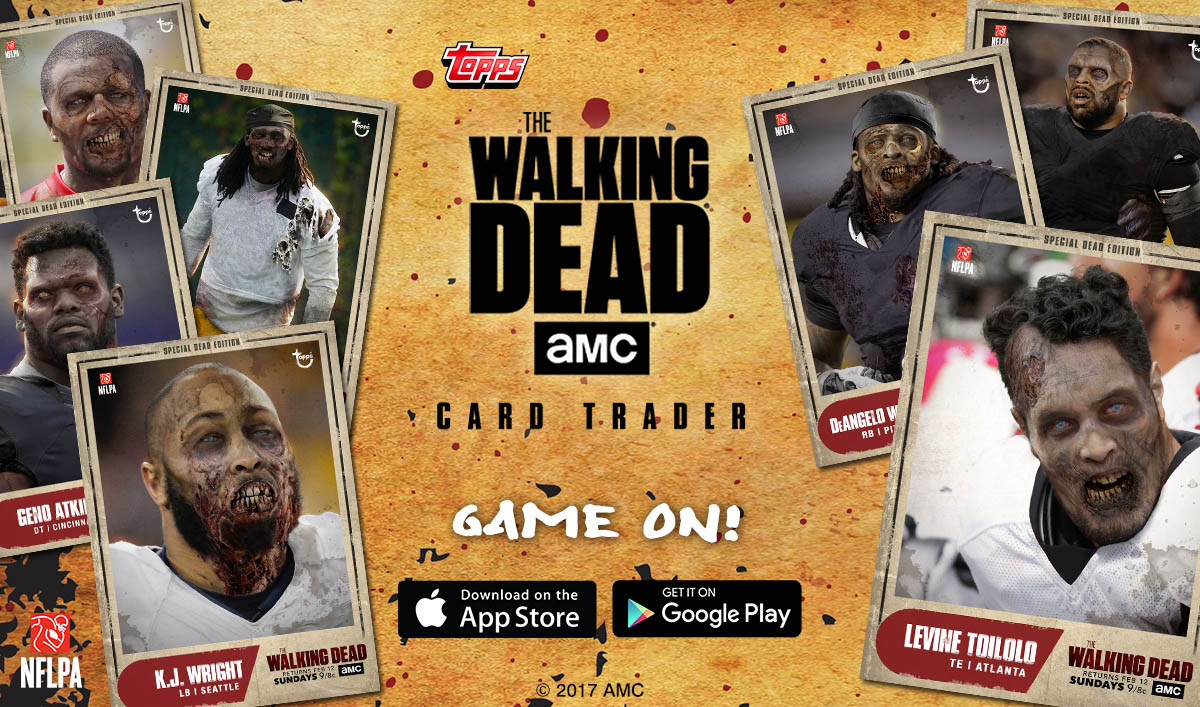 Just in time for the big game, The Walking Dead has released a special-edition digital card set featuring "zombie-fied" professional football players from the New England Patriots, Atlanta Falcons, and more. Greg Nicotero, executive producer, director and special FX make-up designer for the show has created hand-drawn walkers out of Malcolm Jenkins, Geno Atkins, Cole Beasley, Jesse James, Shea McClellin and John Kuhn, among others, on digital trading cards that football and series fans can collect, at no charge, for a limited time.
The Walking Dead returns as football season ends with the highly anticipated second half of Season 7, starting Sunday, February 12 at 9/8c.
Watch a Look Ahead at the Second Half of Season 7 
With The Walking Dead: Card Trader app from Topps Digital, fans can collect over 5,000 cards that feature favorite characters, thrilling moments and locations from the show, and trade with fellow fans around the world. The app is available in the App Store and Google Play Store with hot new digital card releases daily including never-before-seen content covering the entire history of the TV phenomenon. This special-edition set is part of a co-branded licensing effort with the NFL Players Association, and made possible through Topps Digital – which is a mutual licensee.
Binge the First Half of Season 7 Now on Xbox One, Apple TV, Roku, AMC Mobile Apps and amc.com

To stay up-to-date on all the latest news about The Walking Dead, sign up for the weekly Dead Alert newsletter.
Read More