Q&A
(SPOILERS) The Walking Dead Q&A — Pollyanna McIntosh (Jadis)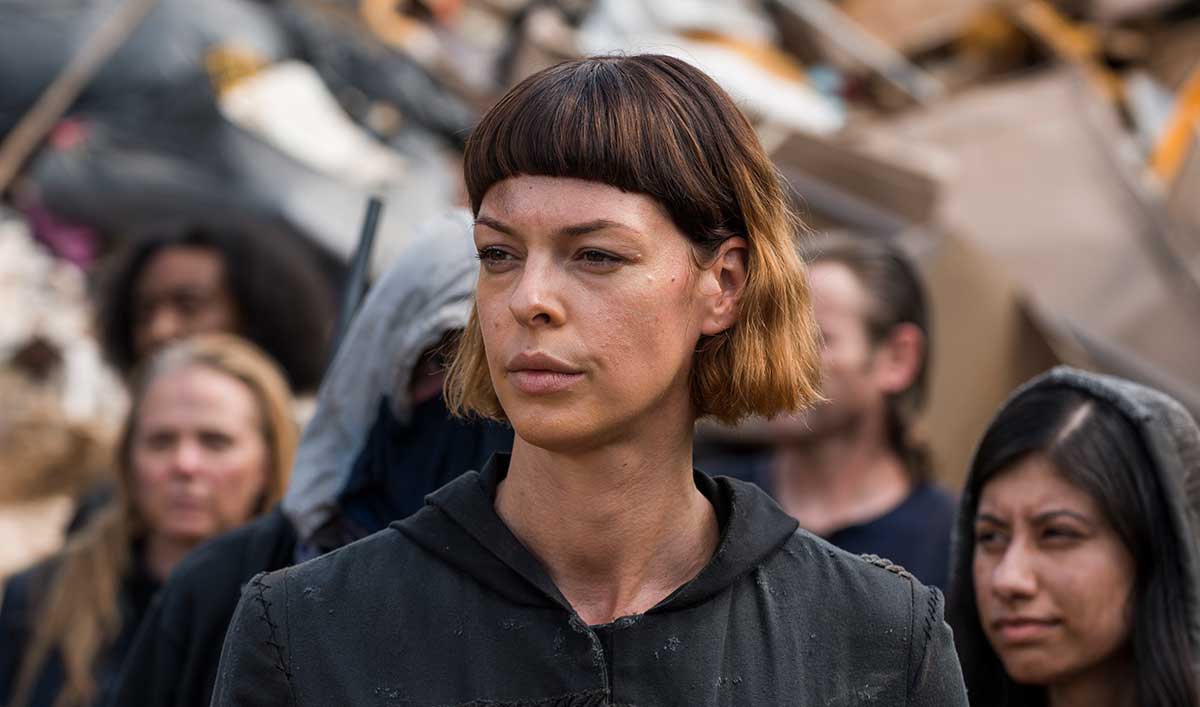 Pollyanna McIntosh, who plays Jadis on AMC's The Walking Dead, talks about bringing a new storyline to the show and her pet spiked walker.
Q: In your very first episode, your character is already in a confrontation with Rick. As a new member of the show, what was it like to go toe-to-toe with the leader of the survivors?
A: Andrew [Lincoln] is a great actor, which I knew already. He's also a Brit and I was excited to be working with a fellow Brit. He keeps his American accent the whole time he's working, so it was very much like coming face-to-face with Rick because he wasn't the British Andy that I knew from home. His energy is so great and he's so focused and positive that he made me feel very welcome. I couldn't have had a better experience shooting my first episode of the show and Andrew was a huge part of that. You lead from the top down and his energy couldn't be better. I saw that he was enjoying himself too, which made it all the more fun for me and that was great as a newcomer. It was a pleasure from start to finish.
Q: What was it like to join an established group like the cast of The Walking Dead?
A: It's a new way of working for me. This was the first time I had taken on a character where I didn't know what her eventual goal was going to be. I'm used to doing a TV show or movie where I have a beginning, middle and end. So, this was a new experience for me in that I didn't know exactly where the character was going – partly because there are secrets and partly because the show evolves as it goes along. I'm a huge fan of the show and I see how brilliant the writing is, what great work the actors do and how completely moved I was while watching it as an audience member. I just had to put my confidence in that, and jump in and play what was happening for me in the moment.
Q: What was your initial impression of Jadis? Did anything immediately stand out?
A: The first impression I got came from a couple of pages that I had for the audition. One of the exciting things for me was that this character could have been cast as a male or female. Immediately, I knew that it wasn't about the traditional terms of femininity and the possibilities of that were exciting. I felt a great, encouraging freedom from the start with her.
Q: Jadis has a very distinctive style of speaking. How did that come to be?
A: She speaks in this unusual way where she doesn't have the habit of fully forming lengthy sentences as most people do. Dropping unnecessary words makes it direct, and she's very clear about what she wants. My take on it is that it's also a way to bring her own group closer together through the uniformity of their speech and on the other hand to keep a distance from outsiders; a sort of intimidating oddness. It was both a challenge and a joy to make this dialogue — which could come off as a bit caveman-ish – feel natural.
Q: Jadis's community isn't featured in Robert Kirkman's original comics. What was it like bringing a new aspect to the storyline?
A: I had a lovely time talking on the phone with Scott M. Gimple before we started shooting and this is really his creation. It's all so new and exciting for me. The benefit of it is also for the fans because they don't have anyone to compare me to in the comics, which apparently will be good for me because maybe they'll let me off a little bit. [Laughs] I had an experience where I'd been auditioning for a character from a popular book series before, and the Internet does tend to go mad.
Q: What about that spiked walker in the junkyard? Any cool behind-the-scenes bits you can share?
A: Junk? How dare you! That's my home! [Laughs] It was a big day on set when my walker – my Winslow – came to be shot in the pit. I was incredibly impressed by the actor. The Georgia heat was high that day and we were shooting up high. Andrew is also a real "go for it kind of guy" and I think he really enjoys the physical side of it. He certainly enjoyed throwing himself off the edge of the pit. The stunt guy was amazing, but Andy's part was also pretty impressive. People gathered around to watch on the monitor as the fight went down and people who I hadn't met yet came to the set just to watch the fight… All the actors and crew just don't stop. They just keep going with a smile on their face.
Q: What are your thoughts on Jadis throwing Rick down into that pit? What was Jadis hoping to achieve?
A: In my eyes, it was definitely a test for him. She wants to see what this guy is made of – and he definitely proved himself. [Laughs] I think you can tell a lot about a person when they're in a crisis and what better way to see the measure of a man than to put him up against Winslow?
Q: It seems Jadis and Rick were able to make a deal. What can fans look forward to with the addition of this new community?
A: Jadis enjoys bargaining and making deals more than anything else. My view of the character is that she wasn't somebody who was in a position to be making deals in her previous life and now, it's fun for her in the new world. I think we can expect a bit more of that gleeful bargaining from her. It is exciting to me, too, to see what else there is in store from this new community. As a fan myself, I hope for lots more adventure.
Read an interview with Ross Marquand, who plays Aaron.
Watch full episodes of The Walking Dead on Xbox One, Apple TV, Roku, AMC mobile apps and amc.com.
The Walking Dead airs Sundays at 9/8c on AMC.
To get more exclusive interviews with the cast, sign up for the weekly Dead Alert.
Read More