Q&A
(SPOILERS) The Walking Dead Q&A — Austin Amelio (Dwight)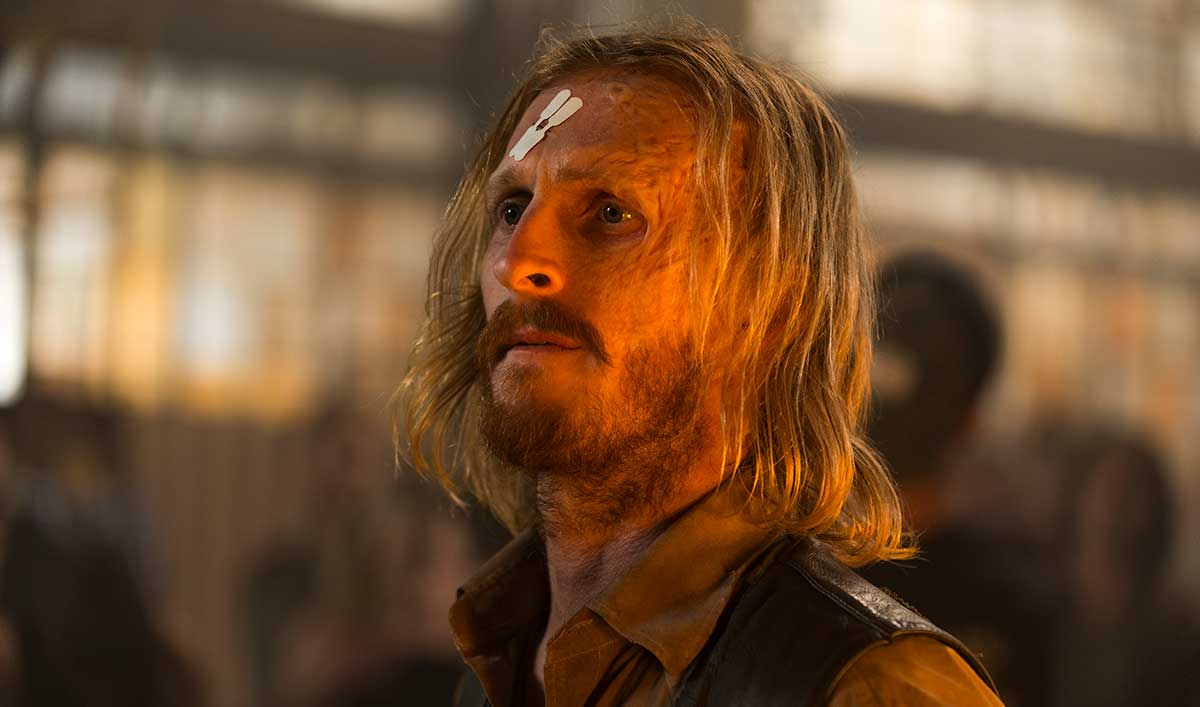 Austin Amelio, who plays Dwight on AMC's The Walking Dead, talks about revealing Dwight's vulnerable side and being Norman Reedus's on-screen antagonist. 
Q: Have you enjoyed revealing the layers of your character?
A: I'm familiar with his backstory, but the fun part for me as an actor is that in Episode 11, you see a more human side to him – a side that's a little more vulnerable and not such an asshole. I think people are going to understand him a little better, which is exciting, and that's been great for me. I'm not playing this guy who has a wall up in Episode 11. The wall is down and hopefully it gives people a chance to relate to him a little bit better.
Q: In her letter, Sherry admitted she freed Daryl because of what he represented to Dwight. How would you describe that representation?
A: He represents his past and when Dwight looks at him, he doesn't want to see that. It's almost like a mirror reflection of his past. Dwight sees the guy that he used to be and he went against his morals and values by succumbing to this world. That's not something he wants to be reminded of every day. In the torture episode [Episode 703], he's putting Daryl through emotional and physical torture. It's not as bad for Dwight, but it's definitely not pleasant to look into someone's eyes and know this secret about who you used to be.
Q: What did the pretzels and beer symbolize?
A: Sherry talks about Dwight having a bad memory and how if they ever split up, he'd meet her with beer and pretzels, so it was like the one thing he didn't forget. Dwight had everything riding on her being there. He wanted her to be there, and he had high hopes.
Q: With Sherry gone, what is Dwight fighting for now?
A: He has to hold onto the fact that they're going to meet up again. She's the love of his life. From here on out, I think it's the only thing he has left, so she really is what he's fighting for.
Q: What it's like being Daryl's constant on-screen antagonist?
A: It's a little rough because everyone likes Norman [Reedus], and I have to be the guy that does all the bad stuff to him. But it's also fun to lean into that because there's no one else really doing it. That's part of what Dwight's been ordered to do, and I think it's brilliantly written into the scripts. I love it. It's great.
Q: Do you ever randomly get "Easy Street" stuck in your head? Was it actually playing on set?
A: [Laughs] It wasn't, thank god! I think we would have all lost our marbles if it was. I listened to that song a couple of times while prepping for the episode and it drove me crazy by the third time, and I never listened to it again. What's really funny is I went to this bowling alley and a couple of people who worked there recognized me – it doesn't normally happen because I usually have that scar on my face – but they blasted "Easy Street" over the whole alley while I was there. The amount of times people have tagged me on Instagram with that song… it drives me crazy. Brilliant move by Scott M. Gimple!
Q: Can you imagine a more awkward situation for Dwight than suddenly having Eugene joining his ranks?
A: It's this outsider coming in and all of a sudden, they're standing next to each other and shouting orders at the workers beyond the fence. It's this weird sort of power dynamic now. Dwight got his faced scarred, he lost his wife and has made it up in the ranks and now this guy just storms his way in. It will be an interesting dynamic to play with.
Q: How does playing one of the Saviors impact the way you see the larger story arc? Do you still want Rick and company to win even though your character is on the other team?
A: It's a toss-up. As Austin, I love all those guys. I do hope they survive. I don't want people dying. That sucks! I want us all to be picking strawberries in the field and living the good post-apocalyptic life. It's weird because with Rick and his group, if you didn't know them and you weren't with them for seven seasons, they would be considered pretty bad people. They came in and killed all of these guys in their sleep, which is pretty ruthless. Then, the Saviors took two of their people and that was the big blow, but if you think about it, it doesn't really equal out. I actually feel like the Saviors went pretty easy on them.
Q: Since you play one of the "bad guys," what have your interactions with fans been like?
A: It's been pretty good. I think a lot of people overcompensate by being super nice because they think everyone else is being mean to me. I get a lot of love. I've gotten a couple of middle fingers thrown at me, and I get the classic "I love to hate you" thing. If they hate me, I think I'm doing my job, which is good to hear.
Read an interview with Pollyanna McIntosh, who plays Jadis.
Watch full episodes of The Walking Dead on Xbox One, Apple TV, Roku, AMC mobile apps and amc.com.
The Walking Dead airs Sundays at 9/8c on AMC.
To get more exclusive interviews with the cast, sign up for the weekly Dead Alert.
Read More