Press
Norman Reedus Talks Revenge With EW; TV Guide Interviews Andrew Lincoln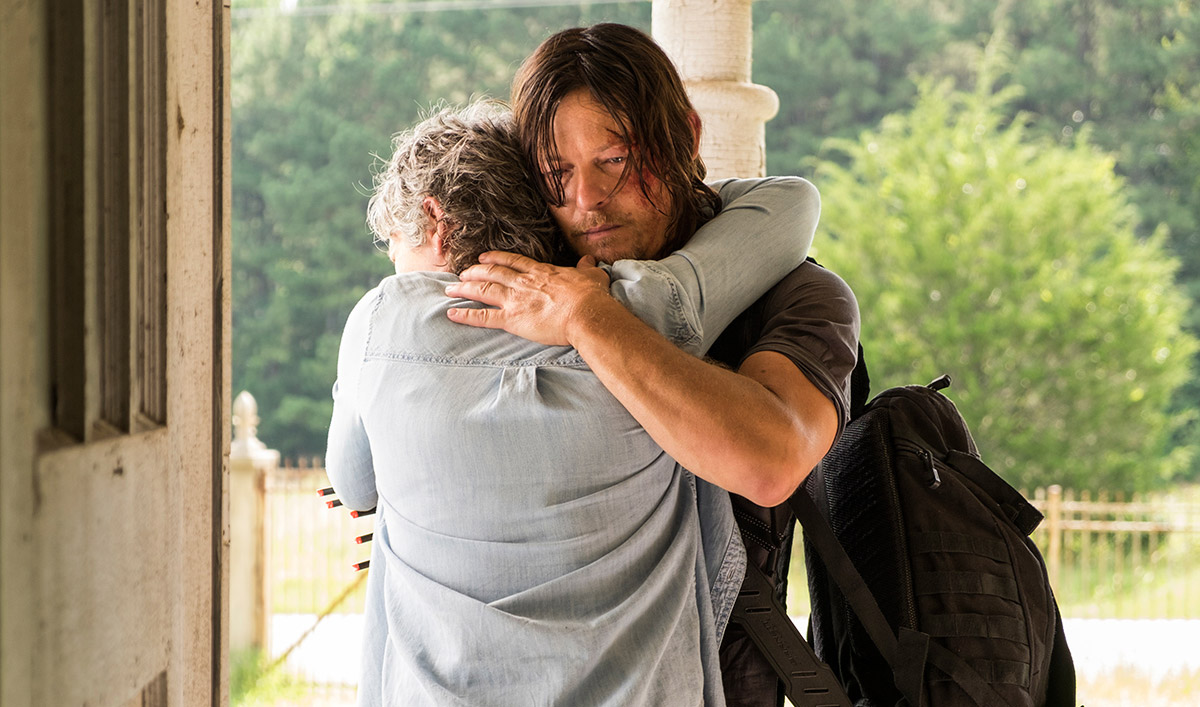 This week, Norman Reedus discusses revenge with Entertainment Weekly, while TV Guide interviews Andrew Lincoln. Plus, Greg Nicotero talks to Entertainment Tonight about Eugene as a hostage. Read on for more:
• Daryl "wants revenge. He's got tunnel vision right now. He wants to kill people. He wants to fight and get this over with to get rid of these bad guys. He's ready to go. He's got the family back together and he's ready to kick a**," Norman Reedus says to Entertainment Weekly.
• Norman Reedus explains to Variety that Daryl didn't tell Carol the truth because he's watched Carol "leave and come back and kill and not kill. He's seen her go through that, and it's a very selfless act to tell her everyone was okay. She means more to him than anything else. He's protecting her inside and outside."
• Looking ahead, Andrew Lincoln tells Entertainment Weekly, "All I will say is that the episode coming up that I'm not involved in I think is a beautifully written episode. But a little bit of fun and hijinks still to come with Rick and Michonne."
• Giving props to Grace Walker, the show's production designer, Andrew Lincoln tells TVGuide.com, "He created this incredible environment — it's not a set, it's an environment. And it's shot beautifully. It's wild and weird and very disorienting, which worked perfectly for the sequence with the pinheaded walker."
• Greg Nicotero reveals to Entertainment Tonight that Negan "has Eugene, and that's the worst person ever to be taken, so there's some amazing stuff that is going to come out of that relationship."
• Scott Gimple, speaking with Yahoo TV, says, "It is very, very much intended that Michonne was a huge part of Rick being able to get to the place where he could picture fighting the Saviors."
• The Hollywood Reporter interviews Pollyanna McIntosh, who says, "There's nobody quite like Negan but then there's nobody quite like Jadis. She would see him and know what was going on with him and certainly read him very clearly. There is no charming Jadis with the kind of nonsense Negan throws out."
• Pollyanna McIntosh talks to TVLine about casting for Jadis: "I loved that open-mindedness and knowing that traditional femininity was not an issue here. And yet she was not to act particularly masculine, either. Whether a woman or a man, she was a leader, and that was that."
• Speaking with ComicBook.com, Pollyanna McIntosh says she doesn't think Jadis would "like Negan at all. His pride and his arrogance would really get in the way, as far as I'm concerned. I would think he would be somebody who would need to be taken down, you know?"
• E! Online explains how "The Walking Dead finally reunited one of our favorite pair of characters and, well, we're having mixed feelings about it."
• ComicBook.com interviews Karl Makinen, who discusses Richard's frustrations with Morgan: "I think that he's the one person that really gets to me, because he's had so many opportunities to see how this is going down and why he should change his mind, and I am so frustrated with him not getting behind this."
• Up against the Grammy Awards, the Mid-season Premiere drew 12 million total viewers, including 7.3 million adults in the 18-49 demographic, Deadline reports.
• In other ratings news, TV by the Numbers says the Mid-season Premiere was the top cable show for the week ending Feb. 12 among viewers aged 18-49.
• Multichannel News reports that the Mid-season Premiere drew 2.5 million social media interactions across more than 1.6 million unique social media accounts, second behind only the Grammy Awards according to Nielsen.
• MoviePilot shares "everything we learned about Carl Grimes, The Walking Dead and more" from Chandler Riggs' recent Reddit AMA (Ask Me Anything).
• Popsugar advises re-watching the scene where Rick meets King Ezekiel and Shiva because of this insight from Chandler Riggs: "We obviously never had an actual tiger. So we had to react all scared and terrified at Greg Nicotero's 'wraaaaaa' from video village, which was pretty funny."
• Uproxx looks back at The Walking Dead's human enemies, in an attempt "to examine these villains and rank them based on their threat level to Rick and the group."
• For recaps and reviews of Season 7, Episode 10, "New Best Friends," check out ABC News, Atlanta Journal Constitution, Chicago Tribune, The Guardian, The Hollywood Reporter, Independent, New York Daily News, The New York Times, Observer, Rolling Stone, TV Guide, Uproxx, USA Today, Vulture and Wired.
Watch Season 7, Episode 10, "New Best Friends," and binge Season 7 now on Apple TV, Roku, Xbox, AMC Mobile Apps and amc.com.
To stay up-to-date on all the latest news about The Walking Dead, sign up for the weekly Dead Alert.
Read More