Press
Greg Nicotero Teases What's Next to EW; E! Hails Mid-season Premiere Walker Kills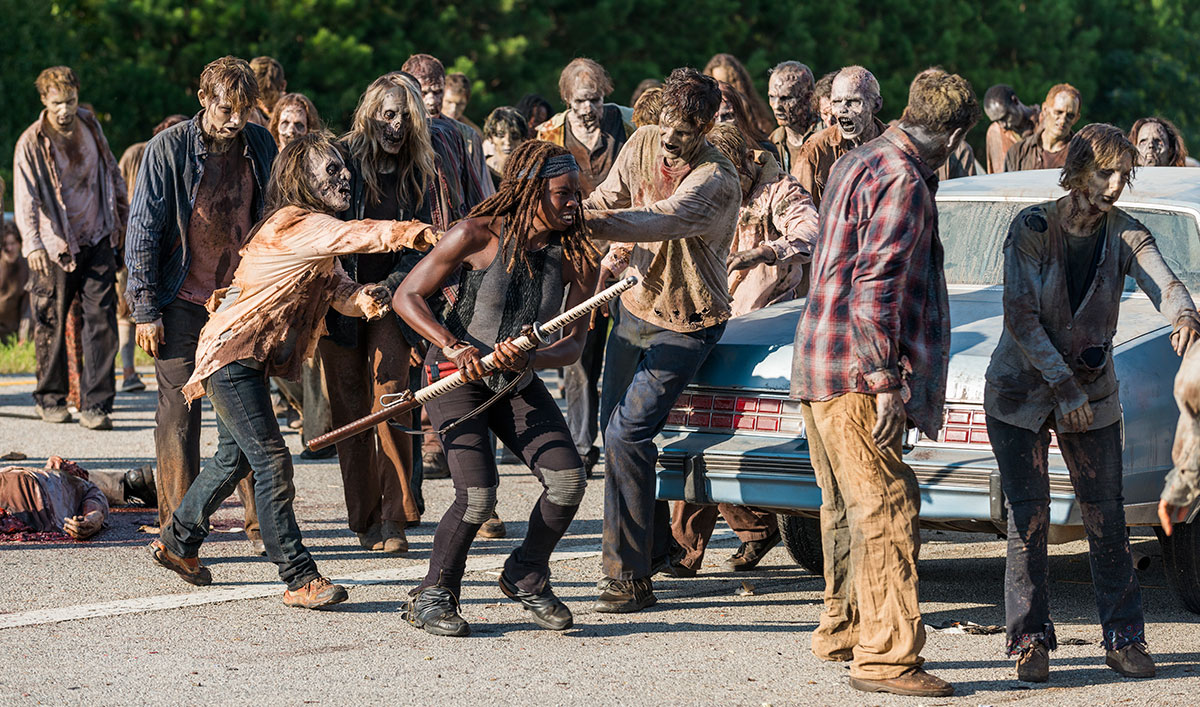 This week, Greg Nicotero teases what's coming in the next episode to Entertainment Weekly and others, while E! Online hails the Mid-season Premiere's zombie kills. Plus, Scott Gimple discusses Rick's smile with The Hollywood Reporter. Read on for more:
• Greg Nicotero teases to Entertainment Weekly that Episode 10 has "one of the coolest walkers that we've done in seven years. We're also going to get a chance to meet a lot of interesting new characters and another locale."
• "You'll notice as we get deeper into the second half of the season that a lot of people are still harboring a lot of emotion and guilt about what happened to Glenn, about what happened to Abraham, and I think now that they're back together again, it is, in a way, reopening some of these old wounds," Greg Nicotero tells Yahoo TV.
• Greg Nicotero asserts to Variety that Morgan "admires Ezekiel because he realizes there is a way to live where killing is not the first priority. He's showing Benjamin a more serene way of life."
• E! Online exclaims that the Mid-season Premiere "had one of the most badass group zombie kills the show has ever pulled off."
• Scott Gimple explains to The Hollywood Reporter that Rick's smile "has a lot to do with the next episode. Rick is caught in this awful situation and you'd think somebody wouldn't be too happy about it — but all these people aren't just a threat; they're an answer."
• Describing the show's new faces at the episode's end, Andrew Lincoln shares with ComicBook.com, "Very quickly, we get introduced to a new group and Rick has to think very much on his feet as to how to deal with this unique community because it's not like any other community he's met before."
• Scott Gimple describes the Season 7 finale to The Hollywood Reporter as "big and satisfying, I hope. It's a lot of story strands coming together."
• Here's Greg Nicotero's take on the finale, as told to ComicBook.com: "It's everything that you would ever want. It's thrilling. It's emotional. It's powerful."
• Entertainment Weekly reports that the show's panel at next month's Paleyfest will include Andrew Lincoln, Lauren Cohan, Melissa McBride, Josh McDermitt, Christian Serratos, Alanna Masterson, Ross Marquand, Tom Payne, Scott Gimple, Robert Kirkman, Greg Nicotero and Dave Alpert.
• Yahoo TV looks back at "the sweetest, most romantic moments that have unfolded in five and a half seasons of life among the walkers."
• Cleveland.com checks out an analysis of "the most shocking deaths on the show based on more than 1.6 million fan votes" and discovers that Jessie's demise tops the list.
• In honor of Black History Month, Blastr celebrates Michonne, calling her "one of the strongest female heroes to grace genre fiction. Or, you know, fiction in general."
• According to ComicBook.com, July will see the release of the first Sasha action figure that's "based on her Season 7 appearance, and features 3D scans of Sonequa Martin-Green."
• David Morrissey, interviewed by Rotten Tomatoes, reveals, "The key for me with the Governor was his daughter. It was a very human thing to keep her there, and to keep her close, and to try to get back to some normality."
• Talking to Cinema Blend, David Morrissey also says, "I don't think there's a world where Negan and the Governor can exist together. I think they would have to take each other on, and you know, it's obvious that there would be one winner in that, and that would be the Governor."
• ComicBook.com asserts that the Walker Stalker Cruise is "a comic convention on a boat which actually makes it so much more than any comic convention you have ever attended for a number of reasons, with the fact that you're on a luxurious cruise to the Bahamas somehow landing at the bottom of that list."
• For recaps and reviews of Season 7, Episode 9, "Rock in the Road," check out Atlanta Journal-Constitution, Entertainment Weekly, The Guardian, IndieWire, New York Daily News, New York Post, Rolling Stone, Time, TV Guide, USA Today, Vulture and TheWrap.
Watch Season 7, Episode 9,"Rock in the Road," and binge Season 7 now on Apple TV, Roku, Xbox, AMC Mobile Apps and amc.com.
To stay up-to-date on all the latest news about The Walking Dead, sign up for the weekly Dead Alert.
Read More