Q&A
The Walking Dead Q&A — Denise Huth (Co-Executive Producer)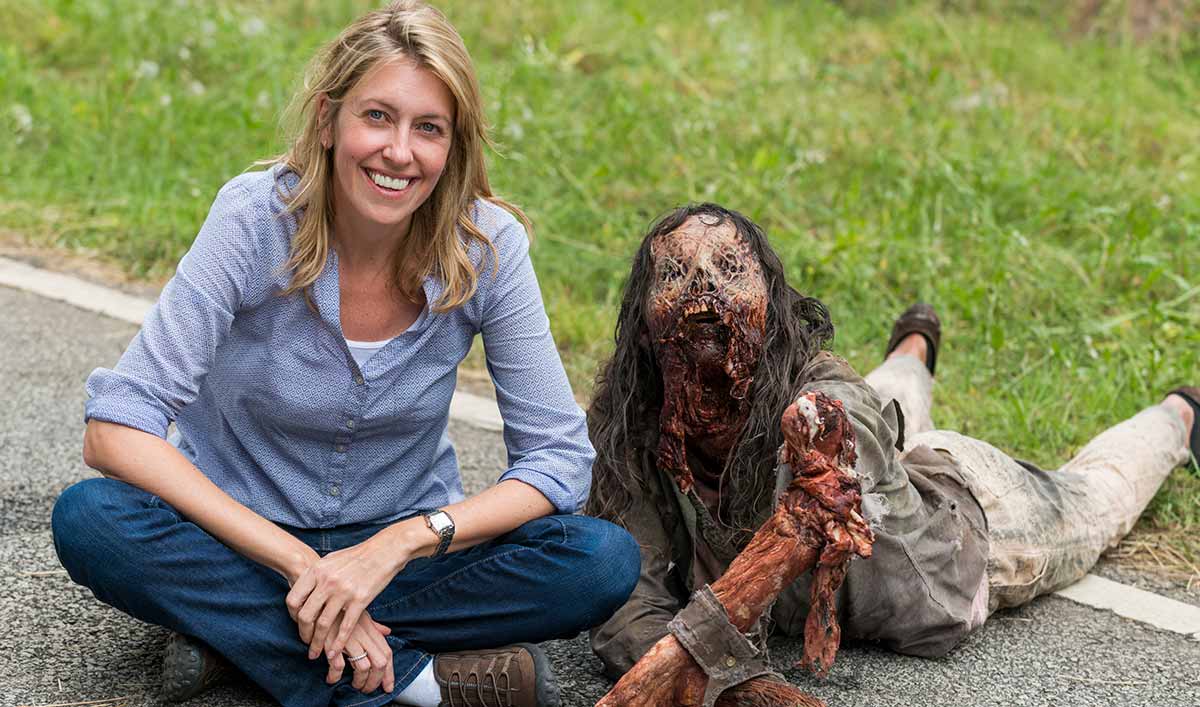 The Walking Dead Co-Executive Producer Denise Huth talks about how Negan has shifted the series and how the survivors will rise up in the next half of the season.
Q: Negan has really shaken things up since he's been introduced. How would you describe the completely new dynamic his character brought to the show?
A: We've always said that Negan would be a total game changer for the show. His impact, what he did, how he was introduced and how he continues to keep the rest of the group within his control is a huge impact. It's probably the biggest change we've had on the show since we've started. Even with where we are now, with how the Mid-Season Finale ended and our group being united again, and thinking about how to fight back, the specter of Negan never goes away. He's very formidable and he's definitely the biggest adversary we've ever faced.
Q: What was the hardest part about saying goodbye to Steven Yeun and Michael Cudlitz this season?
A: That was torture. [Laughs] It's hard for the audience and it's hard for us, too. It was one of those things that we knew about for quite some time before it happened. There were months and months of dreading it. For a good year, it was pretty miserable. We do have our "death dinners" with the cast and these were particularly emotional. It was brutal. Steven has obviously been with us since the very beginning, and Michael is just such a dream and understands the challenges that happen behind the camera… We all see each other at the conventions and they come back and visit, but it's painful to not have them there. The loss of those characters is still impacting the show, and I think they will impact the show for the rest of the series. You will always feel the loss of those two characters and the impact of them forever on The Walking Dead – and that's a pretty great legacy.
Q: So much of this season is pulled directly from the comics. Do you have a favorite moment that you really enjoyed seeing adapted to the screen?
A: I think one of my favorites was Episode 707 when Carl is with Negan at the Sanctuary. It's one of those stories from the comics that's really cool, interesting and weird… It was really fun to have that moment where Negan makes him take the bandage off and makes him sing. Negan doesn't just outright kill him immediately. He has a fascination with Carl and it was really fun to get to do that.
Q: How much does the production team "root" for the characters? Are you as excited as fans that Rick is ready to fight?
A: Oh yeah! [Laughs] I think the audience feels like they're survivors and like they're a part of Rick's crew. The production and our crew who make the show feel the same way. We all adore Jeffrey Dean Morgan and we think he's doing a fabulous job. He's a character you love to hate, but I think we were all so excited to get the characters and the actors back together to shoot the Mid-Season Finale. There are obviously miles to go and Negan isn't going to be easy to take on, so we're in it for the long haul and the characters are as well. Rick is not going to make the same mistake as he did last time and he's not going to underestimate his opponent. For the crew, it's really exciting to be like, "OK, we're sick of seeing you guys beaten down, as much as the audience!" [Laughs]
Q: What does the tagline "Rise Up" mean to you?
A: I love that tagline. Our show can be tough to come up with a tag that encompasses an entire half season… but that one felt perfect. It feels like our characters have spent the first half of the season really broken and while that's hard to watch, it was also very necessary. While some of the characters like Sasha, Rosita, Carl and Michonne are reacting with such anger, other characters really reacted with grief, pain, fear and responsibility – particularly Rick and Daryl. While it's been difficult to see them so broken, it was a necessary part of the grief we had to get through. Otherwise, it minimizes what happened in that first episode. You have to feel the impact. It will always be there. The odds are definitely stacked against them, but they've come to the realization that what they have is worth fighting for, and I think in some ways, they come to the realization that it's worth dying for. There's always more loss in our world and when you take on somebody like Negan, more people will fall. I think they're prepared for that, but it's still going to be an incredibly difficult battle ahead for them.
Q: In the latest teaser video, Rick aims to join forces with the Kingdom and the Hilltop. Without giving away too much, how should fans expect those communities to come into play?
A: The world keeps getting larger. We know that Rick will meet Ezekiel and will see the Kingdom. These groups are all very similar in the sense that they're all under the thumb of Negan, but how they chose to react will be different. Every single one of these communities has something to lose and while our people have certainly come to a position that they must fight, it doesn't necessarily mean everyone will.
Q: Fans of the show are always on the hunt for Easter eggs. Do you have any to share that might have been missed this season?
A: I love the fans of this show because they really do read into every little detail, and I love that a lot of people spotted that Maggie was wearing a baseball cap in the last episode. It's not Glenn's baseball cap – that one is long gone – but it is a nice nod to Glenn. That one was kind of sweet.
Q: What else should fans expect to see when the series returns in February?
A: I love the second half of the season. The energy has been amping up and that continues every episode in the next eight. It just feels like we were on this path in bringing these characters [together] through this great tragedy, and our group came together in the Mid-Season Finale. They're always at their best when they're together. It feels like something massive is about to happen, and I love where the season ends and where it gives us room to grow in Season 8. I think the fans are really going to love it. Stay strong!
Read an interview with Andrew Lincoln, who plays Rick Grimes.
Watch full episodes of The Walking Dead on Apple TV, Roku, AMC mobile apps and amc.com
To get more exclusive interviews with the cast, sign up for the weekly Dead Alert.
Read More