Behind the Scenes
The Comic Origins of the Survivors' Guilt in The Walking Dead Season 7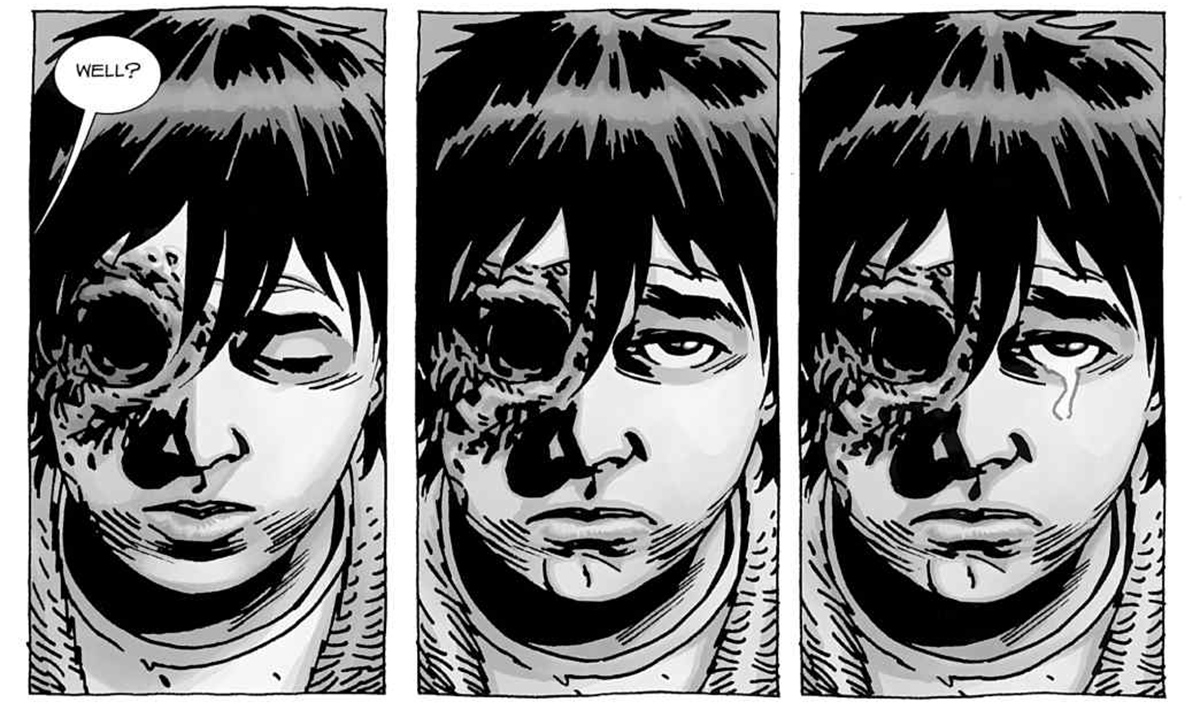 Season 7 of The Walking Dead started with the loss of two main survivors, leaving the rest of the tightly knit group completely broken.
If you haven't read the comics, you may have missed the graphic origins of some of Season 7's most iconic moments as the survivors try to cope. Take a look below to see how some of them tried to regain their footing in the new world order of Season 7…
Binge Season 7 now on Xbox One, Apple TV, Roku, AMC Mobile Apps and amc.com.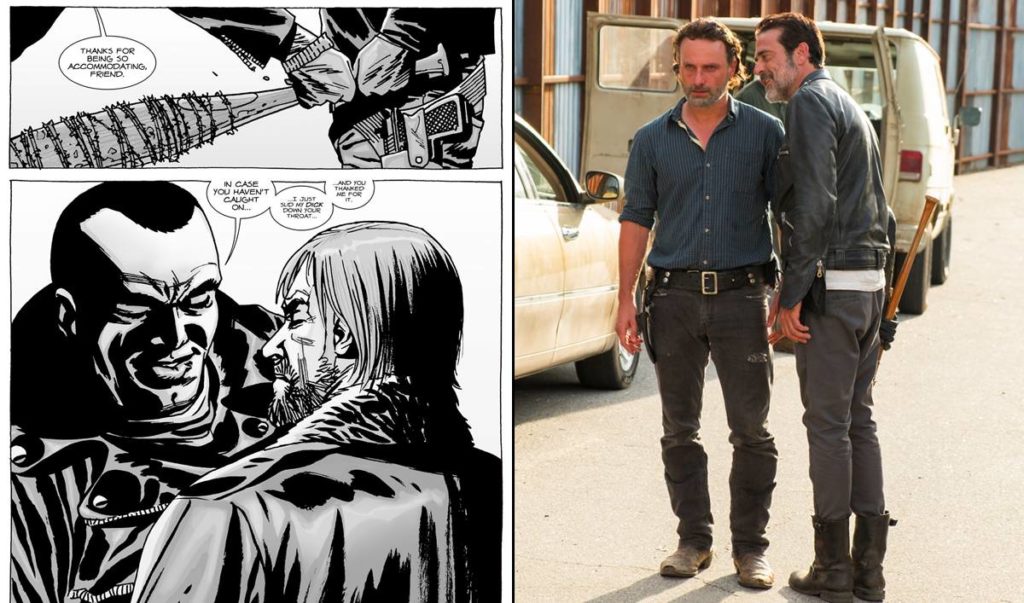 1. Negan's Parting Words to Rick
This scene, taken straight from the comics, proves that Negan doesn't just know how to make an entrance but he's a big fan of a dramatic exit too. Negan's vulgar goodbye leaves Rick helpless, perfectly illustrating how far the group's leader has really fallen.
WATCH: Go Inside Negan's Visit to Alexandria With Andrew Lincoln.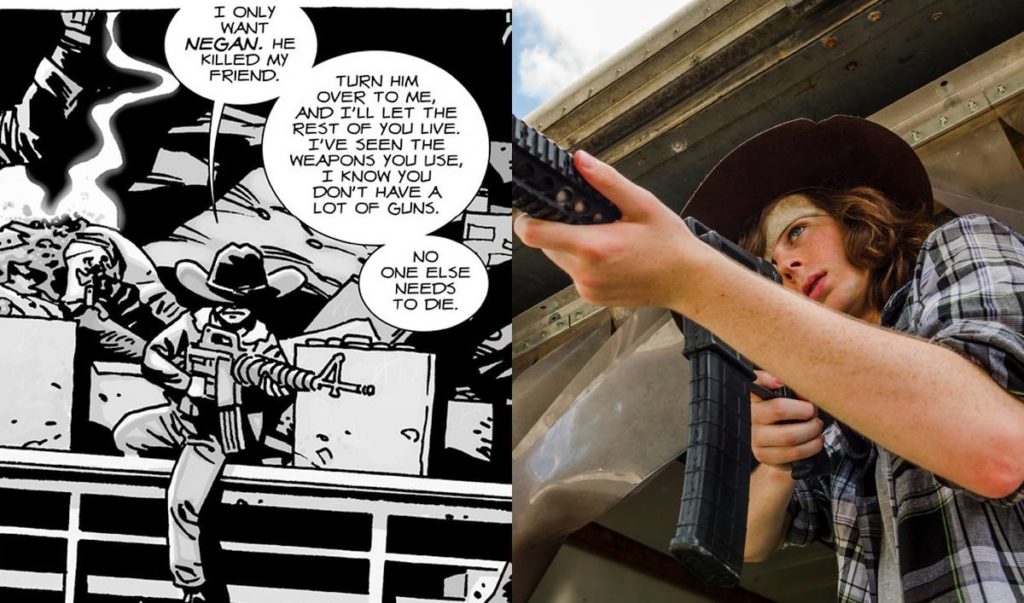 2. Carl Attempts an Assassination
Carl's surprise attack on Negan at the Sanctuary comes straight from the comics, with the shots and dialogue ("I only want Negan") mirroring the original artwork. It diverges when it comes to Carl's kill count. In the show, he takes down two Saviors, but in the comics, he shoots six.
WATCH: Go Inside Carl's Solo Mission at the Sanctuary With Chandler Riggs.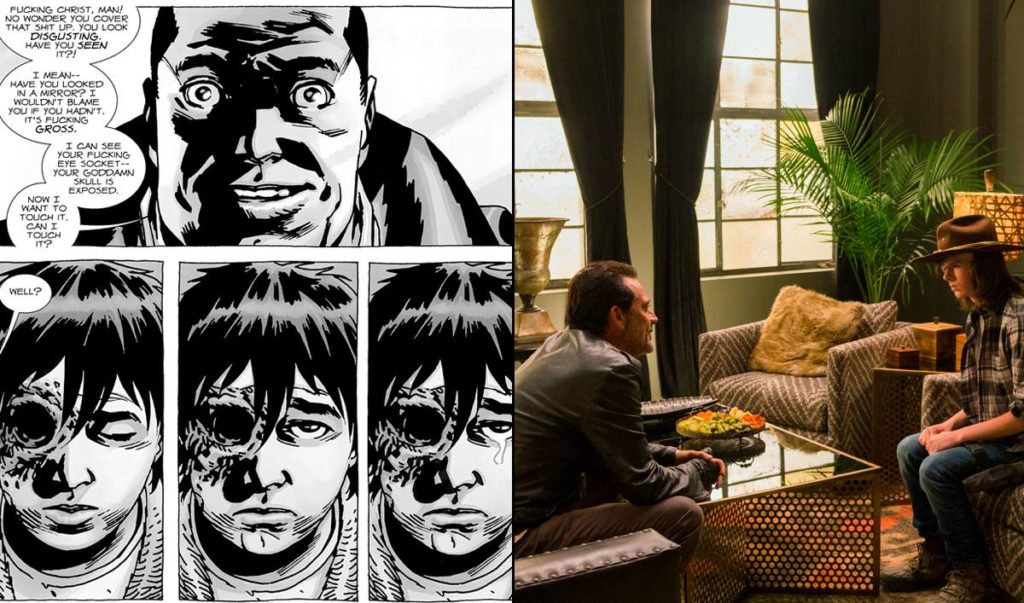 3. Carl Removes His Bandage
From the haunting image of Carl's missing eye to his tearful rendition of "You Are My Sunshine," Carl's one-on-one with Negan is almost identical, and equally tense, on-screen and in the comic. He even gives Carl the same advice: Don't cover that eye up because no one will mess with you looking like that.
WATCH: Chandler Riggs and Chris Hardwick Discuss Carl's Relationship With Negan.
To stay up-to-date on all the latest news about The Walking Dead, sign up for the weekly Dead Alert newsletter.
The Walking Dead returns Sunday, February 12 at 9/8c.
Read More