Press
Norman Reedus Talks With ComicBook.com; New Award Nods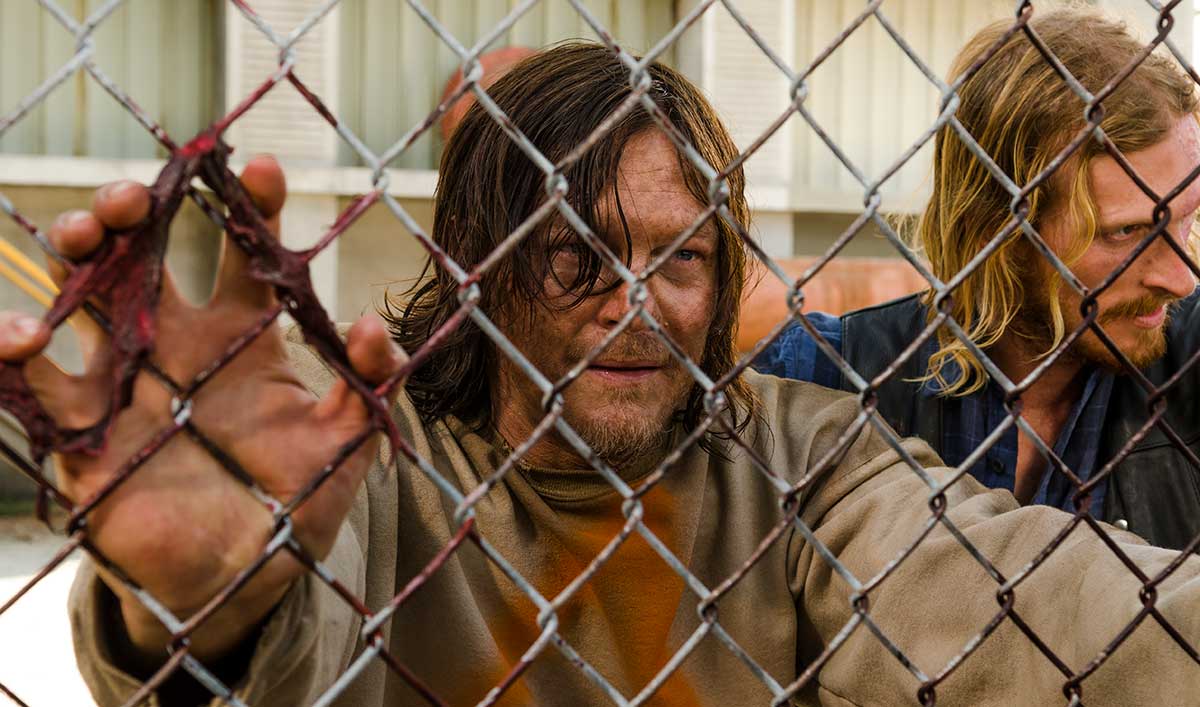 This week, Norman Reedus previews the rest of Season 7 to ComicBook.com, while The Walking Dead wins nominations from the Costume Designers Guild and the Make-up Artists and Hair Stylists Guild. Plus, Gale Anne Hurd speaks with Digital Spy. Read on for more:
• Discussing what's to come, Norman Reedus tells ComicBook.com, "There are a bunch of groups, and like everything on this show, everything comes to a head eventually. There are definitely scenes shot that are epic and large."
• The Walking Dead has received a Costume Designers Guild Award nod in the Outstanding Fantasy Television Series category, according to the Los Angeles Times.
• ComicBook.com reports that the show garnered a nomination from the Make-Up Artists and Hair Stylists Guild in the TV And New Media Series – Best Special Make-Up Effects category.
• Gale Anne Hurd explains to Digital Spy, "Rick and the gang have found their mojo again and they are going to work on rising up against Negan, and doing it right this time."
• TVGuide.com interviews Yvette Nicole Brown, who says, "I want the group to heal and rise up. I also want Negan to get what he deserves. And I love Jeffrey Dean Morgan, I love him to death, but that Negan's got to go."
• Explaining that he's the "good cop" at home now that he's playing Negan, Jeffrey Dean Morgan tells Entertainment Tonight, "The key to success with home life is to be a crazy person on TV."
• Insider features a Mid-Season Premiere sneak peek, where it "looks like Rick and most of his group have headed to the Hilltop to seek out numbers to join them in their pending war against Negan."
• Highlighting three new Season 7 photos, E! Online says they "drive home the idea that Rick Grimes is finally ready to fight back against Negan."
• Meanwhile, Collider.com says a new synopsis for the Mid-Season premiere teases that the survivors are "about to get back into the fight, and at the end of the day, there'll be no avoiding 'All Out War.'" Nerdist notes, "It's refreshing to see the return of Rick's fighting spirit…but Negan is an enemy unlike any Rick has ever faced."
• ComicBook.com offers a guide to "everything we know about The Walking Dead Season 7B so far."
• At a fan convention, a fan provided eye-popping glasses and a Lucille bat, and Steven Yeun "recreated the iconic Walking Dead death scene," according to ComicBook.com.
• According to IGN, Corey Hawkins says Heath could always return: "We left it open so I will just say, there's always a possibility. There's always a way!"
• ComicBook.com checks out a Season 7 premiere behind-the-scenes video, where Gale Anne Hurd explains, "Negan loves breaking people."
• TV Cheat Sheet showcases Maggie's most amazing moments on The Walking Dead, observing that she's "had some unforgettable moments throughout her six seasons on the show, but some stand just a bit above the rest in terms of defining who she is."
• ComicBook.com posts a fan's gallery of images where Shane has been photoshopped "into every major scene from the AMC zombie show which he wasn't able to make it to because Rick stabbed him. While we can only imagine what the encounter between Negan and Shane would have been like, at least we now have a visual representation."
• Movie Pilot points out that Rosita Espinosa's name means "little rose full of thorns," which is "extremely fitting for Rosita, as she has proven herself to be a loving, caring woman (a little rose), while also showing her ruthlessness when necessary (full of thorns)."
• Mashable notes "there are at least four lessons everybody's favorite post-apocalyptic horror-scape can teach you about surviving as a startup."
Binge Season 7 now on Apple TV, Roku, AMC Mobile Apps and amc.com.
To stay up-to-date on all the latest news about The Walking Dead, sign up for the weekly Dead Alert.
Read More