Press
Norman Reedus Talks Daryl With EW; Carrie Underwood Wants to Be a Walker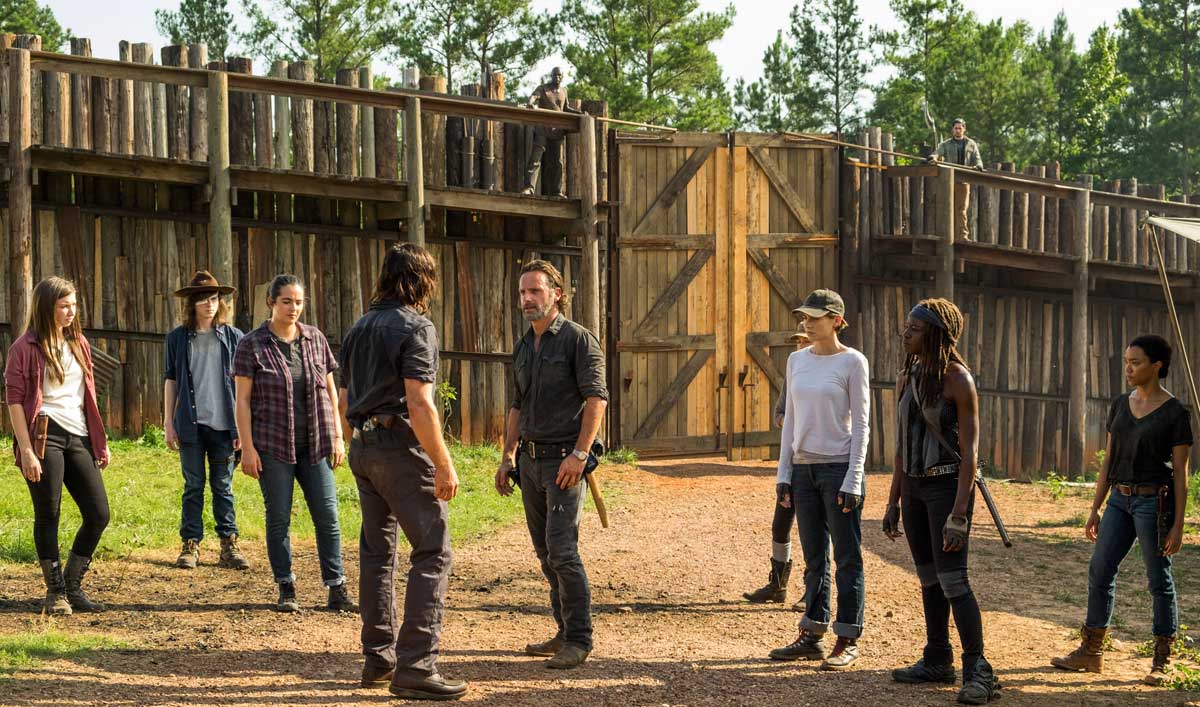 This week, Norman Reedus discusses Daryl with Entertainment Weekly, while RollingStone.com reports that Carrie Underwood wants to play a walker. Plus, USA Today reports that The Walking Dead won a People's Choice Award. . Read on for more:
• Norman Reedus tells Entertainment Weekly that Daryl "wants revenge. He's ready to fight. When he goes back in that last episode and hands Rick back his stuff, it was like, 'Let's go! Let's go beat this guy up. Let's go take what's ours and fight this monster.' So, you know, he's in kill mode."
• Carrie Underwood tells TODAY she'd like to play a walker on The Walking Dead "because then it would just be a little thing and I could be like, 'I was there and a part of it!'" Rolling Stone reports.
• USA Today announces that The Walking Dead won the People's Choice Award for best Cable Sci-Fi/Fantasy TV Show.
• Entertainment Weekly posts a new Season 7 photo of Rick "conversing with a woman — at least it looks like a woman, judging from the back — in what appears to be a junkyard setting" — and Scott Gimple says only, "I cannot wait for people to meet this character and to see this actor. There is some formidable fun coming up." EW features seven other new photos from the second half of Season 7.
• TheWrap reports that The Walking Dead was the No. 1 fall TV show on Twitter and Facebook, according to Nielsen.
• ComicBook.com checks out a new Season 7 teaser: "While none of the footage is new, AMC made them appear new with a cool blood-red saturation."
• Speaking about the Season 7 premiere, Lennie James says to Metro.co.uk, "The arrival of Negan needed to be as brutal as it was, because he's 'it' for us as far as the big baddies go."
• According to International Business Times UK, Lennie James says, "I love what the writers are doing with the relationship between Morgan and Carol because it is complex, it is possibly deep and it could go well or it could really go wrong and both of the consequences of that would be really interesting."
• When Season 7 returns, Seth Gilliam previews what's up for Father Gabriel, saying to Hollywood Life, "You'll see more of his complete devotion to rehabilitating Rick and following his leader."
• Interviewed on The News Wheel, Norman Reedus says The Walking Dead has changed his career perspective: "The last couple years being on this show and working with these people and… it slowed me down in the best possible way."
• ComicBook.com spotlights a behind-the-scenes video from "Swear" which "shows the extra bit of teamwork between the cast and crew required to take down a zombie."
• ComicBook.com views some new Season 7 posters of the show's major characters: "These pictures are set to a white background, and feature a black and grey version of the character. Mixed in, are streaks of bright and dark red."
• Insider looks at "the other roles the cast played before they landed their parts in the zombie apocalypse."
• ComicBook.com checks out the "five times The Walking Dead masterfully followed its comic book source material."
• Undead Walking reports that The Terrapin Beer Company will release a new Blackstrap Molasses Stout "based on Negan's weapon of choice, his barbed wire baseball bat Lucille," in late February.
Binge Season 7 now on Apple TV, Roku, Xbox, AMC Mobile Apps and amc.com.
To stay up-to-date on all the latest news about The Walking Dead, sign up for the weekly Dead Alert.
Read More