Q&A
(SPOILERS) The Walking Dead Q&A — Andrew Lincoln (Rick)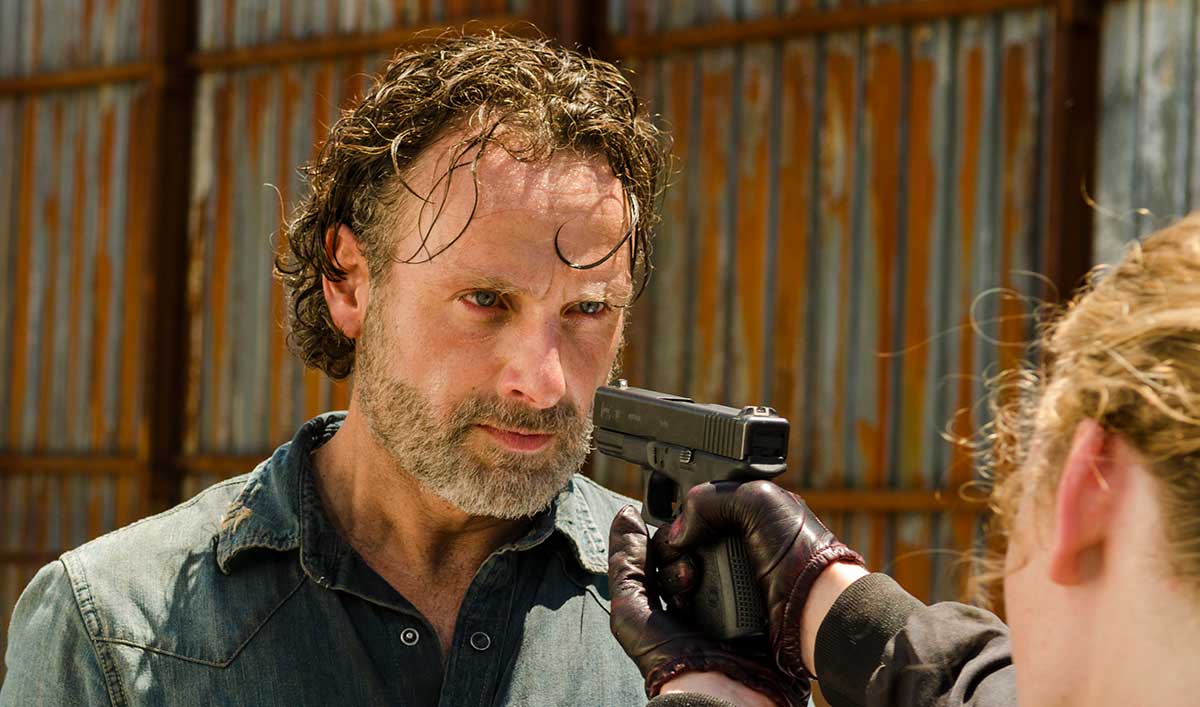 Andrew Lincoln, who plays Rick Grimes on AMC's The Walking Dead, talks about his character's realization in the Season 7 Mid-Season Finale and the best prank Norman Reedus has ever pulled on him.
Q: Since the Season 7 premiere, Negan has really affected Rick's mentality. As an actor, what are the challenges that come with playing your character in this new state of mind?
A: There have been many times in Rick's journey since he woke up in the apocalypse where he's been able to somehow lift himself off the floor. This is such a new regime that he actually doesn't have the stomach for the fight – certainly not during the first half of the season – and I think he feels real guilt over the choices that he's made with the Saviors. He takes it all personal. I think we see a man who has not given up, but who has certainly realized that there's a new formidable man with an incredibly powerful army, so his only answer is to acquiescence. I absolutely wish that weren't the case, and it's been incredibly uncomfortable playing him for the first seven episodes, but fortunately we're at a huge turning point in Episode 8. It was such a relief! [Laughs]… Those have been the challenges as an actor – trying to convey as much as you can in very few lines. It's been a very strange half season for me, but in terms of story, it's vital for the show.
It's been thrilling to have such strong opposition, but I have to say the moment that we started to return as a group and we found Daryl and Michonne gives that incredibly inspiring speech to bring Rick back after he witnesses two more murders in front of his eyes – that was such a welcomed relief to be able to start to find Rick again and for him to begin to return. Maybe he's not the same Rick, but he's certainly a more considerate and compassionate leader.
Q: Glenn has been with Rick since the very first episode of the show. How have you been adjusting to the dynamic without Steven on set?
A: Steven is a dear friend of mine and the most painful part of this job has always been saying farewell to not just screen partners, but also incredible friends that have shared in this experience. Glenn saved Rick in the first episode and has been there throughout the whole seven seasons. You do feel a loss, the crew feels it, and the cast feels it. Not only is Steven a wonderful actor who's created a beautiful character in Glenn, but he brought presence on set as a leader and a fun, supportive member of the family. So, it was a huge hole and we really felt it, but it was also a double hit with Michael Cudlitz. Michael led from the front, had a positive influence on set, and brought a sense of fun and commitment to the show. Losing both those guys in the first episode was very difficult. Fortunately, as always, we fill the hole with other great performers.
Q: Can you share some behind-the-scene bits about filming that walker pond scene with Ross Marquand in the Mid-Season Finale?
A: I have to say, even though it was a gross couple of days where we were drenched like drowned rats and surrounded by walkers, it was a highlight for me. I was very happy and I loved it. I got to spend some time with Ross and up until then, I hadn't had as much screen time with him. Rick and Aaron aren't the closest of buddies. There's a bit of baggage between the two of them and it was great to be able to go out on a mission and to have an energized scene. There's a beautiful connection between the guys in a subtle scene about the decisions that are being made, what Rick's doing, and Aaron being able to comprehend why he's doing it and the responsibility of leadership and protecting lives. It was great to able to get into their relationship.
Q: Carl has also been responding differently to Negan's rule, and we've been seeing a much angrier side of him. Did that affect the father-son relationship between Carl and Rick?
A: Massively. A lot of the pain that Rick feels is from being emasculated in front of his son. One of the worst things that anybody can do to someone else is to humiliate and degrade them in front of their children, and Negan does so continuously as a way to control him. It is fractured and problematic. He understands and respects his son's needs but it scares him… I think trying to navigate people's decisions has been difficult for Rick.
Q: Rick and Michonne have been processing their trauma quite differently. What exactly propels them to come together in that emotional scene when Rick realizes he has to fight?
A: Well, I think the episode is very much a realization from Rick's point of view. He's made this deal and is trying to live under this new regime. He just risked his life in the most ridiculous manner possible for Negan and then Aaron, who showed great solidarity in that decision, gets beaten almost to death in front of Rick's eyes. Then, he witnesses the deaths of two of his fellow citizens, Eugene gets taken away and Rosita gets scarred in front of him. He's powerless in all areas and he realizes that he can't live this way. I think the realization happens before Michonne's call to arms because it's implicit when he says "I know that now." I think he takes himself away to Morgan's cell and it's relevant that he's there in that cell to try to find some balance. I think he's realized that he's living on his knees. He'd rather die standing up on his feet than kneel for the rest of his life – and their lives. That's pretty much what Michonne says to him. It's a very powerful realization throughout the whole episode that this is never going to work. The deal that he's made will always be broken, and Negan is not a man of his word. He will continue to squeeze until there's nothing left. Rick's reunion with his friends is such a powerful moment for everybody. They have nothing, but there are 10 of them. I wanted them to do this shot where the gun is given to us, I click open the gun and you saw that there were six bullets around and for the camera to mirror that so that we looked like we were a loaded gun. We have one gun, but it's the beginning. We didn't have enough time to film that, so it will always be in my imagination! [Laughs]
Q: What was it like filming that final scene of the episode with your cast mates when everyone's coming together and ready to fight?
A: It was like coming up for air. We knew that this part of the story was going to be painful. We knew it from the comics and we got a very strong sense of the cloud forming towards the end of last season, but even though we have no guns, no equipment, nothing to fight him with, just the knowledge that it has begun gives such a sense of purpose again and hope. Filming just that sequence was enough to propel us.
Q: On a lighter note, we know Norman is a bit of a prankster on set. Seven seasons in, what's been the best prank he's pulled on you?
A: The chickens in my bathroom trailer was pretty impressive, but the glitter in my car is the gift that keeps on giving. I mean, I'm still getting little specks of glitter coming out of the air conditioner and onto my face!
Read an interview with Alanna Masterson, who plays Tara.
Watch full episodes of The Walking Dead on Apple TV, Roku, AMC mobile apps and amc.com
To get more exclusive interviews with the cast, sign up for the weekly Dead Alert newsletter.
Read More