Press
Jeffrey Dean Morgan Looks Ahead With EW; Chandler Riggs Talks to Variety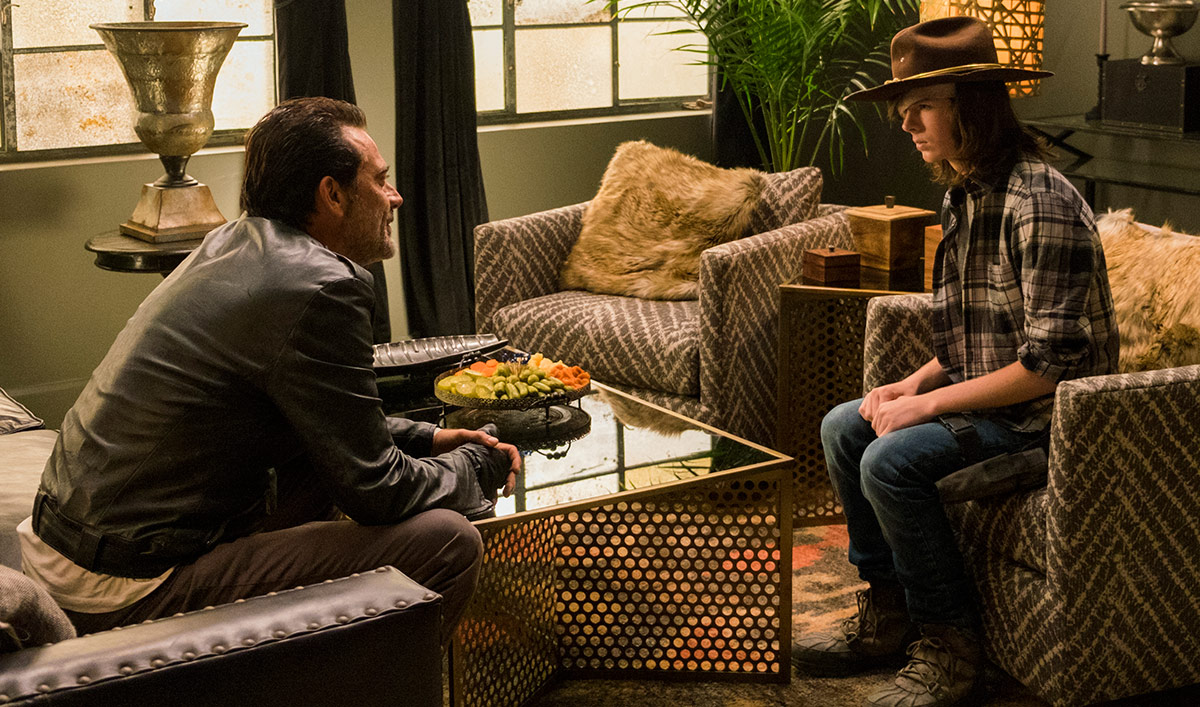 This week, Jeffrey Dean Morgan previews the Midseason Finale with Entertainment Weekly, while Chandler Riggs discusses Negan with Variety. Plus, Lauren Cohan pays a visit to Stephen Colbert. Read on for more:
• Jeffrey Dean Morgan, interviewed by Entertainment Weekly about Negan on the porch with Judith and Carl, says, "We are going to wait for Rick, and I would imagine that Rick is probably not going to be super thrilled to see me there with his family."
• Addressing Negan's influence, Chandler Riggs says to Variety that Carl has "never seen anyone with this much power before. No one has that much respect for Rick, so for him, that's crazy, and kind of a cool thing for him to see. For Negan to kind of hint at offering that to Carl, it's really surreal for him."
• According to Cinema Blend, Lauren Cohan tells Stephen Colbert that being on The Walking Dead "has not made me stronger to like the elements or to any violence. It's made me extremely squeamish."
• Chandler Riggs tells Entertainment Weekly that the latest episode was "definitely the biggest for Carl, because Negan has been ruling over them for the last six or so episodes, and he's done with it."
• Talking to Yahoo TV about the Midseason Finale, Chandler Riggs teases that "it definitely goes out with a few bangs. It's very suspenseful, I'll tell you that. I think [viewers] are going to like it a lot. It's really well played, and I'm very excited for everyone to see it."
• Chandler Riggs explains to The Hollywood Reporter, "People are starting to rally on the side of wanting to fight but you have to get everyone on that side otherwise people are not going to be willing to sacrifice their own lives trying to kill this guy [Negan]."
• Asked by Yahoo TV about shedding light on Negan's backstory, Scott Gimple says, "I do believe yes, it's in the future. You know, I'm always careful about this, [because] things can absolutely change. There's a loose plan in place I have."
• Recapping the latest episode for Entertainment Weekly, Josh McDermitt writes that "Sing Me a Song" has "so much packed in that is pulled straight from the comics, it might be in my top five favorite episodes of the series."
• MoviePilot highlights that sharp-eyed viewers would have noticed the "zombie-fied head of Walking Dead director, producer and special effects makeup master, Greg Nicotero" in the most recent episode.
• TV Guide lists "the episodes of The Walking Dead featuring Daryl at his best, ranked from weakest to strongest. (Though it's Daryl, so they're all pretty strong. Look at those arms!)"
• CarterMatt supports a Golden Globe nod for Lauren Cohan, saying there's been "a source of strength and inspiration there, as we've had a chance to look further at the full extent of her journey, and precisely how far she's come from the character she was back when we first got to know her during the Hershel's Farm era."
• Further, CarterMatt reports its reader Golden Globe poll has voted Andrew Lincoln best drama actor, Norman Reedus best supporting actor ("with an enormous margin of victory") and Lauren Cohan best supporting actress.
• Mashable reports on Jeffrey Dean Morgan confirming to Howard Stern, "I know that I'll be around for Season 8, we all know that."
• MTV points out that Cyndie, an Oceanside community character, was played by That's So Raven's Sydney Park: "Sydney was a real li'l ass kicker (heh) on That's So Raven, so let's hope her The Walking Dead character gets to be the same."
• Alanna Masterson says to ComicBook.com that, if Tara and Heath were lined up in front of Negan, "they would have been just as scared as everybody else. I don't think they would have tried to be brave and tried to fight him in that moment."
• Digital Spy reports that Andrew Lincoln says he based his portrayal of Rick on High Noon's Gary Cooper because he's "a divided man, between his responsibilities and his marriage."
• Popsugar takes a look at "the most memorable" names The Walking Dead has used for zombies.
• Speaking of names, 2016's hottest baby names include Carol, Hershel and even Walker, according to BabyCenter.
• For recaps and reviews of Season 7, Episode 7, "Sing Me a Song," check out A.V. Club, Chicago Tribune, Entertainment Weekly, Independent, The New York Times, Rolling Stone, The Telegraph, TVLine, Us Weekly, Vulture and Yahoo TV.
Watch Season 7, Episode 7, "Sing Me a Song" and more full episodes.
To stay up-to-date on all the latest news about The Walking Dead, sign up for the weekly Dead Alert newsletter.
Read More