Press
Dead Ranks Among Year's Best; Vanity Fair Talks to Melissa McBride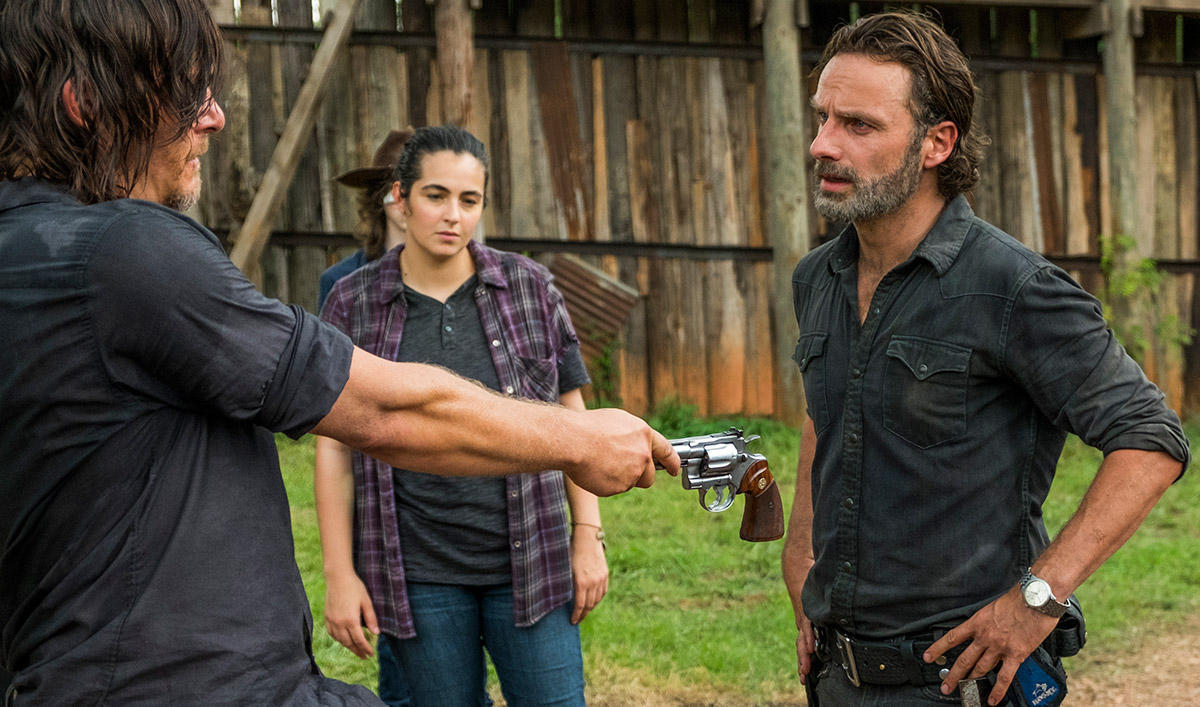 This week, Vanity Fair interviews Melissa McBride, while Gale Anne Hurd teases the rest of the season to Deadline. Plus, Jeffrey Dean Morgan wins a Critics' Choice Award. Read on for more:
• Digital Spy names The Walking Dead one of the best shows of the year, stating "the series' regulars, particularly Andrew Lincoln, continue to make a joke of the ignorant Emmys with their first-rate work."
• Melissa McBride confirms to Vanity Fair "that fans will get to see more of Carol than they did in the season's first half, which relegated her to two episodes."
• Gale Anne Hurd reveals to Deadline, "I think with Michonne's pep talk and with Daryl back, Rick is finding his mojo again. I don't think they're going to be willing servants of Negan's anymore." Hurd also speaks with Variety.
• ComicBook.com reports that Jeffrey Dean Morgan won a Critics' Choice Award for playing Negan in the category of Best Guest Perfomance In A Drama Series, noting, "It looks like the TV critics have also seen how much JDM brings to the table!"
• Andrew Lincoln tells The Hollywood Reporter, "In the back half of the season, Rick leads a group of people who are freed from shackles of oppression. They've been beaten so low that there's no further to go. In that, there's an almost joy in the fight again."
• Andrew Lincoln teases to TheWrap, "I will say that I think the back eight are the exact opposite of the front eight."
• Entertainment Weekly interviews Austin Nichols, who says he thinks Spencer had "a great death. I'm glad I didn't get taken out by a walker in the woods. It was great to die from Negan's blade. I couldn't choose a better death."
• The Huffington Post points out how "with a midseason finale full of blood and guts (mostly Spencer's guts), the show gave us one final bit of closure. Maggie was wearing Glenn's cap."
• E! News wonders how Spencer's disembowelment at Negan's hand and Olivia's gunshot to the head "rank among the many, many deaths that have come before them on the gruesome AMC series?"
• After viewing the teaser for the season's second half, Entertainment Weekly notes it "features Rick and company making their first visit to the Kingdom, some high-octane car chase action, Daryl beating the crap out of someone, and some gnarly spike walkers that look like they're out of Mad Max: Fury Road or something."
• Adds Business Insider, "There were a lot of quick flashes and moments in the teaser. We went through and broke down every moment."
• Entertainment Weekly reports that Season 7B's key art "points to the gang finally saying enough is enough and fighting back against the leather-clad lunatic with the barbed wire covered baseball bat."
• TVLine's gallery of the year's biggest TV deaths puts Glenn at No. 1, as well as Abraham at No. 17 and Denise at No. 20.
• Asked by ABC News how the show would be different if the focus had been Negan from the start, Jeffrey Dean Morgan says, "Negan would be our hero, and no one would be angry at Negan right now or scared of Negan possibly. They would just think, wow what a guy, look at how he keeps everyone alive."
• According to Cinema Blend, Robert Kirkman explains to Conan O'Brien that the show doesn't use the word "zombie" because it "wanted to kind of give you a sense that The Walking Dead takes place in a universe where zombie fiction doesn't exist."
• Tom Payne says to Elle, "I'm fortunate that the audience warmed to Jesus pretty quickly. Whereas when Father Gabriel [Seth Gilliam] walks out on stage at Madison Square Garden, everyone's booing him!"
• TV Guide ponders the different ways the show's characters want "to rid the world of Negan once and for all, setting up a possible 'Who Killed Mr. Burns?' scenario with multiple suspects all individually looking to kill Negan on their own."
• Vanity Fair explains how Spencer "tucked in a subtle reference to his late mother, Alexandria's old leader Deanna," in "Sing Me a Song."
• TVLine awards Chandler Riggs an honorable mention as Performer of the Week because he shone "in the moments when his character was at his most vulnerable."
• CarterMatt nominates Andrew Lincoln in the site's Top Actor category: "Take a look at what he did during his season 7 episodes to date, and how he's transformed Rick Grimes into a broken man grasping at whatever he can in order to see the sunrise."
• CarterMatt nominates Chandler Riggs in the Underrated Actor category because "the struggle for Riggs is finding the moments to shine in the midst of such an enormous cast. Yet, he's still found his places over the past year to deliver incredible moments and bring us into his world."
• Meanwhile, Danai Gurira is a nominee in CarterMatt's Underrated Actress category: "She makes Michonne constantly stand out, even if she just has a line or two in a larger scene."
• Glenn is one of the TV characters that had an awful 2016, according to TVLine, because he "had his head bashed in by Negan. That's more than enough terrible for any one person in a single year, isn't it?"
• Broadway World reports that viewers can binge the full series on AMC starting on Dec. 26 at noon.
• For recaps and reviews of Season 7, Episode 8, "Hearts Still Beating," check out ABC News, The Daily Beast, Deadline, Entertainment Weekly, GQ, The Guardian, New York Post, The New York Times, Rolling Stone, TV Guide, Us Weekly, Vulture, TheWrap and Yahoo TV.
Watch Season 7, Episode 8, "Hearts Still Beating" and more full episodes.
To stay up-to-date on all the latest news about The Walking Dead, sign up for the weekly Dead Alert newsletter.
Read More