Press
Alanna Masterson Talks to Variety, EW; Guardian Loves Andrew Lincoln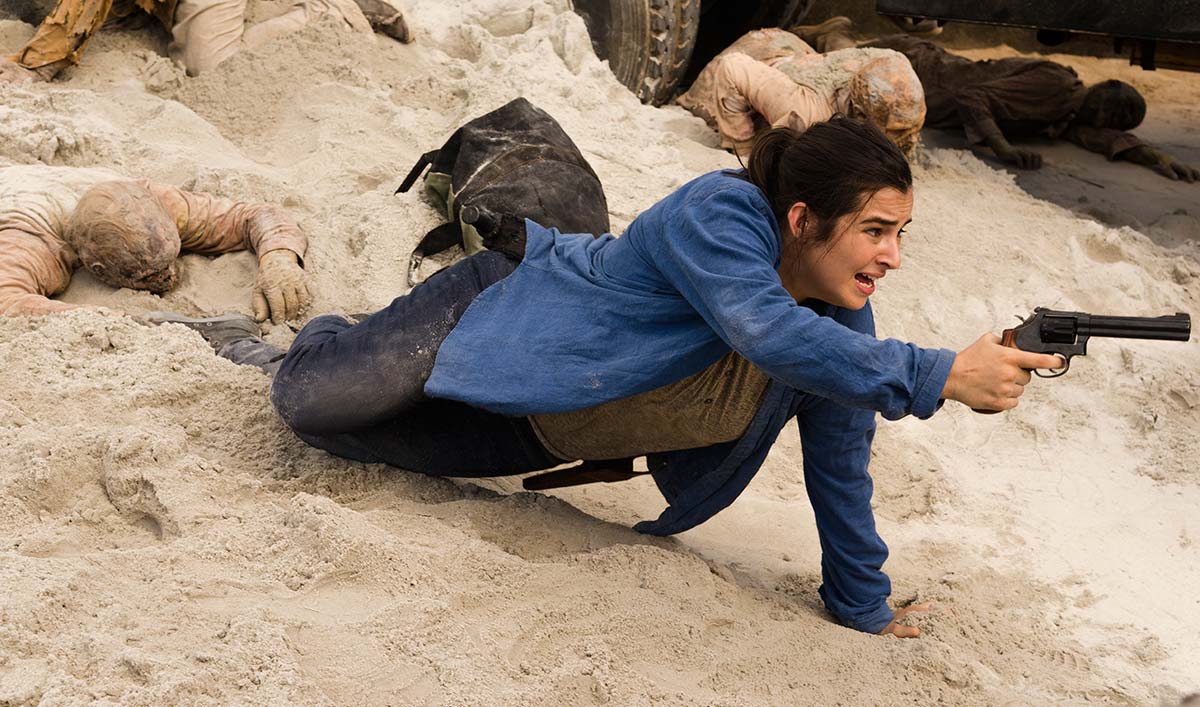 This week, Alanna Masterson discusses "Swear" with Variety and Entertainment Weekly, while The Guardian loves Andrew Lincoln. Plus, The Hollywood Reporter checks out Greg Nicotero and Norman Reedus's new restaurant. Read on for more:
• Variety interviews Alanna Masterson, who discusses Tara not revealing the existence of the Oceansiders: "She's not about to give up a bunch of innocent women and children. You'll see how keeping the secret plays into the season."
• Alanna Masterson talks to Entertainment Weekly about the way Tara learned about the major deaths that have happened: "I like that there's no explanation, and I like that it was just a crushing moment, but just with a look."
• The Guardian is entranced by Andrew Lincoln: "Over six seasons, Lincoln has even the smallest physical movements with precise meaning: with no more than a squint of his eyes, he can be haunted, crazed, inscrutable or devastated."
• The Hollywood Reporter spotlights Georgia's Nic & Norman's, where Greg Nicotero and Norman Reedus "have crafted a friendly hangout with some critically acclaimed food."
• Looking ahead, Entertainment Weekly wonders if Michonne is whistling "The Farmer in the Dell" because it's "the song Omar Little would also whistle as he strutted down Baltimore streets packing heat and inciting panic on The Wire."
• Josh McDermitt recaps the latest episode for Entertainment Weekly, noting that viewers might have missed a "brief, but fully captivating performance by Eugene (Josh McDermitt, and again, my favorite character by far)."
• According to TVLine, one of TV's best quotes from last week came from Maggie when she told Gregory in "Go Getters,", "This is our home now, so you'll learn to start to call me by my name. Not Marsha, not dear, not honey — Maggie. Maggie Rhee."
• ComicBook.com considers the show one of the most gruesome, gritty and gripping of the last decade, noting, "The darkness and grit of The Walking Dead is evident in its first few moments."
• Jim Bianco talks to Billboard about his song, "Easy Street," getting chosen by The Walking Dead, saying the show's producers "were looking for super upbeat, positive, fun songs to juxtapose the torture scene that goes on."
• Michael Rooker speaks with ComicBook.com about Merle's reaction to Negan, saying, "I don't know if Merle would actually enjoy seeing his friends being abused."
• Business Insider showcases AMC's "Making Of" video on how "Greg Nicotero oversaw the creation of the 18 mummified sand walkers in Sunday's episode."
• Digital Spy reports that the mid-season finale on Dec. 11 will be an extended episode, airing from 9pm to 10:25pm ET.
• NME enthuses, "All you need is some imagination cooking with non-perishable goods, and this original recipe by AMC to make the official Cookies by Carol."
• For recaps and reviews of Season 7, Episode 6, "Swear," check out ABC News, Entertainment Weekly, GQ, The Hollywood Reporter, Mashable, The New York Times, USA Today, Us Weekly, Vox and Vulture.
Watch Season 7, Episode 6, "Swear" and more full episodes.
To stay up-to-date on all the latest news about The Walking Dead, sign up for the weekly Dead Alert newsletter.
Read More