Q&A
(SPOILERS) The Walking Dead Q&A — Tom Payne (Jesus)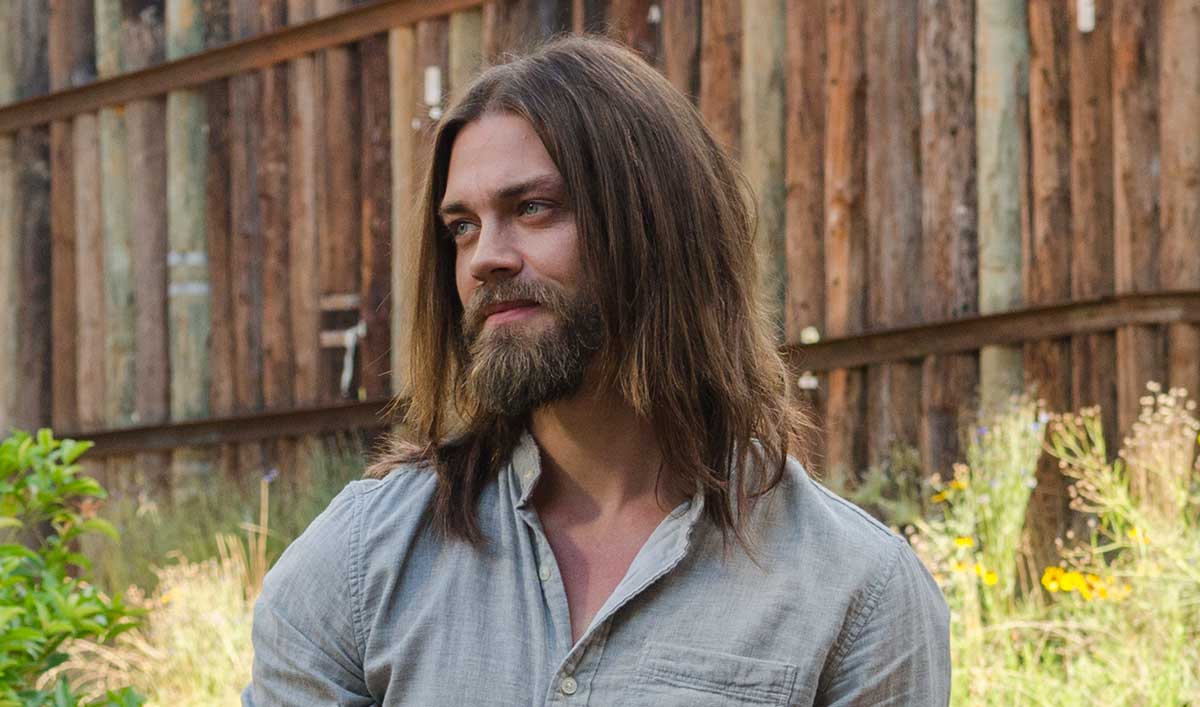 Tom Payne, who plays Jesus on AMC's The Walking Dead, talks about his character's role at the Hilltop, expanding the apocalyptic world and what he and Andrew Lincoln share in common.
Q: Jesus is such a beloved and iconic character from the comic. What's it been like for you as an actor assuming that mantle?
A: Well, when I first went for the role I didn't know what I was auditioning for or what the part was, actually… When I got the part, I was frantically Googling who the person was, and it was then that I realized he was a big deal. It was all a bit overwhelming because I was on set within a week and I didn't have time to watch six years of the show or read 120 issues of the comic books. I actually left that until after I had done my first season on the show because I didn't want it to cloud what we were doing on the show with the character. I just trusted what was on the page, and my conversations with [Executive Producer/Showrunner] Scott Gimple and Kari [Skogland], who directed my first episode. When he's introduced, it's him kind of pretending to be something he's not, and it's tough to get a hold on him. This year, we're seeing a bit more of him, and hearing about where he comes from and in what capacity he's operated at the Hilltop.
Q: Your character is so active and agile – almost like a ninja. How do you keep up with the physical demands of the role?
A: [Laughs] Well, fortunately, I'm still relatively young and I keep quite active, but I definitely had to go into training. I trained for about eight or nine weeks with Steven Ho in L.A., who has trained many others on the show. I was also doing a boxing class for my cardio. I was pretty intent on making sure that everything you saw was stuff that I could do. I absolutely wanted to be the person who did it on the screen so that they didn't have to bring in a stunt double. We all got lucky when we realized I could actually jump around and do some kicks – and we managed to put that in the very first episode, which I'm very pleased with.
Q: Jesus's sense of humor also stands out. Do you find that to be a refreshing characteristic amidst the dire world of the apocalypse?
A: I really enjoy that aspect of it. When I came in last year, that episode [Season 6, Episode 10] felt lighter with Rick and Daryl kind of like Butch Cassidy and the Sundance Kid going off on an adventure and then they meet this guy. It was very nice to be able to bring a different energy into the show, especially because at that point last season, the walkers had come into Alexandria and we had some deaths… I think it's good to show that there are people who exist in the world who have taken things in a different way and that it hasn't hardened them in the same way as other people.
I think that's what's really happening this season. You're seeing all of these different groups and how they've learned to survive – and if you've survived this long, then you've had to do certain things. Everyone has been in awful situations, and it's just taken them in different directions. The audience has only been with Rick's group the whole time and now there are other groups coming in. It brings into question whether Rick's group has been doing it the "right" way.
Q: In Episode 5, Sasha is convinced Jesus should be running the Hilltop instead of Gregory. Why do you think he's so hesitant to lead instead of Gregory?
A: There are different ways to lead, there are different impacts you can have in a group dynamic and I think he's more valuable not being the leader and manipulating things behind the scenes. I think he has always been on the outskirts of situations, of groups and of life in general. That's just where he feels most comfortable… Sasha and Maggie make him realize that he can be a much more effective member of the group. Sometimes it's easy to slip into a mode of "This is how things work and everything seems to be working okay" – and that has been fine until the Saviors started to ramp up their threats and intimidation. It pushes Jesus into making some decisions. It'd be quite interesting to see what those decisions would be and where it would have gone if Sasha and Maggie weren't there. I think they gave him the strength and perspective to see a new path for the community to take. So, he's still not looking to take on a leadership role, but I think he realizes that things could operate much better and function in a much fairer way if Gregory wasn't the head of the community.
Q: Sasha and Maggie may awaken his desire to fight, but do you think that desire was a long time coming?
A: He's not stupid and I think he realizes that the situation with the Saviors was a tentative one that could go wrong because they have all the power. I think in the back of his mind, he'd always had an idea that they'd need another community to help. When Rick's group came along, he admires their confidence and thinks that could be the end of it, but unfortunately it doesn't end up being like that. He definitely realizes that things will get worse and that things need to change. In this episode, quite a lot happens in a short amount of time. I think he needed that tipping point with Maggie and Sasha. He needed people who are like-minded because I think everyone at Hilltop has gotten comfortable and Gregory will do anything to maintain that. Jesus realizes this isn't a situation that can continue and once he has a bit of backup, he decides to push through with what he thinks should happen.
Q: Episode 5 ends with Jesus on the hunt to find where Negan lives. Is he fighting for Hilltop alone or for his "one big happy dysfunctional family"?
A: We're all one big happy dysfunctional family in the world and if we could be one big happy dysfunctional family without killing each other, that's better. He's not someone who believes he should rule with an iron fist. He wants an end to that. I think he possibly feels slightly responsible for what happened, but he had no idea how big Negan's group was and given the confidence of people like Daryl and Abraham, he thought it could be the end of it. He realizes now that Maggie's lost someone very dear to her. I think he feels a responsibility to Maggie, to Sasha and to Abraham as well to help out. Things work better together. He's been so used to being on his own, but he realizes he can help out in a meaningful way and he's willing to do that.
Q: You're another Brit in the cast. Do you ever get homesick? Does it help having other Brits like Andrew Lincoln and Lauren Cohan on set?
A: Andy and I are from the same city in England, actually, and sometimes we talk about Bath and the English countryside. It definitely reminds me of things that I miss, but I do enjoy living here. I've lived in California for years. Lennie [James] is also British, so it's nice to have some Brits around and talk about the Americans behind their backs. [Laughs]
Q: You must be getting recognized by fans a lot, now that you've grown out your hair in real life. What's the reception been like for you?
A: I've been going to conventions, which have been amazing, and what I love about going to conventions is that you're giving out smiles all day. It's such a great experience and I would have loved to meet the people from my favorite show when I was young. It's so wonderful to be able to interact and I think that's one of the amazing things about this cast and show. We're a family within the cast but also with the fans. It just makes me so happy that I can give someone a smile by just saying hello. That's pretty cool.
Read an interview with Danai Gurira , who plays Michonne.
The Walking Dead airs Sundays at 9/8c on AMC.
To get more exclusive interviews with the cast, sign up for the weekly Dead Alert newsletter.
Read More