Press
Lauren Cohan Talks to EW; Sonequa Martin-Green Interviewed by THR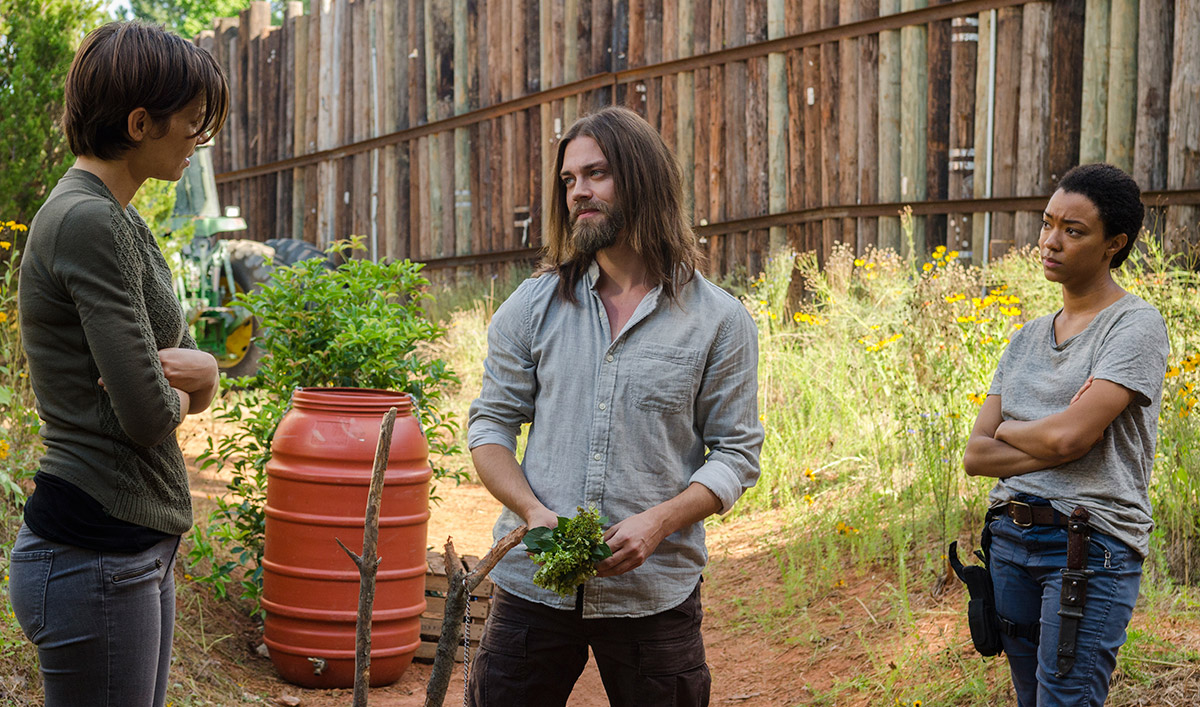 This week, Lauren Cohan talks to Entertainment Weekly, while Sonequa Martin-Green is interviewed by The Hollywood Reporter. Plus, USA Today reports that the show is up for four People's Choice Awards. Read on for more:
• Lauren Cohan tells Entertainment Weekly, "Generally, the punch she gave Gregory is probably the taste of what's to come. We will see more of that Maggie. And then on an emotional level, we see this girl with responsibility to others who's trying to live up to the people she learned from."
• The Hollywood Reporter talks to Sonequa Martin-Green, who says, "Maggie and Sasha both understand how dangerous Gregory is, for them, for the Hilltop community and for everyone at large. Anyone in support of Negan's philosophy, even if that's through cowardly compliance, is a threat to the world."
• According to USA Today, The Walking Dead is up for several People's Choice Awards, including favorite TV show, favorite sci/fantasy TV show and favorite sci-fi/fantasy TV actor and actress for Andrew Lincoln and Lauren Cohan.
• CarterMatt believes Norman Reedus should get a Golden Globe nod: "How Reedus can trigger so much emotion, even by saying very little, is a true testament to his understanding of the character, and also the message that he is meant to portray."
• Looking ahead, Scott Gimple tells Yahoo TV, "The audience, for the journey that they've taken, gets to smile again. They get to see some lightness on the episodes. They get to see romance. I think the audience is taking the hero's journey, and they get to hit those highs that the hero gets to hit."
• TVGuide.com interviews Tom Payne, who says of Jesus, "I don't think he's been closely bonded enough with anyone to be really emotionally damaged by the world. He's always been on the outside."
• Vanity Fair speaks with Katelyn Nacon, who explains, "One thing I love about Enid and Carl when they're together is I feel like they bring out this innocence that isn't necessarily seen in this world as much anymore. And it's really nice."
• Josh McDermitt writes in Entertainment Weekly, "I can't forget to mention Gregory getting punched in the face by Maggie. She's not even at full strength, and he took it hard. I'm so happy that happened. He deserved to get hit from 'Marsha.'"
• TheWrap applauds Maggie, who's "proven herself a force to be reckoned with throughout the series," and looks back at her most heroic moments on the show.
• Jeffrey Dean Morgan, speaking with Entertainment Weekly about playing Negan, says that "reading the graphic novel and bringing him to life, it has been incredibly challenging. And I love that challenge of bringing him to life. And I love watching the cast reaction."
• Looking ahead, Danai Gurira tells Vulture, "We never had any idea it would be, but it's something powerfully timely about what story we're telling and the moment the country's in."
• A TV critic tells Co.Create The Walking Dead is an example of TV's platinum age because it's "actually famous for killing off popular characters," such as Glenn most recently.
• Interviewed by the Atlanta Journal-Constitution, Josh McDermitt says of Eugene's mullet, "I hated it. I have blond hair normally and no mullet. It was so jarring. Now I kind of dig it. I like looking as ridiculous as I can on TV."
• Maxim spotlights an "infographic explaining the the pros and cons of various vehicles in AMC's blockbuster zombie hit."
• Independent collects "the most memorable lines spoken by the AMC drama's most fearsome antagonist yet," Negan, in Episode 4, "Service".
• Cinema Blend ranks "the grossest deaths in The Walking Dead's run to this point. Grab a raincoat, because it gets pretty wet."
• Nerdist showcases McFarlane Toys' upcoming Carl action figure, calling it "an impressive recreation of Chandler Riggs' likeness, and it comes with a poncho covered in walker guts that fully recreates Carl's costume from that ill-fated moment" when he lost his eye.
• Global News reports on an artist recreating a scene — "a life-size representation of the character Daryl along with zombies stretching out their arms trying to grab him" — using balloons.
• For recaps and reviews of Season 7, Episode 5, "Go Getters," check out ABC News, A.V. Club, Chicago Tribune, Entertainment Weekly, The Hollywood Reporter, Indiewire, Nerdist, The New York Times, Observer, Rolling Stone, The Telegraph, TVLine, USA Today, Us Weekly, Vanity Fair and The Wall Street Journal.
Watch Season 7, Episode 5, "Go Getters" and more full episodes.
To stay up-to-date on all the latest news about The Walking Dead, sign up for the weekly Dead Alert newsletter.
Read More