Press
Khary Payton Talks With THR; Greg Nicotero Previews Next Episode to EW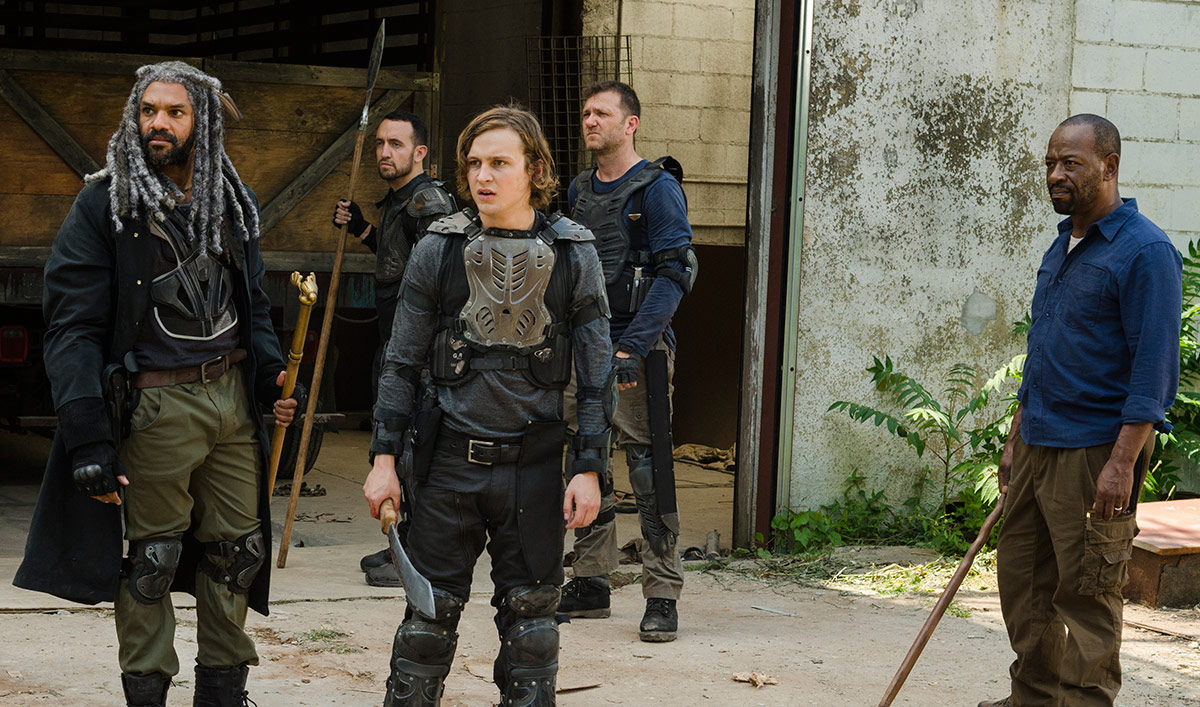 This week, Khary Payton talks with The Hollywood Reporter, while Greg Nicotero previews the next episode to Entertainment Weekly. Plus, Melissa McBride discusses Carol's frame of mind with The Wall Street Journal, E! News and Mashable. Read on for more:
• Khary Payton explains to The Hollywood Reporter, "That last scene with Carol and Ezekiel is all about hope. After that first episode [with Negan, Glenn and Abraham], you feel like all hope is gone and by the end of this episode, you're reminded that hope is never gone."
• Speaking with Entertainment Weekly, Khary Payton calls Ezekiel "a great character, and I think a lot of people will connect with him and kind of groove with his story."
• Teasing the next episode, Greg Nicotero says to Entertainment Weekly, "I would probably say that we're gonna get back into our core group a little bit and start to feel some of the fallout from the first episode."
• Melissa McBride tells The Wall Street Journal that Carol "just wants to get out of [The Kingdom] and not have to meet new people. She doesn't want to get involved with another group, she's not sure where she's at as far as being able to kill — she's doesn't feel like she can."
• E! News speaks with Melissa McBride, who previews that Carol and Ezekiel are "definitely building something. You never stop building when you're in the apocalypse. If you're not running, you're building."
• Melissa McBride talks to Mashable about the prospect of Carol encountering Negan: "I hope she lives to meet him and then figures something clever out. That character is something else."
• The Walking Dead makes Entertainment Weekly's Must List because it "might be the hottest show on television, and it's back, better, and more brutal than it's ever [been] before."
• Andrew Lincoln teases the rest of the season to Entertainment Weekly, saying, "This season is about rebuilding and about characters dealing with the trauma and grief of this brutal attack, but also this new regime that they are now a part of."
• Vanity Fair declares, "Negan might have been touted as the game changer coming into this season, but that title really belongs to King Ezekiel."
• Interviewed by ComicBook.com, Lennie James commends Khary Payton, saying, "He is a character that, in the hands of a lesser actor, could have gone really, really wrong. But Khary gets it absolutely right. He lands it at the right place, he kept it at the right pace, and he sets it at the right tone."
• Yahoo TV presents its power ranking of Episode 2's characters, putting Ezekiel at No. 1: "His grace is a former community theater actor with a pet tiger. We're really loving his Kingdom. I know Carol wanted to leave, but can the audience stay here?"
• Khary Payton explains Ezekiel's attitude to the New York Post: "Just because this is a hell-on-earth zombie apocalypse doesn't mean that you have to live your life without love, without a sense of beauty and without a sense of wonder."
• Speaking with the Toronto Star, Khary Payton discusses the subterfuge that went into his role: "When I shot the first episode, they threw a sheet over me and I had to dive in the back of the transportation truck and make sure that no one saw me coming or going — and fortunately nobody really knew who I was, so it was pretty easy."
• ComicBook.com is a fan of Jerry, who "seems to be bringing a sense of levity and humor to a show which has never taken the path of comic relief."
• Interviewed by ComicBook.com, Cooper Andrews says that "as long as there is an Ezekiel, there is a Jerry. So far, at the moment. I don't want to say more than that because I don't know what I'm allowed to say. When Ezekiel shows up, Jerry is not far behind."
• Vanity Fair notes the moment when "the earnest and kind residents of the Kingdom break out into a mellifluous, a cappella version of [Bob] Dylan's 'Don't Think Twice It's All Right' right when the world is re-hashing Dylan's legacy."
• Khary Payton talks to Postmedia about Episode 2: "Everybody else is taking the day off, and I've got to pretty much do this episode – just me, Morgan and Carol. So I had to get to work. I didn't have time to be giddy and excited."
• Interviewed by the Los Angeles Times, Jeffrey Dean Morgan reveals that "the more you get to know Negan, after this initial shock wears off, there are going to be aspects people will be attracted to. I really hope I can portray him in a way that people will hate themselves for liking him."
• GQ reports that Steven Yeun shows up on Conan (with a surprise appearance from Michael Cudlitz), proving "he's got a surprisingly deep set of late-night host skills, especially for someone who has been battling a bunch of dang zombies in Atlanta for the past seven years."
• The Hollywood Reporter decides to "look at some of the other big burning questions for the remainder of season seven."
• Time interviews Andrew Lincoln, who sums up the season's theme with a Nelson Mandela quote: "The greatest glory in living lies not in never falling, but in rising every time we fall."
• Looking ahead, Andrew Lincoln tells The Hollywood Reporter that last season Rick "showed a lot of hubris and made some decisions that in hindsight were incredibly irresponsible and cost lives. You're going to see the after effects of that play out with Rick in all areas of the story."
• The Hollywood Reporter interviews Jeffrey Dean Morgan, who says Negan "admires that Daryl hit him and sees him as someone that could be a good right-hand man. His intention is to break Daryl and have him become one of his guys, which makes sense."
• Profiled by Interview Magazine, Jeffrey Dean Morgan explains Season 7's theme: "After six years of zombies being the threat, now you're going to realize that people are the threat. There's always going to be zombies there to contend with, but we know how to deal with zombies at this point. It's a different world."
• Speaking with Stuff.co.nz about playing Negan, Jeffrey Dean Morgan shares, "I have changed everything from the inflection of my voice to how I move and walk. So that for me as an actor has been the biggest transformation I have ever put myself through."
• Appearing on Entertainment Weekly's cover, Steven Yeun says he's feeling "a sense of sadness in knowing that I don't get to work with these people in the same capacity again," among other emotions.
• Steven Yeun explains Glenn's final words to Entertainment Weekly: "I think the beauty of this particular situation is the fact that it's so layered, and you can draw whatever you want out of those words."
• NBC News writes, "In a time of bleakness and cruelty, Glenn was our shining glimmer of hope; our moral compass who showed us that the goodness of humanity was something still worth fighting to preserve."
• Robert Kirkman explains to Entertainment Weekly why Glenn had to die: "At the end of the day, we were like, pulling the thread on this sweater just pulls too many things apart and it's too difficult to get back on that trajectory without that death."
• Lauren Cohan tells Entertainment Weekly, "Everything that we see in Glenn is what Steven brings to him, and that's that steady heart."
• Time reports that Arkansas' The Batesville Daily Guard ran an obituary "celebrating the life of the pizza delivery boy turned heroic zombie slayer."
• In Entertainment Weekly, Robert Kirkman and Greg Nicotero pay tribute to Michael Cudlitz, with the former saying the way Cudlitz "played Abraham was really great because Abraham had to be this take charge, macho, really intense kind of guy and it was awesome that we always got him to deliver those insane lines the way he did."
• MoviePilot insists it's "important to look back at why Glenn and Abraham became fan favorites."
• Us Weekly unveils "a supercut of the most devastating deaths ever to occur" on The Walking Dead.
• Cinema Blend lists "all the saddest deaths the zombie drama has hit viewers with at this point."
• Metro presents "a rundown of the scariest, grossest zombie delights from The Walking Dead which still keep us alarmingly awake at night."
• For recaps and reviews of Season 7, Episode 2, "The Well," check out ABC News, Atlanta Journal-Constitution, Atlanta Magazine, A.V. Club, ComingSoon.net, Entertainment Tonight, Entertainment Weekly, Forbes, GQ, The Guardian, New York Daily News, The New York Times, Rolling Stone, The Telegraph, Time, TV Guide, TVLine, USA Today, Vanity Fair, Vulture and TheWrap.
Watch the first two episodes of Season 7 (no login required).
To stay up-to-date on all the latest news about The Walking Dead, sign up for the weekly Dead Alert newsletter.
Read More