Press
Critics' Choice Nod for Jeffrey Dean Morgan; Andrew Lincoln Talks to EW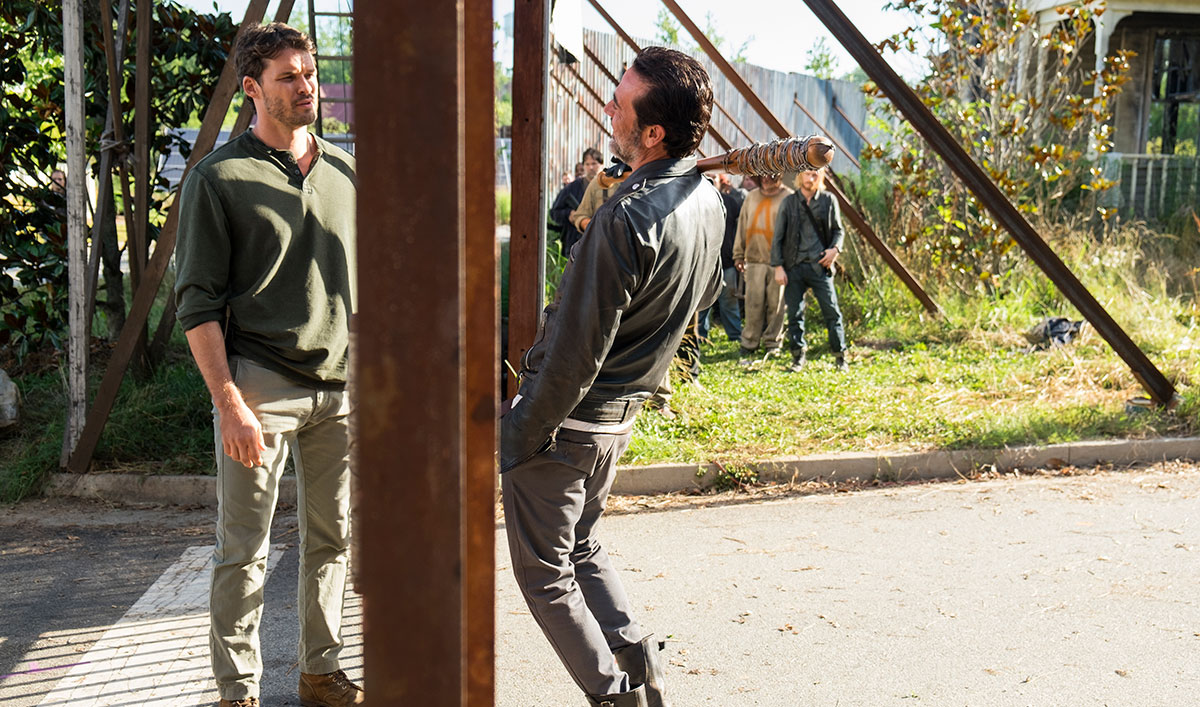 This week, Jeffrey Dean Morgan is honored with a Critics' Choice Award nod, while Andrew Lincoln talks to Entertainment Weekly about Judith's paternity. Plus, Saturday Night Live mashes up the Season 7 premiere with Chapelle's Show. Read on for more:
• ABC News reports that Jeffrey Dean Morgan received a Critics' Choice Award nod for Best Guest Performer in a Drama Series.
• Andrew Lincoln talks to Entertainment Weekly about Rick admitting Judith is Shane's child: "It's another perfect kind of quiet heroism. You know, he's a stepdad and it doesn't stop him loving his child, but he kind of has accepted that it's not his."
• Rolling Stone spotlights how Saturday Night Live "mashed up one of this year's biggest TV moments – the climatic kill-off on The Walking Dead – with one of TV's greatest sketch comedy shows in a skit where Dave Chappelle, as Walking Dead villain Negan, chooses which character from the comedian's Chappelle's Show to murder."
• Entertainment Weekly checks out a clip from the next episode where Carl and Michonne have doubts about Rick's leadership "especially Carl…. we wonder whether Rick can keep his community from splintering completely apart."
• Danai Gurira tells Variety that Michonne is "caught between her love for her partner, the love of her life, and who she is. She just knows in her gut and instinct and intellect that there's always a way to fight — looking at all that we don't have isn't the way."
• CarterMatt is a proponent of a Golden Globe nod for Andrew Lincoln, saying the Season 7 premiere "was a tour de force for Lincoln, who within this hour went from becoming perennially underrated to a true contender to win a Globe this year."
• Josh McDermitt shares his musings about the latest episode with Entertainment Weekly, noting, "We get the sense that this isn't the first time he's dealt with a defiant leader of a community. Negan knows the drill. He isn't fooled. Rick, however, is still getting used to this new arrangement."
• The Hollywood Reporter talks to Christian Serratos, who says that Rosita and Eugene's "relationship is constantly growing; that's one of strongest relationships on the show right now. They have been together since the start — we have not seen them without each other; Abraham's Army came in together."
• ComicBook.com interviews Danai Gurira, who says Rick "sacrifices and he gets out of the way of his own feelings to do what's right for others. That's what's beautiful about him to her."
• The Huffington Post focuses on how "The Walking Dead quietly had one of its biggest reveals ever. Rick Grimes, in the case of Baby Judith, you are NOT the father!"
• The show's property master speaks with USA Today about "Lucille — firmly a part of Negan, [Jeffrey Dean] Morgan says — and how she fits in with the all-stars of Dead's arsenal."
• Lauren Cohan tells Health The Walking Dead is "extremely challenging. Some scenes are much more difficult than others. Sometimes I didn't think I'd be able to run as much as I have on the show. There's so much running and action. But I love the physical element because it's a good release for a lot of the emotional tension."
• Austin Nichols, talking to ComicBook.com about Spencer and Rosita, says, "I absolutely think she'll come around. The thing is is that she's still fresh off of losing Abraham, both as a partner and he's now not alive. It's a double whammy. She lost her relationship and then she lost him, period."
• Josh McDermitt, speaking with Popsugar, says Eugene is "a smart guy, he's gonna figure it out, but I think it's gonna take a minute for him to figure out what his role is in this new world."
• Mic ranks "the 10 most-featured safe havens in The Walking Dead, offering pros and cons for each hypothetical community."
• Outer Places checks out the latest episode of Star Talk, where Neil deGrasse Tyson interviews Robert Kirkman for a discussion of "one of the most watched science-fiction properties currently on air — The Walking Dead."
• Wired checks out an upcoming arcade game based on The Walking Dead that "sees you taking on hordes of walkers House of the Dead style, only here you're armed with a crossbow."
• For recaps and reviews of Season 7, Episode 4, "Service," check out E! News, Entertainment Weekly, The Hollywood Reporter, The New York Times, Rolling Stone, The Telegraph, TVLine, Variety, Vulture, The Wall Street Journal and TheWrap.
Watch the full episodes Season 7.
Watch Season 7, Episode 3, "Service."
To stay up-to-date on all the latest news about The Walking Dead, sign up for the weekly Dead Alert newsletter.
Read More