Press
CNN Interviews Norman Reedus; Austin Amelio Talks Dwight With Variety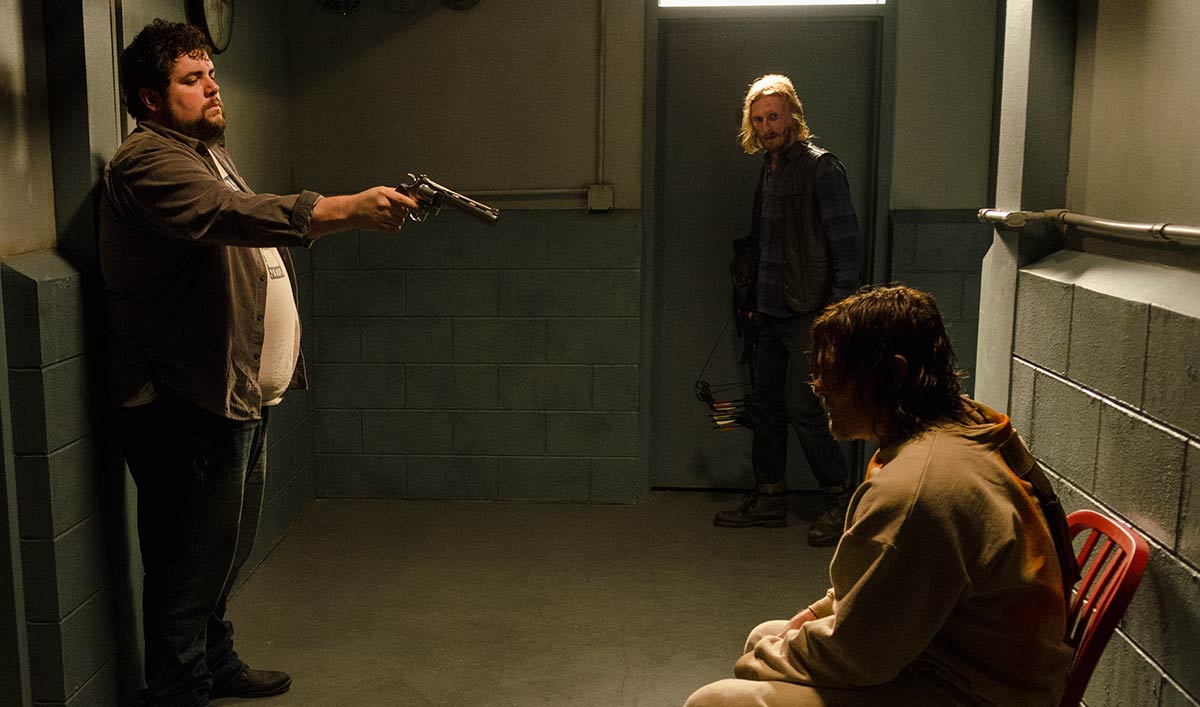 This week, CNN interviews Norman Reedus, while Austin Amelio discusses Dwight with Variety. Plus, Lauren Cohan visits Live With Kelly. Read on for more:
• Norman Reedus tells CNN Daryl took a stand against Negan because "if I disrespect what Glenn means to me and what Abraham means to me and what they fought for, then they have everything. [Daryl thinks], 'You can beat me down and you can humiliate me and make me suffer, but I'm not giving you that.'"
• Variety talks to Austin Amelio, who says Dwight is "following Negan's orders and doing exactly what he tells me, 'cause if I don't, who knows what could happen? He's a monster. He could burn the other side of my face, take off an arm."
• Appearing on Live With Kelly, Lauren Cohan says the cast "sort of knew like at the end of last season what was going to happen, and had time to make our farewells and begin to cope with it," according to ComicBook.com.
• "Daryl has one thing left and that's his honor, his word and his name and he's not giving it to Negan," Norman Reedus says to The Hollywood Reporter.
• Entertainment Weekly talks to Norman Reedus, who previews the rest of the season, teasing, "You have to be broken way down to be able to go way up, and I think that's kind of what this season is about."
• Norman Reedus characterizes Daryl to Deadline as "completely guilt-ridden… You know, he's got this family, and he lost one of his family members, and was it a result of something that he did? Maybe. He doesn't know, you know?"
• E! News interviews Austin Amelio, who says Dwight is "just a guy that's misunderstood. So the layers of the onion start to peel back a little bit. I think some people are going to start to maybe empathize with the guy, if all goes well."
• Austin Amelio, chatting with Entertainment Weekly, says Dwight is wondering "am I freer in this world where I'm at, or being a walker on the other side of the fence?"
• Speaking with Entertainment Weekly about Daryl blaming himself for Glenn's death, Norman Reedus says, "He never forgives himself and he takes full responsibility."
• Lauren Cohan tells Entertainment Weekly about Maggie in Season 7, saying, "You'll see how she lives on in honor of Glenn and in vengeance of Negan, and it's a real war in her brain, and in protection of the baby."
• Talking to USA Today, Jeffrey Dean Morgan says, "With (Norman Reedus), I found the brother I never had. We're thick as thieves."
• Greg Nicotero shares with Entertainment Weekly that "knowing that Rick is completely and utterly devastated and utterly lost moving forward to me is the most interesting part of where the series is going."
• Robert Kirkman tells Entertainment Weekly that Maggie is "definitely going to be out for revenge, and she definitely has a big motive here to try and avenge Glenn's death."
• ComicBook.com examines how Episode 3 "made some bold musical choices as part of its story telling."
• The writer of "Easy Street," Jim Bianco, tells The Independent, "I think the show used it brilliantly; framing such an upbeat song as a torture advice is a work of genius by the music supervisor."
• Entertainment Weekly spotlights Netflix's theory of Breaking Bad as a prequel to The Walking Dead, that Walt's "drug empire also could have resulted in the zombie apocalypse."
• As Cooper Andrews relates to ComicBook.com, Scott Gimple says he chose him to play Jerry because "you have this smile that when you smile you seem really happy, but when you're not smiling, you seem really dangerous."
• Bustle explains why it's hoping Carol and Ezekiel "become The Walking Dead's next romance."
• Nerdist spotlights a version of the show's theme song done "with a mixture of bagpipes and a metal inspired backing track."
• Nerdist ranks the show's best weapons based on "effectiveness, the skill of the weapon wielder, and intimidation."
• Michael Traynor, speaking with ComicBook.com, says he thinks Nicholas "has proven that he was pretty wiley when it came to fighting other humans. It was just, he was terrified of those shambling mounds of death everywhere."
• For recaps and reviews of Season 7, Episode 3, "The Cell," check out ABC News, Atlanta Journal-Constitution, Chicago Tribune, ComingSoon.net, Entertainment Weekly, The Hollywood Reporter, Rolling Stone, The Telegraph, TVLine, Us Weekly, Variety, Vulture and The Wall Street Journal.
Watch the full episodes Season 7.
Watch Season 7, Episode 3, "The Cell."
To stay up-to-date on all the latest news about The Walking Dead, sign up for the weekly Dead Alert newsletter.
Read More