Q&A
The Walking Dead Q&A – Melissa McBride (Carol Peletier)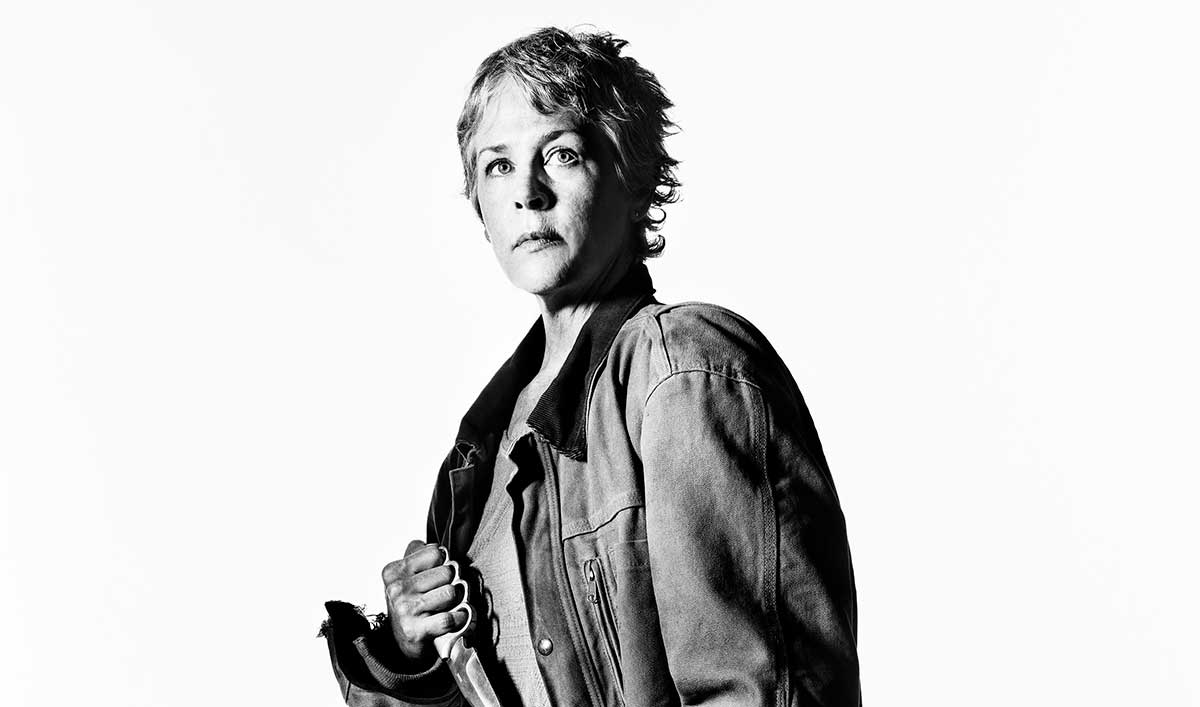 Melissa McBride, who plays Carol Peletier on AMC's The Walking Dead, talks about her first impression of the Kingdom and the "devastating" Season 7 Premiere.
Q: Morgan and Carol weren't captured by Negan, but they did run into other inhabitants of the apocalyptic world. What was your first impression of the two members of the Kingdom we met?
A: I'm not sure that Carol was so well aware of what was going on and who showed up. She knew that somebody was there. "Here I am again," I think is what she's thinking. She pleaded with Morgan, "Just leave me alone," but he's relentless. [Laughs]
Q: Were you surprised at how diplomatic they were considering we've seen what people like the Saviors are capable of?
A: It is surprising that they would invite anyone in. What do they think about themselves? What do these Kingdomites know about Carol and Morgan? Everywhere else that they've ever been has offered a safe haven, but it's always turned horribly wrong. It gets harder and harder to trust anyone because it's too good to be true, which proved to be the case in the past.
Q: What are your thoughts on Morgan breaking his no-kill policy to save Carol?
A: I think in that moment, it just proves what she's been saying all along. When she was fighting the Wolf [last season] and Morgan told her she didn't have to kill him, she said, "Of course we do." She knows that. She also knows she doesn't want to — and how horribly obvious he's being is just insulting to the moment. Then, he's faced with that himself at the end of last season. What is that going to do to Morgan and Carol? And where will that take them?
Q: Carol's been skeptical of trusting new people, do you think any of the new world opening up will change her view?
A: I think that's what we're going to find out. It's really hard to say because as the world gets bigger, it feels like it's closing in because you're surrounded by even more people. All these different factions and these different groups have their own leaders. How do these leaders stand up against each other? What is their philosophy? What do they want? How desperate is anyone? Does that propel people forward or just prove fatal? That's the challenge of the new world.
Q: After leaving Alexandria, do you think Carol can exist in a new community? 
A: I think it's made it more challenging. I think her big quandary is living with an inevitability that people are going to die and they have to die at one's own hands. Which people were brought into this world as savages in the first place and who's been made a savage? Is there redemption? Time has always been a factor. If you wait one more minute, your life could be the one taken. I think she's just so conflicted about how to move forward. She really needs to clear her thoughts.
Q: Carol had been pretending to be a weakling for a while, but she's certainly not afraid to channel her inner badass when needed. Will these two sides serve her well going forward, or actually present a challenge?
A: I think there are more than two sides and I think they can serve her well if she chooses to continue. It's a good tactic, but that's the question: Is she going to choose to continue?
Q: What are you most looking forward to in the Season 7 Premiere?
A: I'm looking forward to how it's going to play out because it's absolutely devastating. It seems like everything that happens in this world is irrevocable and it can go one way or the other. You have to accept it, but what does it do to you?
Read an interview with Lennie James, who plays Morgan Jones.
The Walking Dead returns to AMC October 23 at 9/8c. Click here to watch a sneak peek of the Season 7 Premiere.
To stay up-to-date on all the latest news about The Walking Dead, sign up for the weekly Dead Alert newsletter.
Read More