Q&A
The Walking Dead Q&A – Lennie James (Morgan Jones)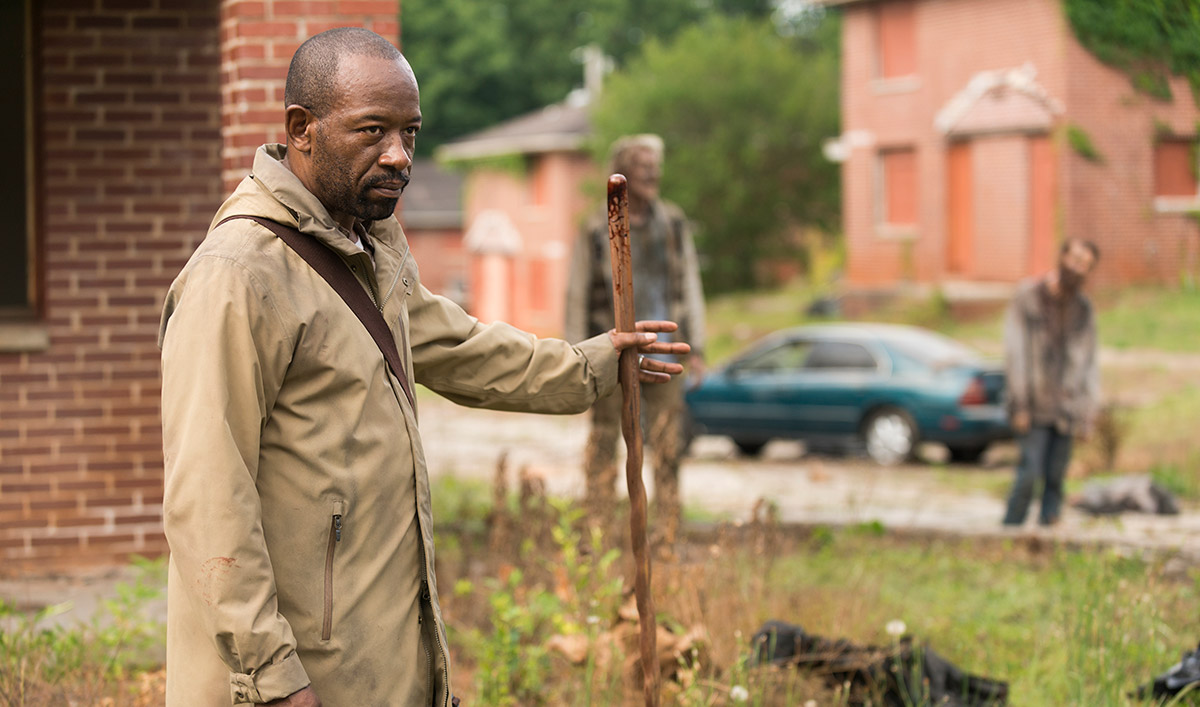 Lennie James, who plays Morgan Jones on AMC's The Walking Dead, talks about why he can't wait to see fan's reactions to Ezekiel and entering the Kingdom.
Q: Morgan and Carol are the first to meet some of the armored residents of the Kingdom. Do you think Morgan has reason to trust them?
A: The strange thing about it is that the first sight he gets of them, although he doesn't know it, is preventing Rick from shooting one of them. The first time he speaks to one of them is just after Morgan has killed someone and broken his own belief system. If you watch the scene, his first instinct after killing one of the Saviors is to actually reach for the gun and contemplate killing again. So, it's a big moment when Morgan reaches out his hand. He's betrayed himself and has succumbed to the thing he's been telling everyone else not to succumb to even though it's in defense of another life.
Q: Greg Nicotero confirmed there was a scene that features both Morgan and Ezekiel in the Season 7 Comic-Con trailer. What was your first impression of the character? What about the fact that there's a tiger on the show now?
A: I think he's one of the harder characters from the comics to bring to the screen, not least because he has a tiger. We lucked out with the casting of Khary [Payton] as Ezekiel because he hits exactly the right notes. He has the theatricality of playing Ezekiel but he's incredibly grounded and incredibly real even as the King… I think he's an iconic figure. One of the things I'm most looking forward to in Season 7 is our relationship to King Ezekiel and the Kingdom, and everybody's relationship to the tiger. I can't wait to see the fan reactions.
Q: Morgan has trouble accepting Rick's rule. As we expand our apocalyptic world, where does Morgan fit?
A: I genuinely think that Morgan is at the forefront of the most important conversation there is to have at the moment for the group and for our post-apocalyptic story. I think we've gotten to a stage now where most of the people we meet know how to survive because they have survived. They've gotten this far. The next question for the group – having contemplated bringing children into this new world, having contemplated setting up communities in this new world, having put down roots in Alexandria – is how to live now. Now that we know how to survive, how do we live? What rules do we make about how we live?
Q: What will be most challenging for him in the new world?
A: The hardest thing for Morgan to a certain extent is the hardest thing for all of the survivors – and that's what to do when you first meet a stranger. In this new world, the most dangerous thing might not be a walker. The most dangerous obstacle to overcome – as we're finding out – may very well be a human being. This is a big question. It's the most important question and the question that could decide whether you live or die. Morgan's philosophy on that may be too high a risk for anybody to take. It may even be too high of a risk for him to take.
Q: How does he make sense of what he's done in order to save Carol, considering their previous conflict? Would he have broken his promise for just anybody?
A: Morgan pleads with the Savior, and I think he pleads because he knows he'll pull the trigger. The fear that Morgan has about killing is that it will become all-consuming. So, he's holding back the beast. He's not a coward and he's not scared of other people, but he's scared of himself and who he can become… That's why he sticks to his mantra of all life being precious and not killing unless you have to.
Q: Before joining Alexandria, we've mostly known Morgan to be a loner. Do you think living at Alexandria prepared him for navigating the new communities in this bigger world?
A: I think since he lost his son, his time in Alexandria was the first time he's lived among other people and had to wake up and consider the concerns and lives of others. That was all tempered by living under Rick's rules. The Kingdom… they're meeting him clean and he can arrive there as the man he's trying to be now. It's going to take some navigation because his philosophy works best if you're living on your own in a cabin with a goat, but it's much more difficult if you're surrounded by a township of other people. That's the man who's about to enter the Kingdom.
The Walking Dead returns Sunday, October 23 at 9/8c. Click here to watch a sneak peek of the Season 7 Premiere.
To stay up-to-date on all the latest news about The Walking Dead, sign up for the weekly Dead Alert newsletter.
Read More