Press
(SPOILERS) The Cast Talks Season 7 Premiere With GQ, ET, GMA and More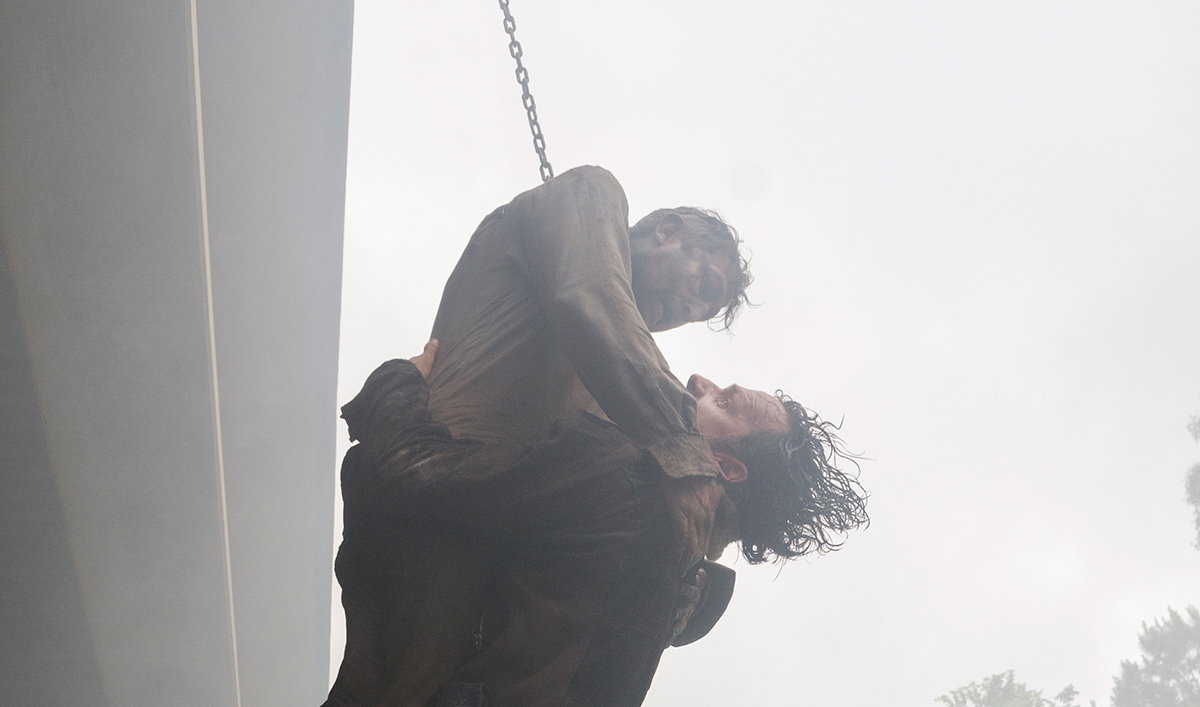 This week, Steven Yeun discusses Glenn's death with GQ, while Michael Cudlitz chats with Entertainment Tonight. Plus, Danai Gurira appears on Good Morning America. Read on for more:
• Steven Yeun tells GQ.com that Glenn's death in the comics "was such an iconic moment, and a death that I couldn't let go to anybody else. If it was designated for Glenn, I really wanted to experience it."
• Entertainment Tonight chats with Michael Cudlitz, who says, "You want your death to be epic and memorable, but more importantly to honor the life that the character had, and I think that's what we did."
• On Good Morning America, Danai Gurira talks about the effect of the Season 7 premiere on Michonne: "The loss upon loss and then what almost happens to Carl, to her it was the most devastating thing because she's doing the math as she's sitting there. She cannot help in any actual way. She tries everything she can do."
• During a conference call, The Hollywood Reporter reports Michael Cudlitz saying Abraham "would give his life to protect anyone in this group. He became a soldier in arms with all these other people and was willing to give the ultimate sacrifice."
• Speaking with reporters, Greg Nicotero says, "We felt that one death would do the trick but the second death, Glenn's death, really propelled us into a very different direction. It's really about Negan sort of laying down the law," according to TheWrap.
• IGN also reports Greg Nicotero saying, "We felt it was important to launch us into the season by showing the extent of what Negan is capable of because that drives so much of where the season is going from here on in."
• Looking ahead, Austin Amelio, who plays Dwight, shares with ComicBook.com, "You'll get to see where Daryl is in a few episodes, and it's not pretty, man. It's intense stuff."
• Norman Reedus concurs, telling ComicBook.com that Daryl "does certain things that he can't go back from. He goes to a very, very dark, dark place. It's a combination of hatred. It's a combination of self-loathing."
• Michael Cudlitz says to E! News, "I want to see somebody unexpected to take out Negan."
• After watching the Season 7 premiere, International Business Times has "a bunch of burning questions about Rick and his group."
• The Hollywood Reporter examines how "very few major characters die in the comics and on the show in the exact same way — which makes the brain-bashing deaths in the season seven premiere all the more notable."
• ComicBook.com spotlights the last words of Abraham and Glenn in "a twisted, possibly darkest episode of The Walking Dead."
• The Hollywood Reporter takes "a walk down memory lane, remembering Abraham's best moments on the show."
• Vulture notes how Abraham "flashed a final good-bye to Sasha: a peace sign," while Michael Cudlitz reveals to ComicBook.com, "The peace sign was something that read with Abraham and Sasha throughout the whole series. It was this unspoken, very loaded peace sign."
• TheWrap checks out an Episode 2 preview and comments that "fans at least have something a little lighter to look forward to next week."
• Greg Nicotero shares with Entertainment Weekly "his storyboards of Rick retrieving Negan's axe."
• Discussing Abraham's and Glenn's deaths, Bustle declares that scene was "twice as devastating" not only because "fans now must say goodbye to two beloved characters, but because it shows that from this point forward, truly anything can happen."
• Greg Nicotero says to ComicBook.com, "The emotion was there because the actors are so talented and so dialed in. I really think Andy Lincoln gave the performance of the series."
• This Is Insider goes behind the scenes "to see what went into creating the season seven premiere."
• Entertainment Weekly speaks with Robert Kirkman, who says of Negan that "you're going to get to know so much more about this guy and he's going to be an ever-present threat that's always going to be looming."
• Jeffrey Dean Morgan tells Entertainment Weekly, "Here's the thing with Negan: He's going to make you laugh. Even through the worst of it, you will find yourself smiling against your will. And I think that's exactly how he was as a kid and through high school and stuff."
• Danai Gurira, reminiscing with Entertainment Weekly about Michonne and Carl bonding in Season 6, says the "warrior hasn't gone away, but she started to find her voice and open up, having heart to hearts with Carl. That was a huge part of opening up the character, because then I found her heart."
• Michael Cudlitz, interviewed by Entertainment Weekly about Eugene telling Abraham the truth in Season 5, says, "For Abraham, there's this huge flood of not only was this all falling apart and he was completely at his wit's end, but then he realizes that every single thing he has done up until this point has basically been a lie and for nothing."
• The Independent lists "the most traumatic acts committed" by Negan in the Season 7 premiere.
To stay up-to-date on all the latest news about The Walking Dead, sign up for the weekly Dead Alert newsletter.
Read More