Q&A
(SPOILERS) Q&A: The Fallen of the Season 7 Premiere: Part 1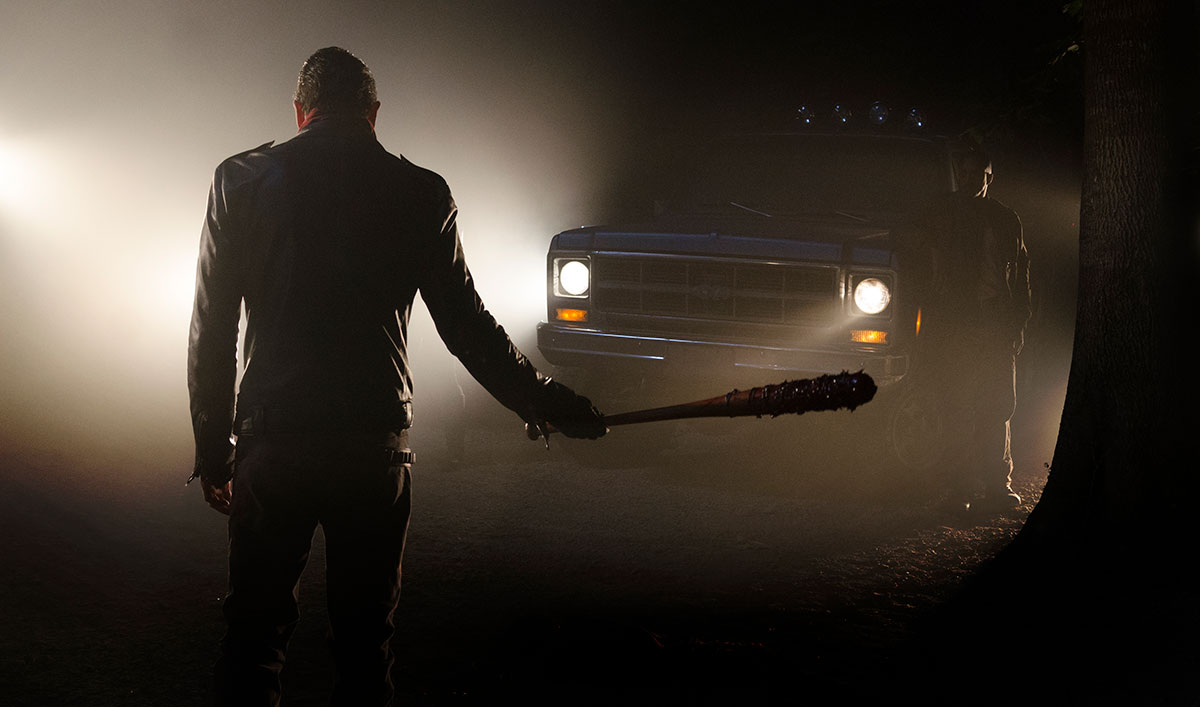 The wait is over. Negan's victim speaks out about filming the shocking Season 7 Premiere.
Warning: This post contains spoilers. Please do not read this post if you do not wish to spoil the Season 7 Premiere of The Walking Dead. Watch the premiere now on amc.com, Apple TV, Roku and the AMC mobile app.
Q: Glenn's death scene is straight out of the comics. What was it like to portray such an iconic moment that many fans know about? What was it like emotionally to film that scene?
Steven Yeun (Glenn): For me, personally, I didn't want anyone else to take that death and I don't think anyone intended to give it to anyone else, to be quite honest. It's such an iconic moment and I knew it was necessary to happen. When I was in it, I was just kind of doing what I was supposed to be doing – just dying and trying to do a good job at it. [Laughs] Who knows if I got even close. I don't know what it feels like to die, but it was a very unique experience [to film] and a pretty affective moment for me, too. After I took some steps back from it, I really started to process what it was, what it meant, and what it means for me in terms of how much I might have been connected to Glenn.
Q: Michael Cudlitz (Abraham) mentioned knowing way in advance that his character would be killed off. What was the case for you? Was it hard to keep secret?
A: I actually knew from the beginning of Season 6. [Laughs] It was cool. I think I saw the natural progression as it was happening. I talked to [Executive Producer/Showrunner] Scott [Gimple] at the beginning of the year, during our meeting, and I said, "Listen. If this is going to happen, just let me know so I can prepare." It all worked out that way. It got gnarly near the end because when you mentally cross that threshold and say to yourself, "OK I'm done with this particular chapter now," to then hold onto it for another full year is pretty rough.
Q: Do you imagine Daryl feels some of the blame for Glenn's death since his outburst is what caused Negan to claim another victim?
A: I think Daryl did what anybody would have done in that moment – which is fight back – and it just happened to be that it came with other ramifications. I suppose Daryl is the type of person that would shoulder that type of blame. That seems like something that could be in his wheelhouse to feel, but I don't know if he's supposed to be blamed for that. That doesn't seem right to me. He's a good person and I don't think he likes to live with things like that.
Q: Glenn's struggle to say goodbye to Maggie even in death was so heartbreaking…
A: I tried to play it as sincere as you possibly could in a moment where you are just glitching. I think Glenn was fighting to find words and "Maggie, I'll find you" was a callback to another experience and another time when he really was trying to find her. Maybe it was a subconscious thought or maybe something he held onto for a while that was his driving force, and when he got smashed in the head, it just brought it to the forefront. There are so many ways to look at it.
Q: How does Negan compare to other villains you've encountered first-hand on the show (the Governor, Gareth, etc.)?
A: It's an interesting way to look at the progression of the world because Negan is the culmination of the world at this point. I think the Governor was a culmination of the world at the point that they were at, and it's the same with Gareth. I think every villain that comes is representative of the temperature of how insane the apocalypse is at the time. You look at the Governor and there's a sense of order to him with a little bit of dictatorship. When we get to Gareth, there's a chaotic aspect. With Negan, he's pure chaos, controlled within one entity. This is the world they live in. It's ruined them, and that's where they're at now.
I got to know Jeffrey Dean Morgan a little bit last season, but we also spent some time together here and there in Atlanta. He came onto this show and knew what he was potentially about to do, and he did it with such grace and honor for those that were going through it. He knew what was going on and was so great to me. Jeff is a class-act dude.
Q: You're one of the few current cast members who has been on the show literally from day one – the pilot episode. What's the hardest part about saying goodbye to this project after all these years?
A: I would say that's essentially the hardest part – you spend so much time with these people, you've worked so closely with them, you've learned so much and you've shared so many incredible experiences. The hardest part for me was saying goodbye to what I knew as reality for seven years. What's great is that it also formed such amazing bonds that it kind of transcends physically going to work there, but I am going to miss Atlanta and the crew. It was just a wonderful experience.
Q: What's it like on the other side of the show now? What are you looking forward to seeing in the new season from a fan's POV?
A: I feel like it's going to be breaking new ground. The deaths of Glenn and Abraham signify a turning of the tides for what we're used to seeing. I think that's going to bring about a whole other section of storytelling that we haven't gotten to do on our show. I'm excited to see what happens.
Q: Let's end on a lighter note: What was the most fun moment you had on set during your years with the show?
A: There are so many moments. I don't know if there's one singular moment, but I think working with Andrew Lincoln on one of the first days where we got to be covered in guts was a very iconic moment for me. All the scenes with Lauren [Cohan] and Scott [Wilson] were really wonderful. Anytime we all got together and got to do massive scenes together were always very electric and powerful.
Q: And what was your favorite moment as the character?
A: I think the pharmacy scene and the chair scene at the Governor's compound was the beginning of a different type of Glenn. I think he was coming to terms with who he was and what he was able to do and that life was worth living for. I think meeting Maggie was the beginning of that and protecting her in dire situations was a manifestation of those feelings.
Watch a Farewell to Fans From Steven Yeun.
Click here to read Q&A: The Fallen of the Season 7 Premiere: Part 2 (Spoilers).
The Walking Dead airs Sundays at 9/8c on AMC.
To stay up-to-date on all the latest news about The Walking Dead, sign up for the weekly Dead Alert newsletter.
Read More