Photos
Before Season 7 Changes Everything, Look Back at Five Iconic Michonne Moments
Negan's reckoning is nigh. Before Season 7 premieres on Sunday, October 23 at 9/8c, take some time to reflect on how far Michonne has come. Relive some of the key moments that helped her evolve from lone swordsman with her two "walker pets" to Rick's confidant. 
Follow the rest of the cast's journey in the two-hour retrospective special, The Walking Dead: The Journey So Far, Sunday, October 16 at 9/8c.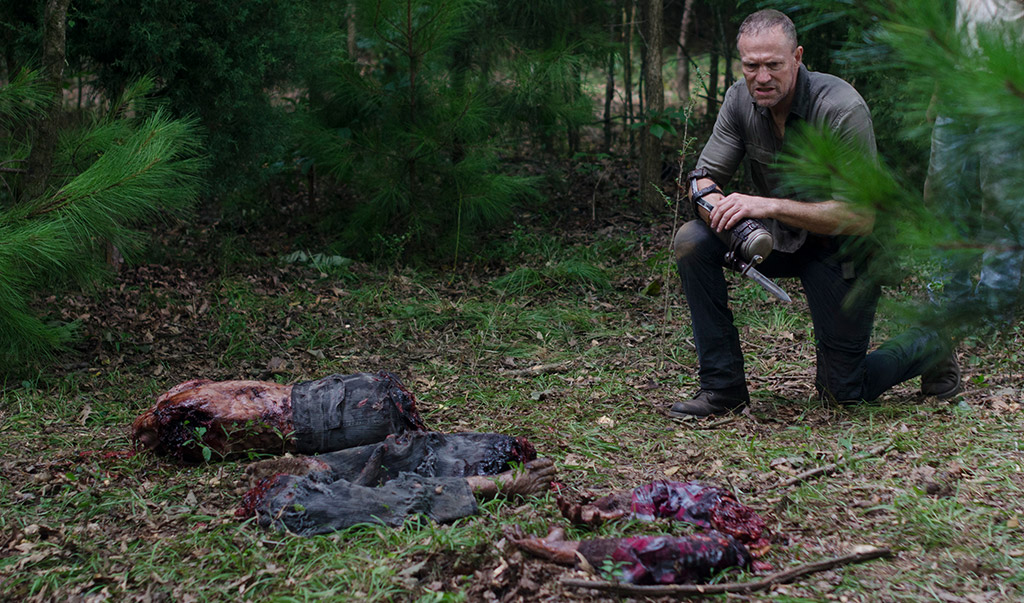 1. Michonne's Walker Message
When Michonne leaves a note, she makes sure it gets read. In order to create the perfect diversion for a quick ambush of Merle and his posse, Michonne uses dismembered walker body parts arranged into the warning: "Go back."
WATCH: Go behind the scenes of Michonne's corporeal correspondence.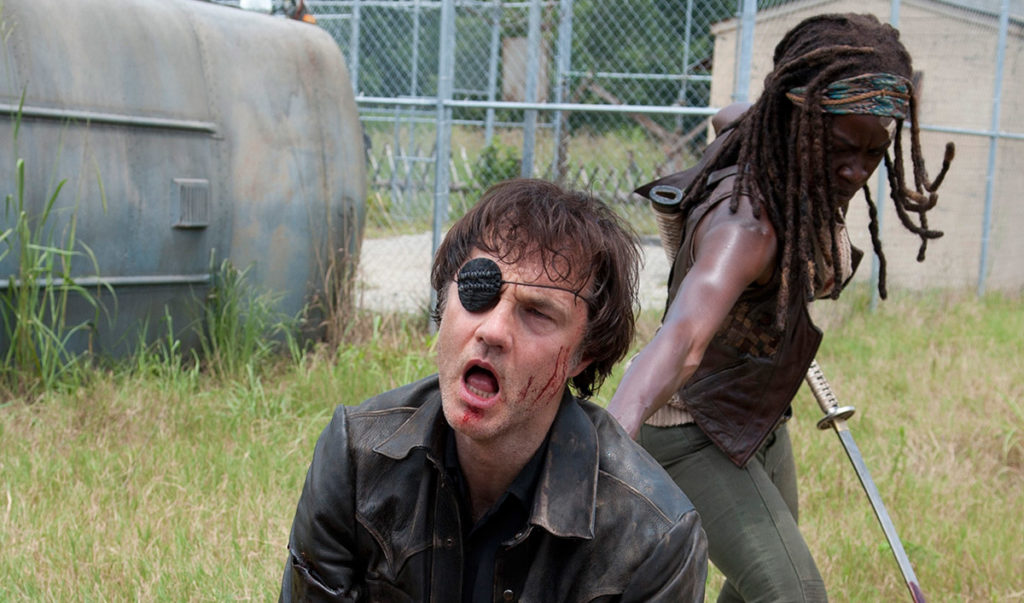 2. Michonne Stabs the Governor
When the Governor gains the upper-hand against Rick, Michonne comes to the rescue, shoving her katana straight through the Governor's chest and leaving her nemesis to die slowly.
WATCH: Michonne saves Rick from the Governor.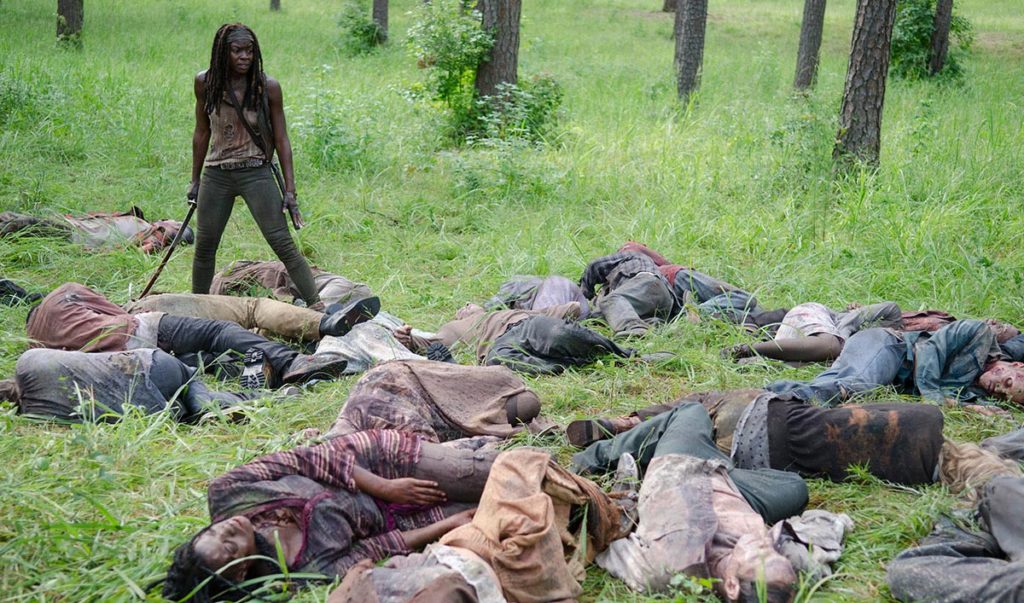 3. Michonne Kills Her Walker Doppleganger
Separated from the group, Michonne marches in a herd until she encounters her walker doppelganger. Distraught, she kills it and then slays the rest of the walkers before letting out an anguished cry.
WATCH: Michonne's walker-killing rampage.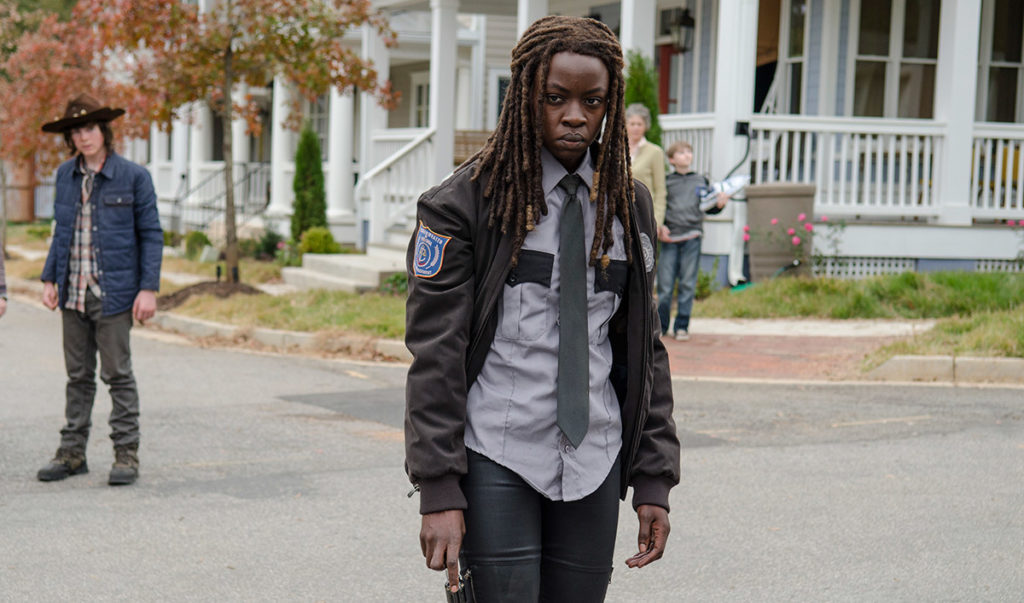 4. Michonne Ends Rick and Pete's Fight
When Rick becomes unhinged after his fight with Pete, Michonne takes on the role of sheriff. As Rick yells, Michonne suddenly hits Rick in the head from behind, knocking him unconscious.
WATCH: Danai Gurira's on Michonne's decision.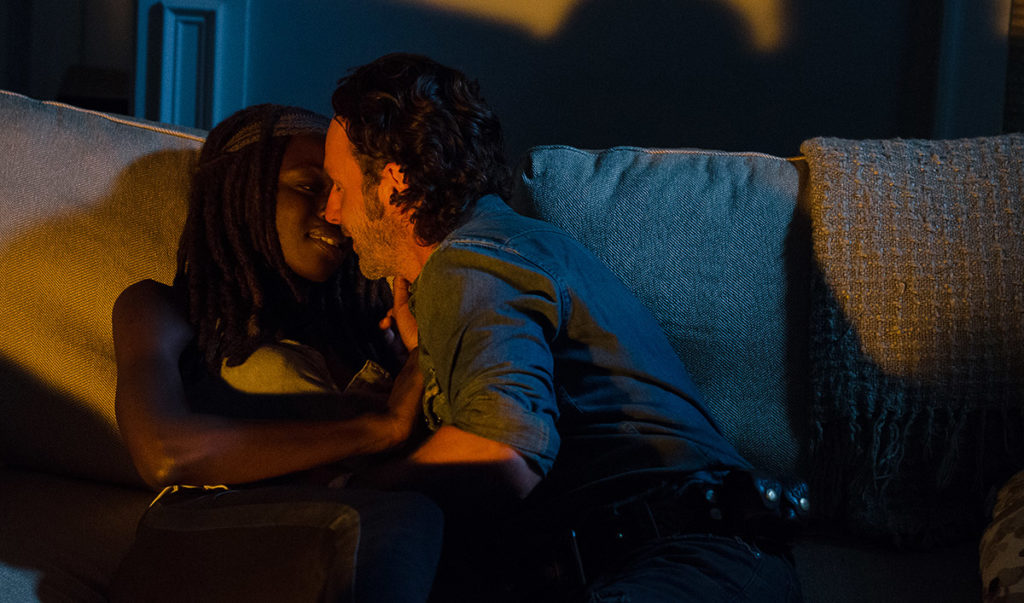 5. Rick and Michonne Kiss
After protecting and supporting each other throughout their journey, friendship turns to romance. All hail Richonne.
WATCH: Danai Gurira and Andrew Lincoln on Rick and Michonne's budding romance.
The Walking Dead returns to AMC on Sunday, October 23 at 9/8c. Watch the latest trailer now on amc.com.
To stay up-to-date on all the latest news about The Walking Dead, sign up for the weekly Dead Alert newsletter.
Read More