Press
Andrew Lincoln Teases Season 7 to EW; Norman Reedus Visits The Tonight Show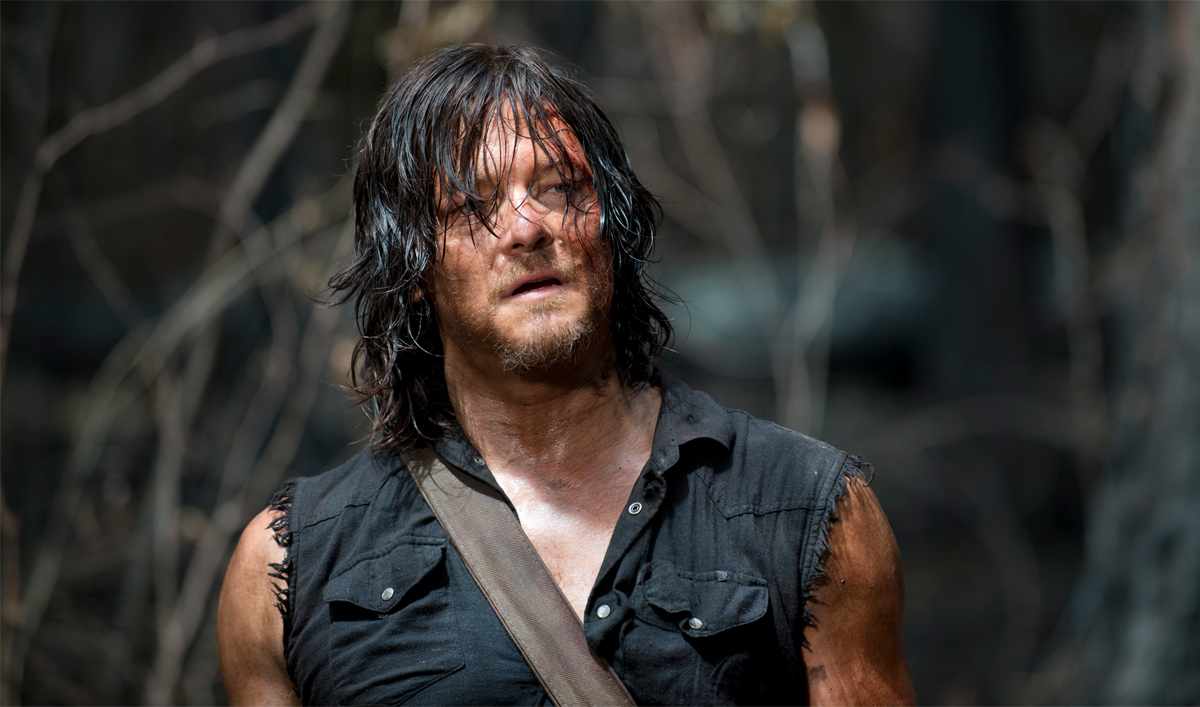 This week, Andrew Lincoln teases Season 7 to Entertainment Weekly, while Norman Reedus has a warning for viewers on The Tonight Show. Plus, John Cleese recaps the past six seasons of The Walking Dead. Read on for more:
• Andrew Lincoln, speaking with Entertainment Weekly, teases, "This world is about to get a lot bigger. That's what's about to happen in Season 7."
• Speaking on The Tonight Show With Jimmy Fallon about the Season 7 opener, Norman Reedus says, "I imagine a lot of people will be kicking their television sets. It's heavy, it's really, really heavy," according to E! News.
• io9 spotlights a video for a British streaming service that sees John Cleese "run through the gist of everything that's happened in The Walking Dead so far in his own ineffable style."
• The Hollywood Reporter remarks on the show getting a Season 8, which "will kick off with The Walking Dead's landmark 100th episode." Reporting on the renewal, Broadcasting & Cable, ComicBook.com note the series is "the highest rated on cable." Deadline, E! News, Multichannel News, Newsweek and USA Today also had the news.
• Entertainment Weekly interviews Scott Gimple, who explains the survivors are "moving into a whole new reality. And it's not the reality they want to live in but they have to."
• Melissa McBride reveals to Den of Geek: "The Kingdom is a really cool set. The set design and set decoration is just really, really creative over there. The Kingdomites, they've got it going on!"
• Lennie James tells Entertainment Weekly that the Kingdom "although it's very different to Alexandria — very, very different to Alexandria, a lot bigger than Alexandria, it's possibly the biggest world we will have come across so far — is equally as alien to Morgan as Alexandria was."
• Stuff talks to Andrew Lincoln, who says viewers will "see a new Rick because there is a new world and there is a new leader and there is a new guy on the block. It's the first time you have seen Rick powerless and it's a very distressing, painful beginning to this season."
• Rolling Stone asks, "Who the hell is Negan? What is it about this foul-mouthed, cool-headed tough guy that's had comics fans anxious to see him on the small screen for four years now?"
• Speaking with Entertainment Weekly, Norman Reedus reflects on Daryl killing Merle in Season 3's episode, "This Sorrowful Life," saying, "I had to play that out as the brother of Merle, and what those two characters have gone through up to that point. And it also is about the changes in Daryl, and how he's no longer under the thumb of his brother."
• TV Guide decides "to rank every single episode of The Walking Dead directed by [Greg] Nicotero against each other, because these things must be done."
• Greg Nicotero tells ComicBook.com that "the introduction of Negan and the death of this person, it really does provide us with a pretty substantial course change because that's really what the season was leading up to last year."
• Talking to Entertainment Weekly about the "look at the flowers" scene in Season 4's episode "The Grove," director Michael Satrazemis says of Melissa McBride, "I don't know another actress that has an access to so many emotions and to such a depth of the entire human experience. She's one of the greatest actors I've ever worked with and/or seen."
• TheWrap looks back at the show's most memorable villains and "recaps how each baddie came onto the show — and how they met their end (if they have already …)"
• According to Digital Spy, the U.K.'s National Television Awards sees The Walking Dead competing in the drama category.
• Rotten Tomatoes learns from Gale Anne Hurd that Negan is "such a game-changer. And we could not have cast someone more perfect than Jeffrey Dean Morgan. And it's just been a pleasure to see him bring Negan to life."
• Entertainment Weekly interviews Michael Cudlitz, who says "there is so much stuff that goes down after this first episode and the continuation through this next season that it's going to make people's heads spin."
• Express.co.uk talks to Lennie James, who reveals, "In some ways, Ezekiel is one of the toughest guys. Because all of the leaders of the world — right from Rick, the archetypical town sheriff, who even to this day still wears his six shooter hanging low on his hips. Those kind of things are archetypal, and Ezekiel is one of those."
• Talking to The Orange County (Calif.) Register, Greg Nicotero explains, "I love the idea that no matter how well our characters think they know what's coming next, there's no way they can predict it."
• Chatting with ComiConverse, Michael Rooker calls Merle a "great role. Really quite a complicated piece. To say what he got to say and still have people like you is not easy to do, in case people don't know."
• Katelyn Nacon and Alanna Masterson tell A.V. Club that if their characters turned into zombies, they'd want to eat Eugene's brain, with Nacon explaining, "He's the smartest, so his probably has the most protein."
• Ahead of the Season 7 premiere, Digital Spy figures it's time to be "delving into some amazing facts about our favourite zombie walker drama out there."
• /film reports that AMC will air an 88-hour marathon to air in the days leading up to the Season 7 premiere.
• IGN presents "a simple breakdown of everyone who's died on the show since day one in 'Days Gone Bye.' OK, not every single soul, but all the named human characters. Within reason, of course."
• The Atlanta Journal-Constitution provides a guide to "some of the hit show's most iconic filming locations in Georgia."
To stay up-to-date on all the latest news about The Walking Dead, sign up for the weekly Dead Alert newsletter.
Read More