Press
Andrew Lincoln Discusses Negan With EW; Robert Kirkman Talks Ezekiel & Shiva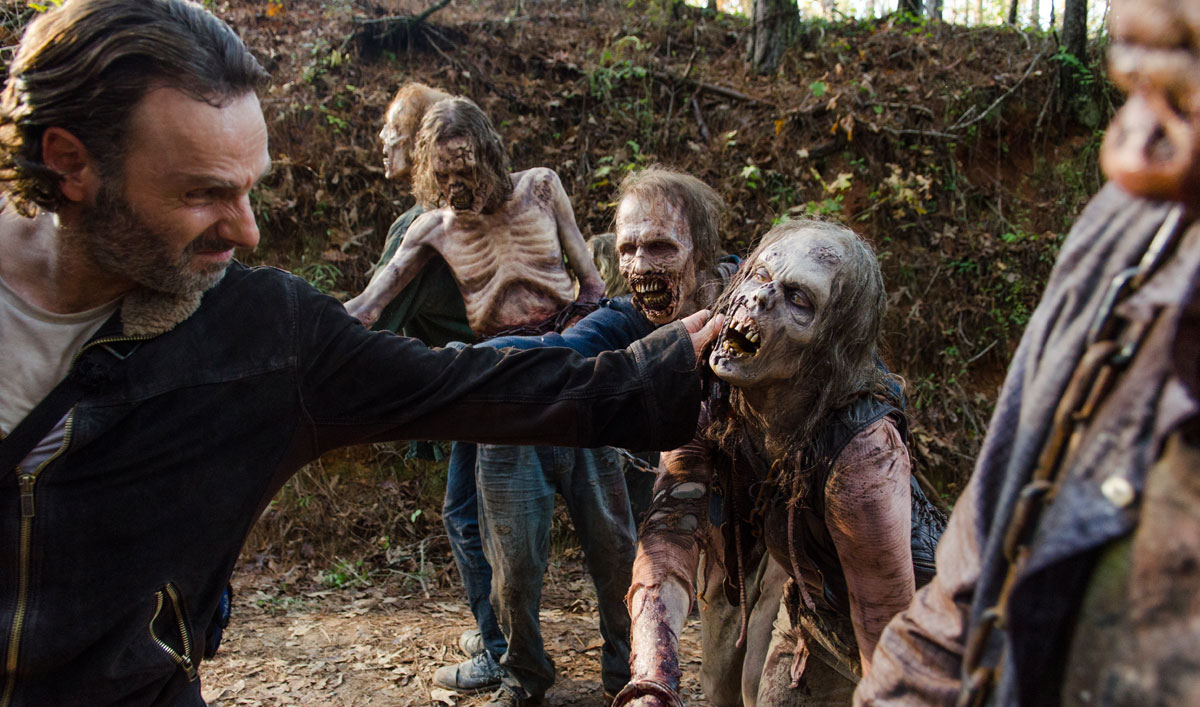 This week, Andrew Lincoln discusses Negan's impact, while Robert Kirkman talks about Ezekiel and Shiva. Plus, Danai Gurira chats with Wetpaint. Read on for more:
• Andrew Lincoln talks to Entertainment Weekly about Negan, saying, "Without the baddest of the bad guys, it wouldn't be the same show. And I think it's breathed a new terrifying life into the show, and at no better time."
• "I will say that any people that have read the comics kind of have a better grasp of what's coming, and should be very excited that Ezekiel and Shiva are being introduced," Robert Kirkman tells Entertainment Weekly.
• Interviewed by Wetpaint about Negan, Danai Gurira says, "I figured of course there had to be someone who is a bit of a dictator-like tyrant coming along in a new world. They always come — and here he is."
• Deadline reports that a special 90-minute Talking Dead airing after the Season 7 premiere "will feature 12 cast members who appeared in the final scene from the Season 6 finale, along with executive producers Scott M. Gimple and Robert Kirkman."
• Express talks to Norman Reedus, who says, "One of my favourite parts of the season six finale is watching Rick be not in control. Rick has led these people for so long and he might have just led them all into the water to drown."
• Greg Nicotero warns Entertainment Weekly that "the first couple episodes are a bit relentless in that sort of dark place that they really don't want to go, but we're going to take you there."
• According to Moviefone, Greg Nicotero says the Season 7 premiere goes beyond Negan's kill: "There's so much more that happens in that episode that is more heartbreaking than that moment, that by the time the episode's over it's almost too much. It's that intense."
• Den of Geek speaks with Lauren Cohan, who says of Maggie that "my favourite part of her strength, is that she continues to expose herself to and continues to pursue beauty and hope and positivity … she doesn't shut down."
• Express talks to Andrew Lincoln, who says, Rick "has changed enormously since the first guy that I woke up with in the hospital. And that is one of the enduring appeals of playing the part; their environment forms these people."
• According to TheWrap, Robert Kirkman reveals, "I hope the show ends and the comics keep going. The comic was the comic before the show, so I try to maintain that. I know how I want to end The Walking Dead…I don't want it on the show before I get it in my comic."
• Speaking with Rolling Stone, Emily Kinney says, "In November, it will be, like, two years since I left the show. But every day, people come up to me and ask things like, 'Who did Negan kill?' I don't know."
• Men's Fitness visits a barber to get "tips on emulating actor Andrew Lincoln's Walking Dead hairstyle, and how to thwart zombies without compromising one's style."
• Rolling Stone deems The Walking Dead one of the best shows to watch in October, remarking that viewers will "get their long-awaited resolution late this month, when the seventh season picks up right where it left off before sending the ragtag band of zombie-infestation survivors back on the dreary path of survival."
• Den of Geek looks back at the show's top moments so far, noting, "The world of The Walking Dead isn't really a birthday-parties-and-puppies kind of place. It's more a viscera-and-machine gun sort of deal."
• Zimbio spotlights a "crazy fan theory" that Breaking Bad is actually a prequel to The Walking Dead.
• Three If By Space talks to a cosplayer who goes by "The Daryl Dude," and he says, "I'm a quiet and somewhat shy person in real life. As The Daryl Dude, I'm just a quiet and shy person with weapons and roadkill on me."
• ArtsATL looks at how Senoia "became the home for The Walking Dead and other projects while managing to retain its footing as a functioning town."
To stay up-to-date on all the latest news about The Walking Dead, sign up for the weekly Dead Alert newsletter.
Read More