Press
Jeffrey Dean Morgan Talks Lucille; Lennie James on Avoiding Spoilers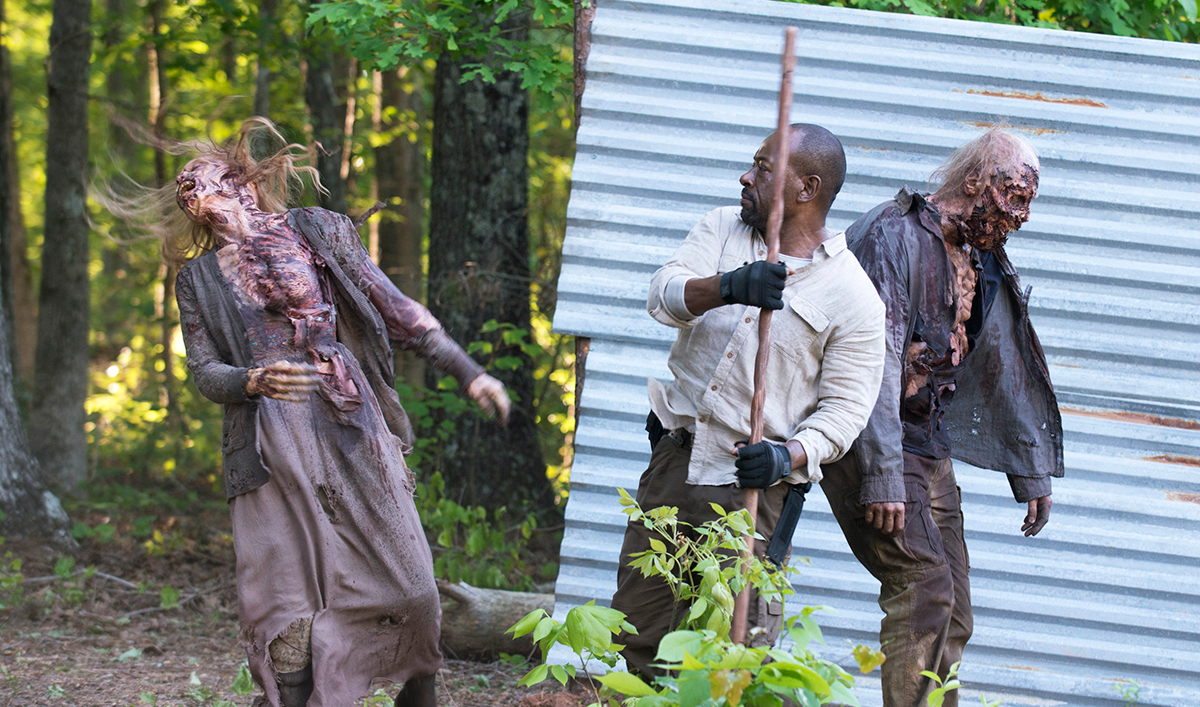 This week, Jeffrey Dean Morgan talks about Lucille, while Lennie James discusses how he avoids spoilers. Plus, Greg Nicotero reflects on the Season 6 finale. Read on for more:
• Entertainment Weekly interviews Jeffrey Dean Morgan, who says that holding Lucille "informed my character and who I was — just kind of the heft of her and the love that he has for her."
• Lennie James tells Entertainment Weekly how he's avoiding spilling who Negan kills: "One, I've stopped speaking to people. And two, you have to get very single-minded about protecting this particular story line and trying your best to stay true to it everywhere."
• Greg Nicotero discusses the Season 6 finale with Entertainment Weekly, saying, "If we would have shown the deaths, then they wouldn't have felt our characters in season 7 the way they need to."
• Entertainment Weekly speaks with Jeffrey Dean Morgan, who notes, "We've added a lot, obviously, that's not in the comic books with Negan. Not only trying to keep his language and his persona, but it's how he walks and how he stands and all that kind of stuff."
• Danai Gurira, talking about Michonne with Atlanta, says,"Robert Kirkman created a very fascinating woman on the page. Right down to her dreadlocks—you don't see that type of hair on TV very often. Down to the fact that she has this stunning Japanese weapon of war as her weapon of choice."
• CBC News reports that the University of Saskatchewan is offering a class, "Educational Administration… and Zombies" that's "using episodes of the popular zombie show The Walking Dead to explore how educational systems work."
• The Los Angeles Times reports that Adult Swim's Robot Chicken plans a The Walking Dead special "for its upcoming ninth season, teaming with the zombie comic book franchise creator Robert Kirkman."
• Katelyn Nacon reminisces with Movie Pilot about meeting Andrew Lincoln her first day on set: "I was like at this house away from everyone. So he walked all the way over there and shook my hand and I was like, what an amazing guy!"
• Collider.com checks out two new Season 7 posters, "which feature two images of Negan – his shadow cast across Alexandria's gate and holding Lucille over his shoulder – and one of Rick on his knees."
• ComicBook.com watches The Walking Dead's first-ever trailer, noting it's "a stark reminder of how far the show has come. The Walking Dead's characters have evolved, its settings have shifted, and its production team has grown."
• Movie Pilot tells viewers to look back at Maggie's "journey on the series, and remind yourself of what a great character this farm girl is, and what a hole she would leave behind if she was to die."
• Three If By Space speaks with Gene Russell, who "has come out of nowhere, to become a Negan cosplayer."
• Movie Pilot also focuses on Daryl, deciding to "take a look over the last six seasons we've had with him, and remember just what a core part of the crew he is."
• ComicBook.com shares an exclusive look at the McFarlane Toys Jesus action figure.
• Flickering Myth checks out Funko's next wave of Pop! Vinyl figures: Daryl, Carl, Rosita, Gabriel, Negan and Jesus.
To stay up-to-date on all the latest news about The Walking Dead, sign up for the weekly Dead Alert newsletter.
Read More