Press
EW Interviews Jeffrey Dean Morgan; Gale Anne Hurd Discusses Negan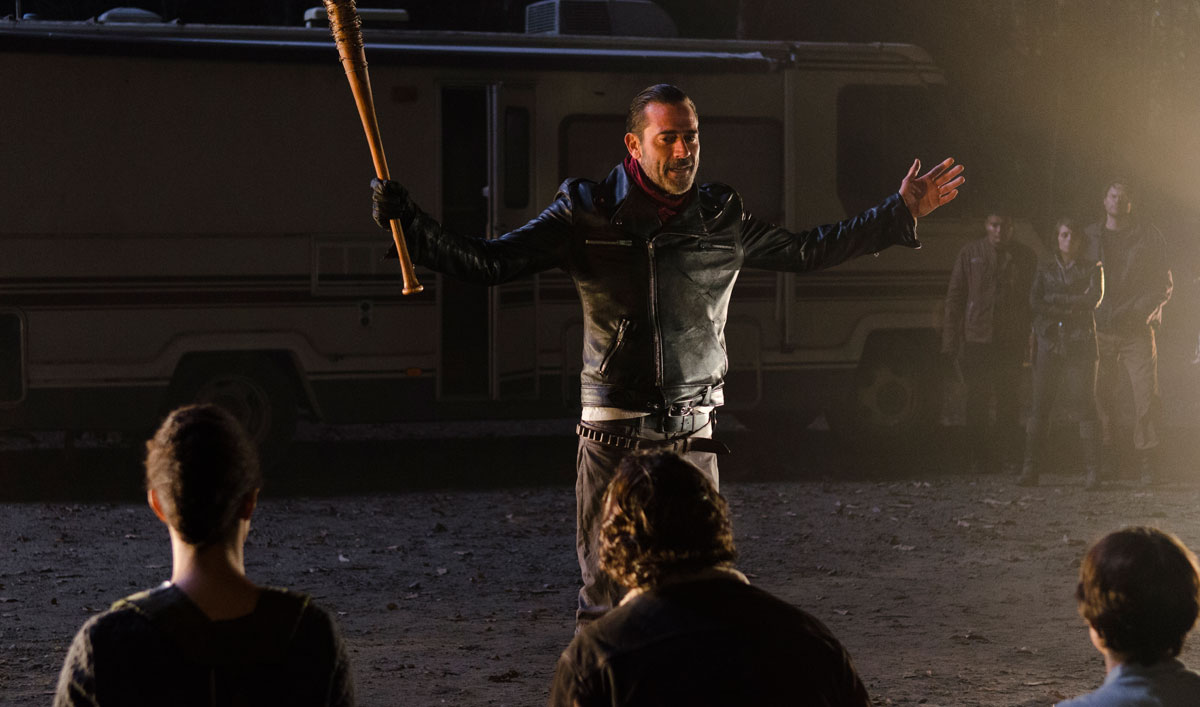 This week, Entertainment Weekly interviews Jeffrey Dean Morgan, while Gale Anne Hurd previews Negan. Plus, Lennie James has questions about Season 7. Read on for more:
• Jeffrey Dean Morgan reveals to Entertainment Weekly, "I didn't find out whom we were going to kill until I saw the first script coming back this year."
• "In this new season Negan is the gamechanger, and whatever we did someone was going to be unhappy… so we promised we will be picking up where that left off; we are not going to draw it out," Gale Anne Hurd says, according to Variety.
• Talking to Moviefone, Lennie James says he wants to know "what's going to happen, and what it's going to take, and what stake everybody will be in, if and when we ever get back together, if and when Rick and Morgan ever meet again."
• Scott Gimple explains to Entertainment Weekly that The Walking Dead TV show's narrative is "a question of trying to do things that fulfill the spirit of the story and the spirit of the comic, without it being exactly the comic."
• Entertainment Weekly uncovered several "nuggets of info" on The Walking Dead: The Complete Sixth Season Blu-ray + Digital HD set that was released this week.
• Michael Cudlitz, interviewed by Yahoo TV, says his favorite Season 6 scenes are "the moment I say goodbye to Eugene. And the moment of confrontation with Eugene in the foundry."
• According to The Hollywood Reporter, Michael Cudlitz says, "We have probably the strongest female cast of any show out there, let alone ethnic diversity within that."
• In a Q&A with The Independent, Michael Cudlitz says shooting the Season 6 cliffhanger was "intense, yeah. It was one of the situations where the entire group was there going through an extremely emotional event together."
• Cinema Blend reports that Season 6 will be available on Netflix on Sept. 15.
• The Hollywood Reporter spotlights a Season 6 deleted scene where "Maggie holds out hope that Glenn (Steven Yeun) is still alive and well. And the scene offers a good explanation of where Maggie continues to find her strength."
• Speaking with Fangoria, Ross Marquand calls the cliffhanger scene "a tough thing to go through, take after take, just getting to that dark emotional place, and it was some of the more rewarding but also the most difficult acting I've ever done."
• POPSUGAR interviews Michael Cudlitz, who calls the Season 6 finale "awesome. I think there's a tremendous amount of character development in that episode, and a lot of the stories really came together."
• Michael Cudlitz discusses Abraham with Fangoria, noting "there is this strange, dark blue collar kind of poetry to how he talks—so out there. And no filter!"
• ComingSoon.net interviews Tovah Feldshuh, who says The Walking Dead is "the number one cable show in the world because it dips into the river of common human experience and the theme it explores is that we're all going to die and so, most importantly, how therefore do you want to live…?"
• DVD Talk, reviewing the Season 6 DVD, calls last season "another solid season in the series that benefits from strong writing, great performances and really strong effects work. The Blu-ray presentation looks and sounds fantastic."
• io9 spotlights the work of 100% Soft (real name: Truck Torrence), who explains his The Walking Dead piece: "I'm a big zombie fan and I had previously done prints for Night of the Living Dead, Dawn of the Dead, and Shaun of the Dead so [The Walking Dead] seemed like the next logical step in my zombie series."
To stay up-to-date on all the latest news about The Walking Dead, sign up for the weekly Dead Alert newsletter.
Read More