Press
Andrew Lincoln Teases Season 7 Rick; Robert Kirkman on Negan's Victim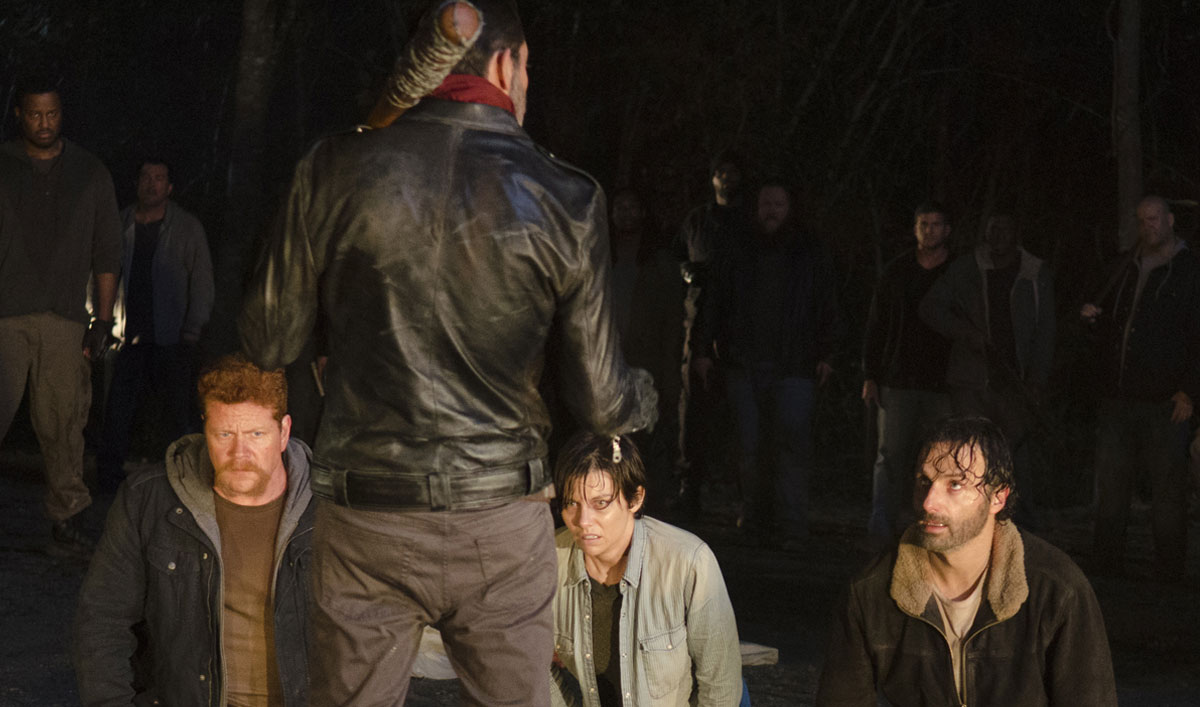 This week, Andrew Lincoln teases Rick's emotional state as Season 7 opens, while Robert Kirkman discusses the effect of the demise of Negan's victim. Plus, Khary Payton is considered one of fall's breakout stars. Read on for more:
• When Season 7 opens, Andrew Lincoln tells Entertainment Weekly, "You meet a man who's powerless, terrified for his own life and his son's family's life, and everybody else beside him."
• Andrew Lincoln, speaking with Vulture, also reveals, "If we follow the comic book, then there's a super-bada** conflict between Negan and us, and I think that that's certainly something that I think will trump anything we've attempted before in the show."
• Robert Kirkman tells Entertainment Weekly that the death of Negan's victim "really changes things. It's not just a death, it's a fundamental shift in their outlook on this world that'll change everything."
• The San Francisco Chronicle says Khary Payton is one of a dozen breakout stars everyone will be talking about this fall: "This newcomer to The Walking Dead was the talk of Comic Con when the first glimpse of his character, King Ezekiel, was revealed before a rapt crowd."
• E! News recommends watching The Walking Dead live on Sunday nights "naturally—especially if you don't want to be spoiled about who Negan's victim winds up being."
• Bustle considers The Walking Dead the top Netflix zombie movie/TV show, since "Rick's journey has had its ups and downs over the past six seasons, but there's no denying the cinematic brilliance of The Walking Dead."
• ComicBook.com interviews Melissa McBride, who says Carol has "just got to get her mind right before she can even entertain any sort of relationship. I think it's just difficult for her to have a relationship of any kind."
• Melissa McBride also tells ComicBook.com that Carol and Morgan "were not seeing eye to eye when we last saw them, and yet he was forced to make a choice that he had fought so hard against for all of the last season, so we'll see where that takes them and their mindset and if they have anything new in common."
• Uproxx's round-up of the best peak TV opening credits includes The Walking Dead (at No. 15) because the show "traffics in themes of desperation and survival, and that urgency comes through in the opening credits."
• TVWise reports that Season 7 will premiere in the U.K. on Oct. 24.
• ComicBook.com reminds viewers that Season 6 is now available on Netflix.
• Bloody Digusting reports that Greg Nicotero and several cast members visited Universal Orlando's Halloween Horror Nights "to try out the zombie-themed haunted house. The experience features iconic scenes from the show, from the 1st season through the 6th and you can see that the cast and crew seemed to have had quite the viral time!"
• Movie Pilot looks back at how Eugene "has been able to dramatically increase his survival chances by using his knowledge and know-how as a pretty awesome substitute for sheer physical aptitude."
• Movie Pilot also focuses on Abraham, remarking, "Through highs and lows, Abraham's development arc took him from a stubborn soldier to an integral and resilient part in the Survivor's journey."
• "Since she saved Andrea, armed with a katana and two chained Walkers in tow, Michonne has become one of the most down-to-Earth and level-headed characters in The Walking Dead," Movie Pilot enthuses.
• Syracuse.com highlights some Halloween costume ideas, including Negan ("leather jacket with baseball bat").
• Flickering Myth reports that Nov. 1 will see the release of the Season 6 limited edition Blu-ray that features the "truck" walker from the rock quarry on the packaging.
• TV Cheat Sheet comments, "As we approach Season 7 and the inevitable fallout of Rick's attack on Negan, now seems as good a time as any to take a look at both Rick and Morgan's methods and try to see who might be on the right track."
• According to ComicBook.com, Shane is getting a Funko Pop figure, and "this figure isn't just any Shane Walsh. It's crazy Shane Walsh. This is post-headshave-already-killed-Otis Shane Walsh."
• Three If By Space interviews an Abraham cosplayer named Chris Twellmann, remarking, "I couldn't believe and still can't, how much he looks like Michael Cudlitz."
To stay up-to-date on all the latest news about The Walking Dead, sign up for the weekly Dead Alert newsletter.
Read More