Press
Jeffrey Dean Morgan Teases Season 7; Khary Paton on Playing Ezekiel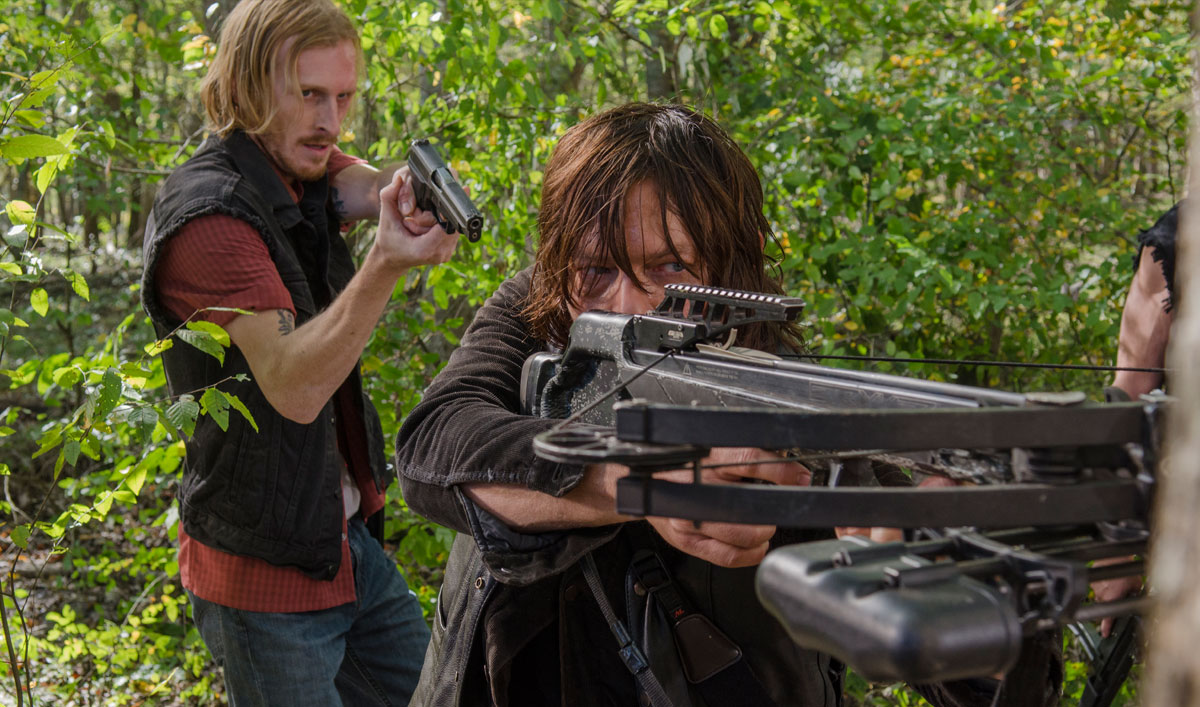 This week, Jeffrey Dean Morgan teases Season 7, while Khary Paton dishes to Entertainment Weekly about playing Ezekiel. Plus, Variety deems The Walking Dead's Comic-Con panel a hit. Read on for more:
• Entertainment Weekly quotes Jeffrey Dean Morgan teasing, "What you're going to see in the first half of this season is Negan wreaking havoc. And some of your characters that you've grown to love are not going to be on the show anymore, and it's going to end badly for them."
• Khary Paton speaks with Entertainment Weekly about playing Ezekiel, saying, "In a zombie apocalypse one can find themselves getting down about their situation, but Ezekiel's not one of those people. He fights with all he's got to make sure he stays positive and stays joyful."
• Variety labels The Walking Dead's Comic-Con panel a hit, with the show "receiving an ecstatic response."
• Norman Reedus tells Entertainment Weekly that the cliffhanger death affects the group differently: "Some relinquish power. Some accept it. Some fight it. There are people questioning it. There are people pointing their fingers. There are people blaming themselves."
• Yahoo TV interviews Greg Nicotero, who remarks that the Season 7 premiere "really redefines grief. It redefines pain, and emotion, and if you think watching the finale that you are already at rock bottom with these people, you've got a lot further to go. This season's intense."
• Andrew Lincoln, as reported by ComicBook.com, says of Rick, "Everything he's fought and bled for and had family members die for, everything that he's worked for two years to get to, has been shattered in 24 hours. He's not a in a good space."
• According to ComicBook.com, Greg Nicotero explains that "the trickiest aspect of the first episode is living up to, number one, the expectation of that moment and then, what's even more interesting for me as a director of the episode, is how that changes the direction of the survivors forever."
• Movie Pilot proposes, "Let's take a look at the top 5 reasons why you should be watching The Walking Dead!"
• Entertainment Weekly features six exclusive Season 7 photos and also posts photos of Negan's 11 potential murder victims "getting their revenge on Jeffrey Dean Morgan. He even assumed the position and got on his knees like the Alexandrians themselves!"
• The Worcester (Mass.) Telegram & Gazette speaks with Alicia Witt, who says Paula "was such a special character, and the writers gave us so much information about someone we were only going to see in one episode. No matter what I do in the future, playing Paula will always be a standout."
• Lauren Cohan says, according to ComicBook.com, that Maggie is "a hopeful character and she's deciding that it's a good idea to hope that the future world will have a place for her child."
• Entertainment Weekly spotlights a deleted scene appearing on the Season 6 Blu-ray + Digital HD and DVD sets where "we see Nicholas approach Glenn on the road while they are setting up their zombie quarry herding plan."
• Cinema Blend takes a closer look at an "In Memoriam" clip from the upcoming Season 6 Blu-ray/DVD that features "that gruesome bit from the midseason premiere that effectively killed off the Anderson family and severely wounded Carl."
• Tech Insider learns from Robert Kirkman that Scott Gimple decided to have Michonne and Rick end up together back in Season 3 "when Michonne and Rick and Carl encounter Morgan. We were discussing that kind of stuff all the way back there and there were seeds planted in that episode that you so brilliantly wrote."
• ComicBook.com has Steven Yeun's reaction to Negan killing Glenn in the comic: "For me as a fan, I was like this moment is iconic, and however it happens, it's a great moment."
• Andrew Lincoln tells IMDb News, "Scott Gimple said that maybe there was an opportunity to finish the comic book and finish the TV series at the same time, which would be kind of cool."
• According to Comic Book Resources, Robert Kirkman reveals that his plan for ending The Walking Dead comic "has changed. There was one version that would have had it ending as soon as everybody reached Alexandria."
• Brighton Sharbino tells Digital Journal, "The Walking Dead was a great experience where I got to play a really interesting and different dark character."
• Movie Pilot has some speculation about "why Carol Peletier will pull through this coming season."
• Entertainment Weekly reports that Lennie James has joined Harrison Ford, Ryan Gosling and others in the cast of the Blade Runner sequel.
To stay up-to-date on all the latest news about The Walking Dead, sign up for the weekly Dead Alert newsletter.
Read More