Press
Gale Anne Hurd Touts Negan; Jeffrey Dean Morgan Talks Negan vs. Governor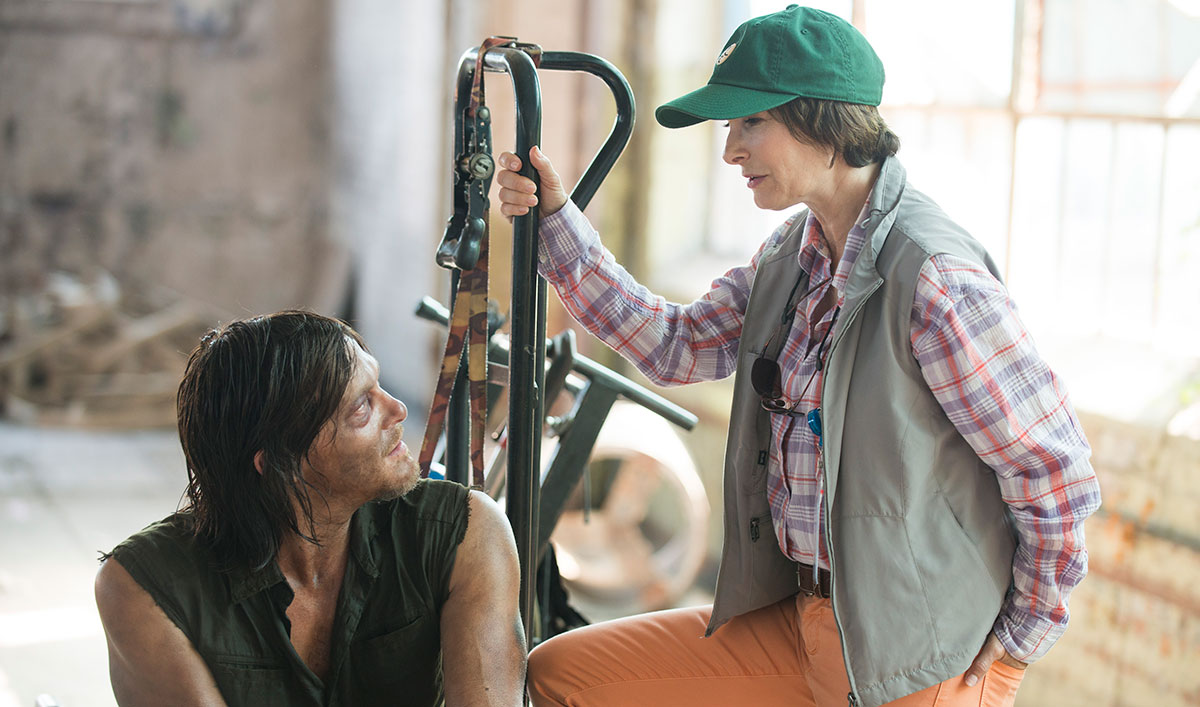 This week, Gale Anne Hurd previews Negan, while Jeffrey Dean Morgan ponders a battle between Negan and the Governor. Plus, Danai Gurira will be honored by the Theatre Communications Group. Read on for more:
• Gale Anne Hurd tells E! Online that Negan is "larger than life, he is charismatic, and he really enjoys what he does. He doesn't seem to have much of a conscience about it, and that's the kind of person we haven't seen before."
• Asked by Entertainment Weekly who would prevail in a Negan vs. Governor battle, Jeffrey Dean Morgan replies, "It's not even close. I mean, I love David Morrissey, but he wouldn't stand a chance. Wouldn't stand a chance. I'd put Negan up against anybody."
• TheaterMania reports that Danai Gurira will be honored by the Theatre Communications Group later this year at its 2016 gala.
• People highlights a Season 6 Blu-ray, Digital HD and DVD behind-the-scenes interview about "Richonne," with Andrew Lincoln noting, "It's the most natural thing. I kept thinking, 'Of course – it's been right in front of me all the time.'"
• According to ComicBook.com, Robert Kirkman explains, "Rick Grimes is really just a bunch of made up stuff that I thought would work. Every writer kind of writes themselves to a certain extent so all the sadistic stuff in Rick Grimes is totally me! Not really."
• Kentucky's WTVQ reports on The Walking Dead Day in Cynthiana, Kentucky, hometown of Robert Kirkman, who says, "I think ten years ago if you went into town and you were like hey there's going to be messed up cars and a wrecked helicopter and there's going to be zombie makeup…they'd be like why would we ever do that?"
• Empire considers The Walking Dead one of the year's best so far because the specter of Negan led "to a fantastically tense finale, which played out like a nightmarish '70s thriller."
• Reflecting on the new popularity of the baseball bat as a weapon, Vulture cites "the bat-brandishing Negan, who promised to bash in the head of one of The Walking Dead's good guys in that show's April season finale."
• Robert Kirkman, speaking with Entertainment Weekly, says that "we could've never anticipated the uproar that happened on the internet over the cliffhanger. We're always just sitting down and trying to tell the best stories and do the best job of adapting my material from the comic."
• 411Mania spotlights a new photo of Jeffrey Dean Morgan as Negan, remarking that "Negan may be an expert with Lucille, but it's not the only thing he's dangerous with."
• ComicBook.com reports on Ross Marquand and Michael Cudlitz "riffing with one another in character as [Rocky's] Mick and Rocky as though they were dealing with Negan's Saviors."
• The Wall Street Journal spotlights an upscale development that "so convincingly captures the essence of a quaint small town that producers of AMC's The Walking Dead leased the entire development as the setting for its Alexandria 'safe zone,' a temporary haven from zombie armageddon."
• Movie Pilot takes Atlanta Movie Tours' Big Zombie Tour 2 and visits the location for the arena where the people of Woodbury played zombie games and notes, "There is simply so much to look at in the abandoned space, and it is so recognizable from the episodes. It's very surreal."
To stay up-to-date on all the latest news about The Walking Dead, sign up for the weekly Dead Alert newsletter.
Read More