Press
Andrew Lincoln Talks About Negan's Victim; Greg Nicotero on Cliffhanger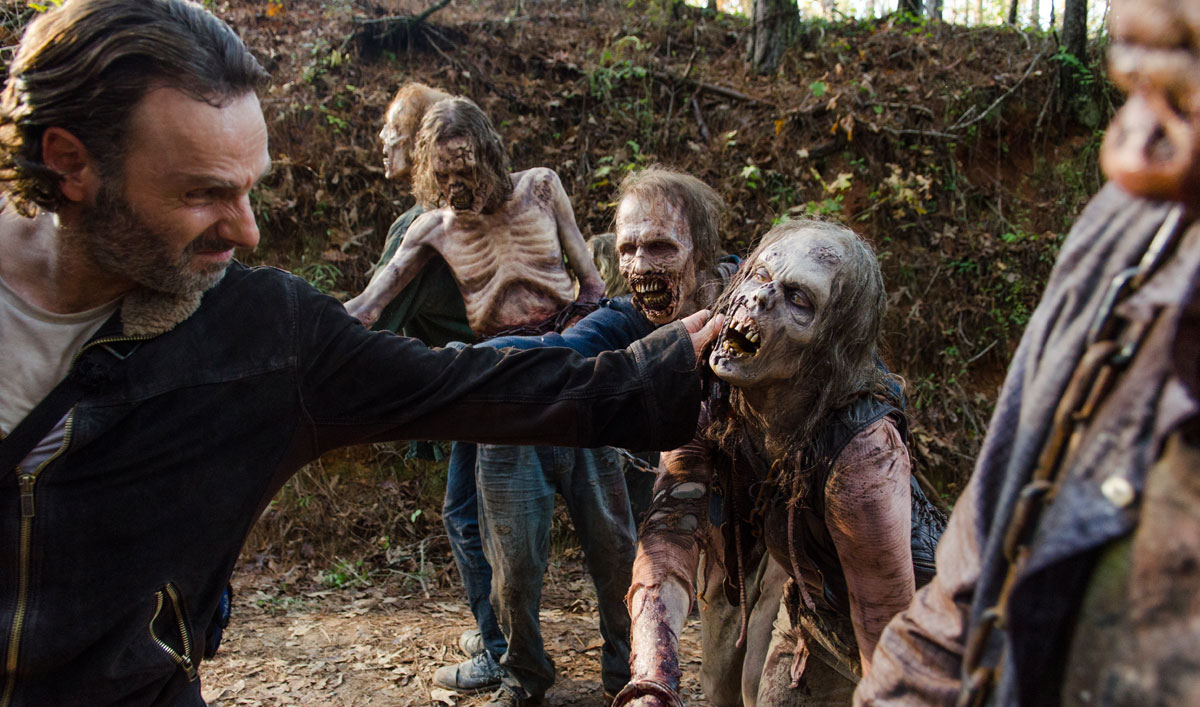 This week, Andrew Lincoln says he's dogged by questions about Negan's victim, while Greg Nicotero discusses the cliffhanger ending. Plus, The Hollywood Reporter watches Negan's uncensored finale scene. Read on for more:
• Andrew Lincoln tells EW he's constantly asked about Negan's victim: "Every time I leave my house. Every time I go through customs. Every time they are checking my belt going through the security…"
• Deadline talks to Greg Nicotero, who says the Season 6 finale was "one of the best episodes I feel like I've ever directed, because I was able to capture that sense of dread and fear that Rick Grimes felt. Rick has never felt fear, and you never see him scared in the entire series until that episode."
• The Hollywood Reporter shares that "Negan's finale scene is included — uncensored in an extended 11-minute monologue — on the season six Blu-ray," featuring 23 utterances of the "f–" word.
• Entertainment Weekly reveals that Morgan, who became a full-time cast member in Season 6, "almost joined the show on a permanent basis earlier, and at a critical moment."
• Robert Kirkman teases to Screen Rant that Negan is "going to be this ever-present threat in the show from now on. This amazing 12 minutes that we got in season 6 is going to be nearly every episode now for a while moving forward."
• The Atlanta Journal-Constitution interviews Greg Crews, a zombie on The Walking Dead who didn't know he "would get his guts ripped out, turn into a walker and promptly be killed by none other than crossbow-slinging Daryl Dixon."
• ComicBook.com decides "to run through the most important story lines from The Walking Dead's sixth season."
• Mic shares "everything we know about The Walking Dead's seventh season ahead of its Oct. 23 premiere."
• ComicBook.com showcases "the five most shocking deaths (in no particular order) in the history of The Walking Dead."
• Movie Pilot discusses how the Talking Dead special "gave us some insight into the upcoming season as [Chris] Hardwick and guests speculated about who fell victim to Lucille, and we also got some interviews from cast members of The Walking Dead."
• According to ComicBook.com, New York Comic Con will feature a The Walking Dead event on Oct. 8 at Madison Square Garden.
• Comic Book Resources reports that McFarlane Toys is releasing an action figure based on Carl's escape from the walker herd that flooded Alexandria.
• Flickering Myth says Funko will release Mopeez of Hershel, Michonne, Tyreese, Rick, Daryl and Glenn.
To stay up-to-date on all the latest news about The Walking Dead, sign up for the weekly Dead Alert newsletter.
Read More