Press
Jeffrey Dean Morgan Joins as Series Regular; Season 6 Ending Touted by TV Guide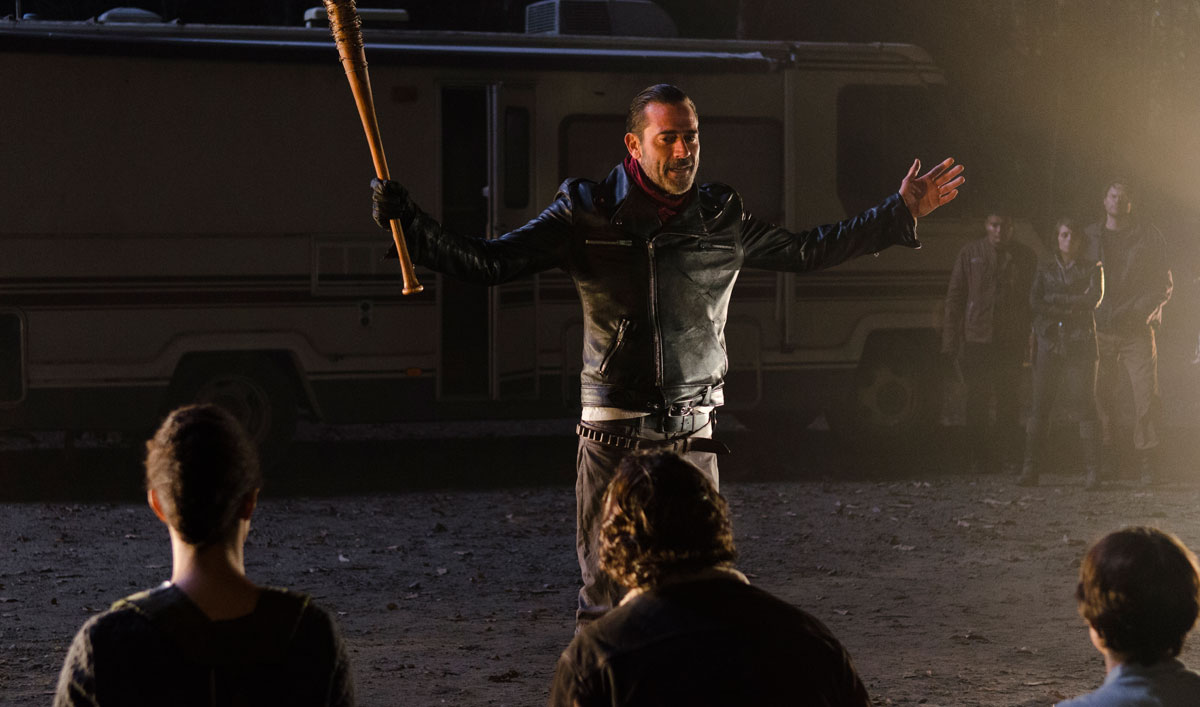 This week, Jeffrey Dean Morgan and three others are named series regulars, while TV Guide applauds the Season 6 cliffhanger. Plus, Norman Reedus teases Season 7. Read on for more:
• According to The Hollywood Reporter, The Walking Dead has promoted Jeffrey Dean Morgan (Negan), Tom Payne (Jesus), Austin Amelio (Dwight) and Xander Berkeley (Gregory) to be series regulars. Bustle comments that Jeffrey Dean Morgan's new status on the show "means that now more than ever, no one is safe."
• TV Guide's best TV cliffhanger this year is the identity of Negan's victim: "Whoever it is, fans will freak out; and the long wait until October is just making this cliffhanger all the more agonizing."
• Teasing Season 7, Norman Reedus tells ComicBook.com, "There's a change of power on the show. Negan coming in has flipped our whole script so to speak. We are no longer the Alpha right now."
• The Hollywood Reporter, reflecting on the influx of strong women on TV in recent years, cites Carol as an example since the "fan-favorite has morphed from a meek, abused wife to an all-around badass, and her grit and ever-changing ways make her a formidable opponent in a world dominated by walkers and heartless villains."
• Talking to ComicBook.com, Norman Reedus says, "I think Daryl is influenced by me. You always bring yourself into a character."
• TVLine compiles a list of "our 15 all-time favorite twosomes, including not just romantic pairs but also duos using (or who have used) the buddy system to navigate the perilous zombiescape."
• Visiting the Universal Studios Hollywood The Walking Dead attraction, USA Today reports, "Those who dare to enter the maze find startlingly, um, lifelike dead characters in scenes culled from the show's six seasons. Instead of passively watching the action, however, visitors are immersed in it."
• Twice finds out from Chandler Riggs (solar panels) and Sonequa Martin-Green (electric heater) "which one indispensable device should be kept at the ready for the inevitable contagion."
• IGN has a look at a bonus feature for the Season 6 DVD and Blu-ray featuring "some of the season's most memorable walkers."
• According to FanFest, Laurie Holden says of Andrea's death, "I'm very grateful how it was written that I went out with grace and with a stellar cast. It wasn't the way that I wanted but I loved the way I went out."
• ComicBook.com shares its favorite Season 2 quotes, which included "some fun, witty, and, at times, deep dialogue."
• Go to Design & Trend to vote in their Fan Favorite TV Awards for Rick and Michonne in the Favorite Kiss category.
• Digital Spy believes The Walking Dead and Breaking Bad share a universe because Merle had a stash of blue meth and Daryl "described his brother's dealer as a 'janky little white guy' who called Merle a 'bitch'. Sounds like Jesse Pinkman to us…"
• Complex spotlights a fan-made mash-up trailer of The Walking Dead and Deadpool "and the result is zombie-slaughtering made a bit funnier."
• IGN asks some alums of The Walking Dead how their now-deceased characters would have helped the group against Negan, whether they would "have been a good asset to them had they stayed alive."
• FanFest reports that Scott Wilson thinks Maggie and Glenn should name their baby "Hershel," which is "perfect for a girl or a boy."
• Nerd Much checks out The Walking Dead Zombie Inside Mug, which has "a glossy blood red zombie protruding up from the middle."
• ComicBook.com reports that The Walking Dead "has officially joined one of the most popular new social media platforms: Snapchat."
• Radio Times notes that Andrew Lincoln is "actually a born and bred Londoner with a British accent to boot," despite Rick's "soft Southern drawl."
• Task & Purpose learned about leadership from The Walking Dead, noting, "As society collapses under the weight of zombie hoards, we get to see what happens, both on a group and individual level."
To stay up-to-date on all the latest news about The Walking Dead, sign up for the weekly Dead Alert newsletter.
Read More