Press
Greg Nicotero Talks Zombie Acting; Digital Spy Lauds Dead Attraction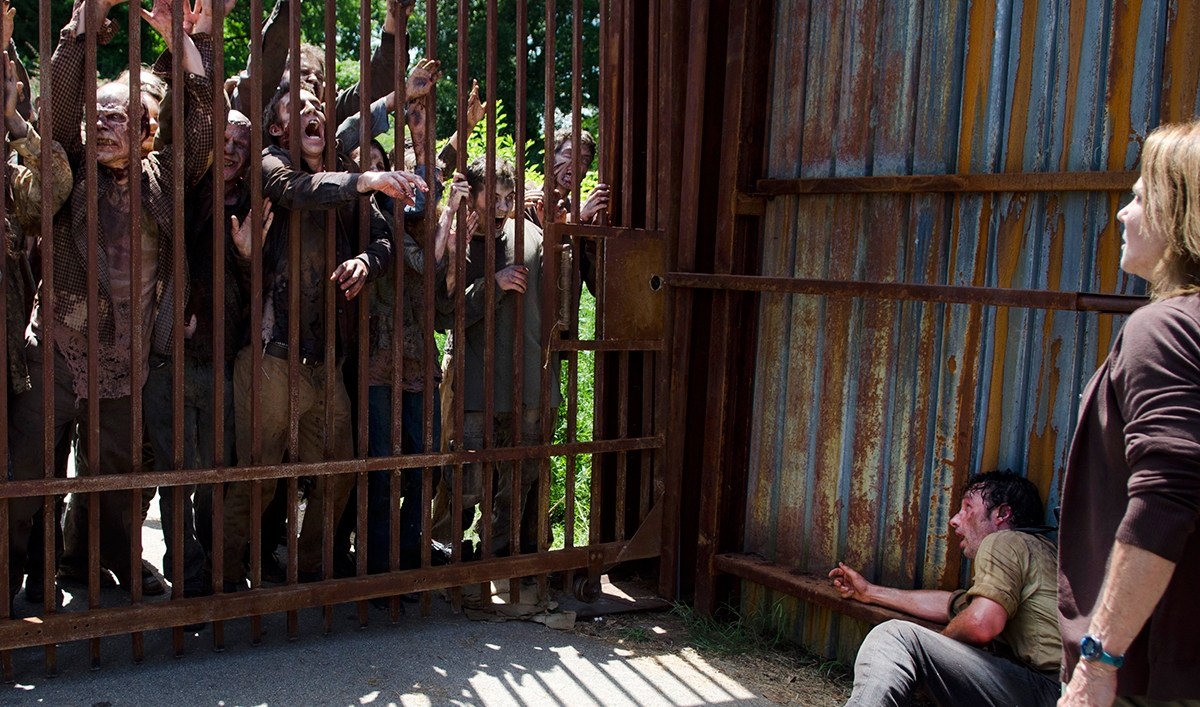 This week, Greg Nicotero talks zombie acting with Access Hollywood, while Digital Spy is a fan of the new The Walking Dead attraction at Universal Studios. Plus, the show's cast and crew will be at Comic-Con. Read on for more:
• Greg Nicotero, talking to Access Hollywood, advises, "When you get shot or stabbed or killed as a walker, it's like a marionette. You just cut the strings and just drop."
• Digital Spy, reviewing The Walking Dead attraction at Universal Studios Hollywood, applauds, "The level of detail that has gone into every inch of this genius attraction makes it uniquely immersive, extremely intense and entirely realistic."
• Deadline reports that The Walking Dead will head to San Diego Comic-Con later this month, with Andrew Lincoln, Norman Reedus, Steven Yeun, Lauren Cohan, Danai Gurira, Chandler Riggs, Michael Cudlitz, Sonequa Martin-Green, Christian Serratos, Ross Marquand and Josh McDermitt in attendance.
• The Hollywood Reporter explains "why the identity of Negan's victim is inconsequential in the long run."
• Ross Marquand teases the new season to IGN, saying, "First and foremost, Negan's back, and he's exciting. Secondly, we're going to see what the group can do with this new threat."
• Metro.co.uk reports that The Walking Dead has been nominated for a TV Choice Award in the category of Best International Show.
• ComicBook.com looks back at Season 4, which "started in a time of peace for Rick Grimes and his merry band of survivors at their Georgia prison."
• TV Guide tries to see if people can figure out whether certain lines of dialogue are from The Walking Dead or the Real Housewives franchise since "the fictional characters on AMC's survival horror series talk a lot like the real characters on Bravo's reality show constellation."
• Members of The Walking Dead cast past and present tell IGN which moments are "deserving of being permanently commemorated in a standing attraction."
• The Lexington Herald-Leader says an artist is working on a mural in Cynthiana, Ky. that pays homage to The Walking Dead, which was created by Cynthiana natives Robert Kirkman and Tony Moore.
• Cleveland.com discovers that Rick and Negan have similar origin stories, even though they "seem very far apart as protagonist and villain. Still, The Walking Dead has consistently used its villains (Shane, The Governor, etc.) as a way of showcasing how close Rick was to becoming that kind of vicious person."
To stay up-to-date on all the latest news about The Walking Dead, sign up for the weekly Dead Alert newsletter.
Read More